Is Christina Applegate Still Close With Katey Sagal?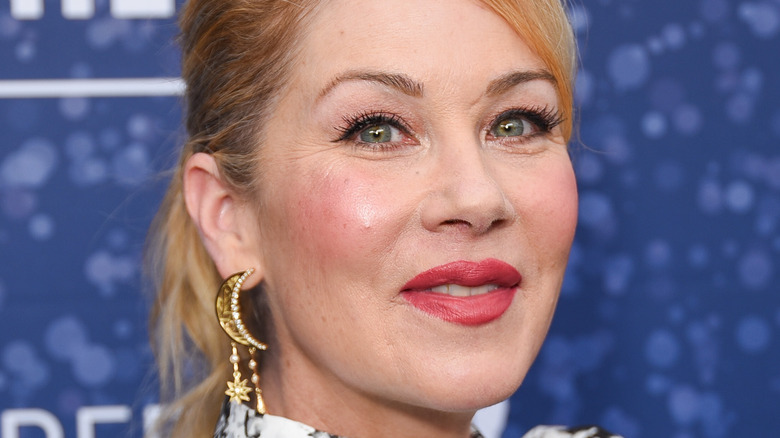 Presley Ann/Getty Images
"Married ... With Children" was one of the funniest sitcoms of the 1980s/1990s and was one of the longest-running shows on television, per TV Insider. At the time, wholesome family shows such as "Family Ties" and "Growing Pains" ruled the airwaves, but "Married ... With Children" centered around perpetually grumpy Al Bundy, his nagging wife Peggy, and their two mediocre children, Kelly and Bud.
Christina Applegate played the ditsy teenager Kelly, and Katey Sagal provided the perfect counterpart as her witty mother. Applegate rose to fame during "Married ... With Children" and would go on to star in hit movies such as "Don't Tell Mom the Babysitter's Dead," and "The Sweetest Thing," per IMDb. It's been almost two decades since "Married ... With Children" was canceled but fans still love the bawdy Bundy family. While there has never been a show reunion, the cast has met up during momentous occasions, and Applegate has remained tight with her television mom over the years.
Christina Applegate honors Katey Sagal during Walk of Fame ceremony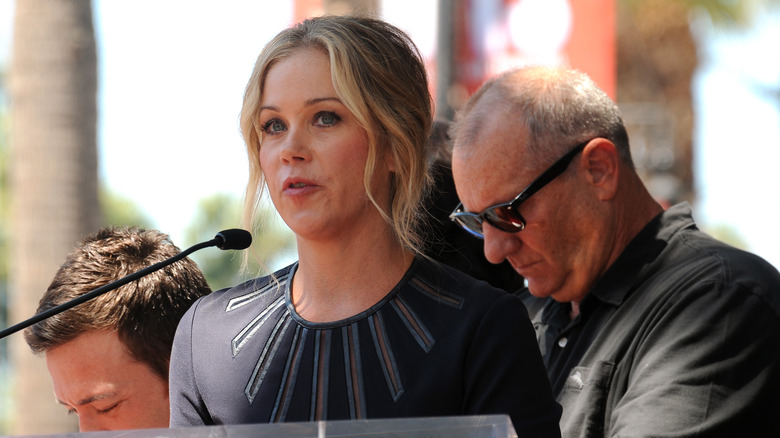 Albert L. Ortega/Getty Images
Katey Sagal continued to rise to the Hollywood ranks following "Married ... With Children." In 2014, she received a star on the Walk of Fame, and her former cast members were there to support her, per ABC 7. Ed O'Neill, David Faustino, and Christina Applegate joined Sagal, as she reflected on her career. Applegate revealed how she had met her television mom at 15 years old. "I thought she was the coolest person I had met in my entire life. But what I didn't realize is that [Katey] was gonna become my mom," the "Samantha Who?" star stated. Applegate said that she spent more time with her "Married ... With Children" cast members than her own family, telling the audience, "I take all the good things that Katy gave me."
Years later, the two shared the small screen again in Applegate's show, "Dead to Me." Sagal played the mom of Linda Cardellini's character and had a small part in Season 2. The following season, she was able to star alongside Applegate. "We have a couple of big scenes together, so that will be really fun. She is truly like my daughter. Life for real. So this will be really lovely to be with her," Sagal told Entertainment Tonight. The two share a bond so deep, that when it was Applegate's turn to receive a star on the Walk of Fame, Sagal where there to support her on-screen daughter.
Katey Sagal holds Christina Applegate up during Walk of Fame speech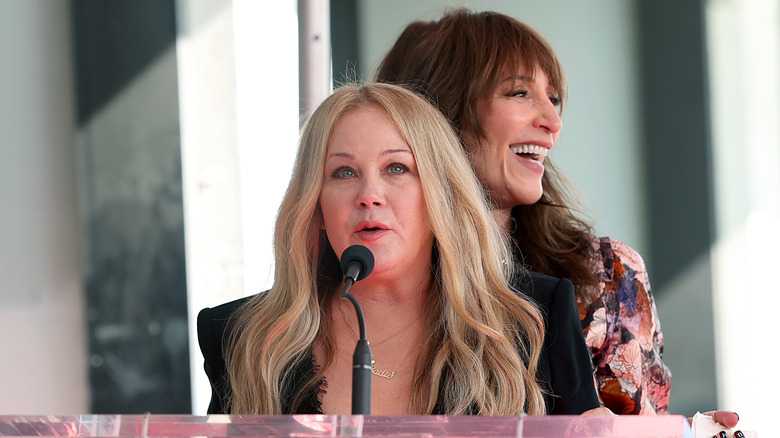 Phillip Faraone/Getty Images
When Christina Applegate received a star on the Hollywood Walk of Fame, naturally her first television family was there to show their love. David Faustino and Katey Sagal stood by as Applegate's star was unveiled, per Entertainment Tonight. As Applegate gave her speech, Sagal was there to physically hold her up to make sure she didn't lose her balance, due to her recent Multiple Sclerosis diagnosis. "It's so Katy to like, steal the thunder," Applegate joked, adding, "You know I love you."
Sagal gave her own emotional speech to Applegate, touting her strengths and growth over the years (via Fox News). She acknowledged Applegate's health issues and told her, "Some of us come into this life requiring broad shoulders because what's coming at us needs support to bear, broad enough to hold what shows up. I've seen you — the high highs of love and enormous success, coupled with extreme challenges. But you came in with those shoulders and you bear the weight, and you bend, and you don't break."
While Applegate is not letting MS keep her down, her last role may very well be her "Dead to Me" character, Jen Harding. "With my disease, I don't know how capable I am. But this was a gift. This was a gift to me," she told Variety. Still, she remains positive about her outlook, and if she needs to lean on anyone, Katey Sagal will be there for her.