Inside Snoop Dogg's Friendship With Willie Nelson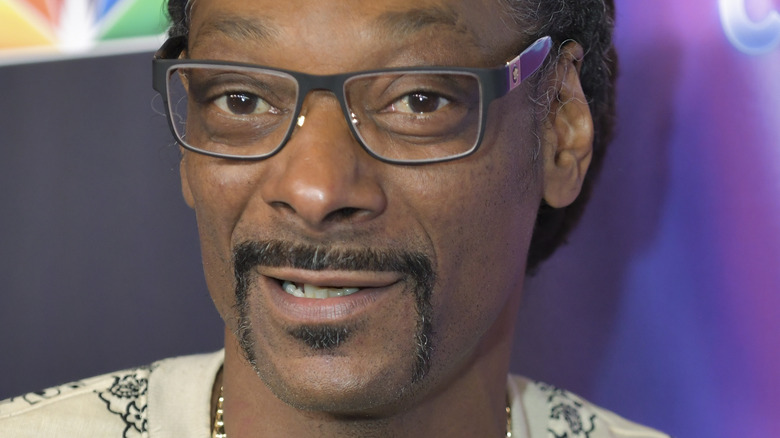 Rodin Eckenroth/Getty Images
Snoop Dogg regularly talks about his personal life, holding little back, and even has his own reality show. According to IMDB, "Snoop Dogg Fatherhood" is "a reality sitcom following hip-hop icon Snoop Dogg as he balances his life as an artist and a father." Yet, despite seemingly putting it all out there, Snoop still manages to surprise.
For example, who could have envisioned Martha Stewart and Snoops' relationship? On the surface, the only thing they have in common is jail time, but they clearly have genuine chemistry, as witnessed in their cooking show, "Martha and Snoop's Potluck Party Challenge." The couple met in 2008 and Insider reports they're good friends who collaborate on different projects.
Then, there's Cameron Diaz's odd connection with Snoop. They seemingly hail from different sides of the track. Snoop, born Cordozar Calvin Broadus, Jr., was incarcerated as a young man for drug charges (per NBC News) and was acquitted of murder in 1996, per the LA Times. Meanwhile, Diaz, known for her "girl next door" vibe, started working as a successful model at 16 and became a top Hollywood star in the 90s and 2000s, per Biography. The two future stars attended high school together back in the day, and Diaz told George Lopez she's fairly sure she used to buy weed from Snoop. Given the above, Snoop Dogg's friendship with Willie Nelson shouldn't really come as a surprise. Even if they seem like an unlikely pairing, the two musicians have plenty in common.
Willie Nelson out toked a stoned Snoop Dogg in his Amsterdam hotel room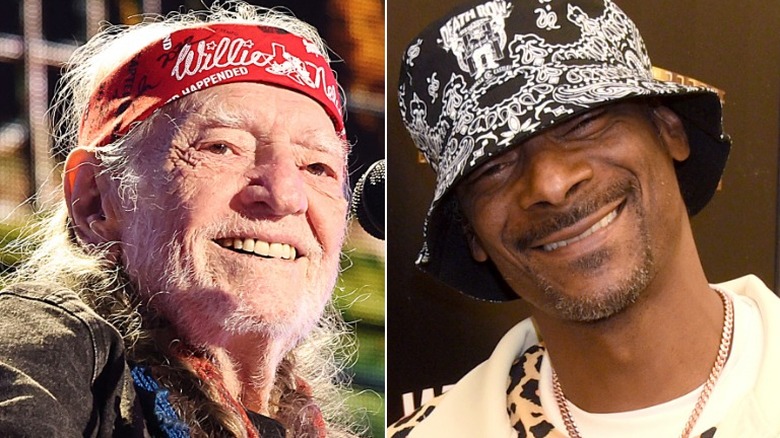 Gregg Deguire & Gary Miller/Getty
Snoop Dogg and Willie Nelson share a mutual love of cannabis. Lots and lots of weed. Nelson has a considerably higher tolerance level, though, once leaving Snoop lagging behind in a hazy cloud of smoke in a Netherlands hotel. The rapper confessed all on SiriusXM's Let's Go! with Tom Brady, Larry Fitzgerald, and Jim Gray (via People). "What was the most stoned you've ever been in your whole life?" Brady asked. "With Willie f***ing Nelson," Snoop admitted.
The rapper shared that he collided with Nelson in Amsterdam on 4/20, appropriately, and ended up hanging in his hotel room. It didn't take long for the country icon to spark up and bust out with the dominos. "I'm just getting higher and higher and higher," Snoop explained. "He just [keeps passing] it to me, and I'm like, 'This old m****er's out smoking me.'" Snoop confessed he got so stoned that he wanted out (to go sit on his couch and eat chips and cookies, presumably) but he stayed because he "didn't wanna show no signs of weakness."
Nelson's love of weed is legendary. In his song "Roll me up and smoke me when I die," he sings, "And just roll me in the flames for about an hour. And then take me out and twist me up, And point me towards the sky." According to Grunge, Nelson's love of the herb has resulted in him being busted five times.
Snoop Dogg and Willie Nelson wrestled over a fried chicken leg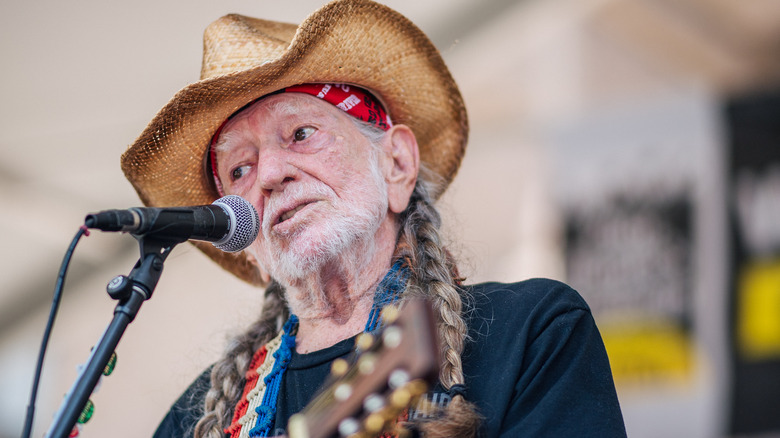 Brandon Bell/Getty Images
Snoop Dogg passed on the potato chips and cookies and instead, he took Willie Nelson out for a greasy treat at KFC. "We developed a hunger, So naturally we wanted to go to Kentucky Fried Chicken," he explained on "The Tonight Show with Jimmy Fallon." Snoop shared it was one of their "favorite spots" to eat at. "So we pull up in the drive-thru ... and we order the chicken, and they give it to us in the big bucket."
He said they couldn't wait to get their hands on the fried fare and immediately dived into the bucket, resulting in them wrestling over the same piece of chicken that they'd both grabbed. "You know what Willie, That's yours. Go ahead and take it, dog," Snoop graciously told Nelson. The hip-hop star later tweeted about his experience. "Only person [that ever] smoked me out is willie m*******kn nelson!!! straight O.G.," he wrote.
Nelson shared his side of the story with The Daily Beast. "I called Snoop, and I said, 'Hey buddy, you gotta come over here. This is where it's at!' So he came over, and we hit every bar, every smoke place in Amsterdam. We had a helluva time," he said. Nelson admitted he doesn't smoke very often now, preferring to use a vaporizer as it's less harmful to his lungs. Note to Willie: The John Hopkins Institute claims both are equally as bad for you.