Inside Cameron Diaz's Odd Connection With Snoop Dogg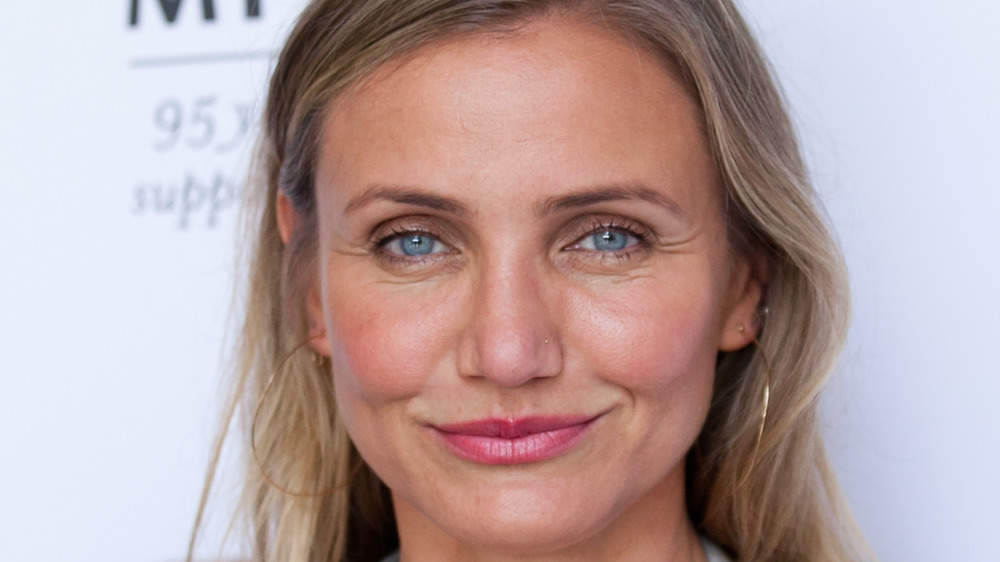 Tibrina Hobson/Getty Images
Cameron Diaz and Snoop Dogg have a connection that will make your jaw... "Drop It Like It's Hot." 
From Jenny McCarthy and Bridesmaids' Melissa McCarthy being cousins, to Kim Kardashian being Paris Hilton's personal assistant (actually, that tracks!), there are just some A-lister connections that are stranger than fiction. Hollywood is a small town, as they say, and the more pop-culture obsessed you become, the more you find evidence to prove it. Diaz's connection to Snoop Dogg is no different. In fact, it traces back to their grade school days, and may end up "high" on your strangest stories list.
Retired actor Diaz grinned her way into megastardom in the '90s and '00s, appearing in rom-coms it's hard not to quote to this day. Who doesn't crack up at that shocking zipper-related scene in There's Something About Mary, or every scene from The Sweetest Thing? Yet, at that very same time, Snoop Dogg was ruling the Billboard charts with hits like 1993's "Gin and Juice" and 2004's "Drop It Like It's Hot." The two definitely had very different niches, and yet, There's Something similar that they share. We won't spoil it — just yet.
Scroll down for the hilarious connection between Cameron Diaz and Snoop Dogg that you'll be thinking about all day.
Snoop Dogg and Cameron Diaz went to high school together, but there's more...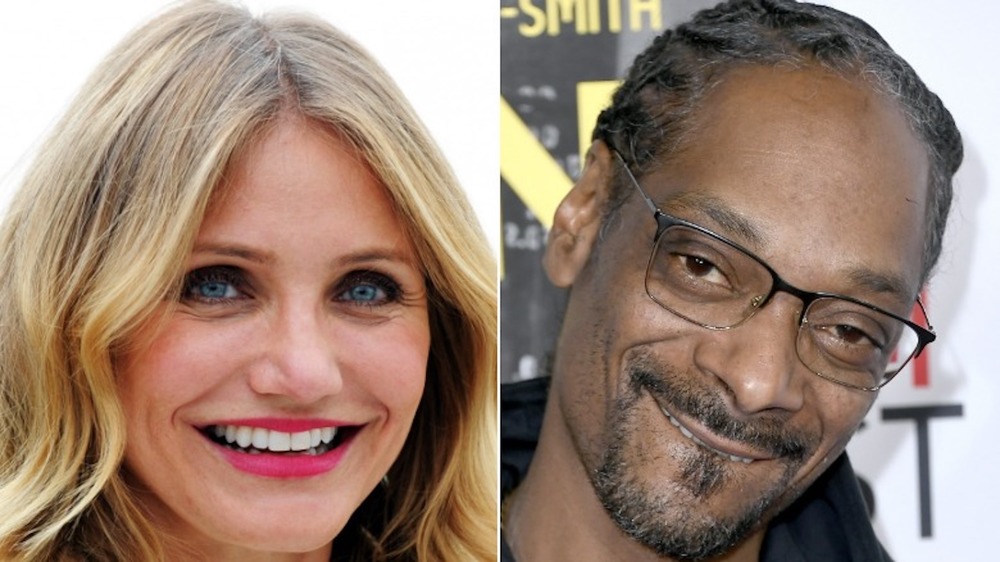 Stuart C. Wilson, Frazer Harrison/Getty Images
So, what is the odd backstory behind Cameron Diaz and Snoop Dogg? Well, both are from sunny Long Beach, California, and according to Yahoo! Entertainment, went to the same high school together: Long Beach Polytechnic High School! They even attended at the same time, which Diaz opened up about on Lopez Tonight a few years back. And it seems they rubbed elbows, or perhaps rolled something else...
"We went to high school together," Diaz told George Lopez. "He was a year older than me, and I remember him there. There were a lot of kids at our school, there's like 3,500 kids," Diaz continued. "But I remember him, he was very tall and skinny, wore lots of ponytails in his head," she said with a laugh. "Pretty sure I bought weed from him. I had to have." In the words of RuPaul's Drag Race's Jasmine Masters, "And I — oop!" 
Snoop Dogg also recalled as much to Yahoo! Entertainment in 2013. "She was fly and she was hip," he said about the model-turned-actor. "I never got at her like that [made a move] because she was younger than me. ... She ran with my homegirls, all my little cheerleading homegirls." Ha! 
Well, their stories match up. And... we love it. Some Hollywood tales really are stranger, or Snoop Doggier, than fiction.