The Truth About Jenny And Melissa McCarthy's Relationship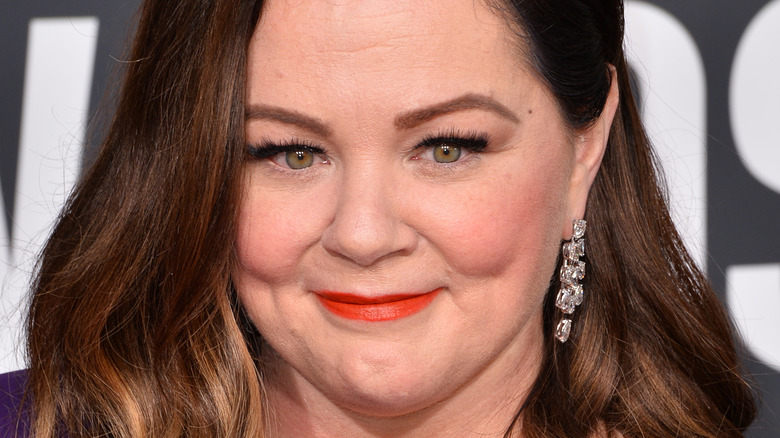 Featureflash Photo Agency/Shutterstock
If you have ever wondered about Jenny McCarthy's marriage to Donnie Wahlberg, her friendship with Heather Dubrow, her past relationship with Jim Carrey, or her somewhat less-than-friendly situation with Amy Schumer, then you might have also wondered about her connection to another famous figure in her life. However, this time around, we are not referring to one of Jenny's romantic partners or a bosom buddy, and we are not referring to a celebrity foe or even an industry association. Instead, we are talking about Melissa McCarthy.
As you likely know, Melissa made her name in show business as a comedic star. She won fans over as Sookie St. James on "Gilmore Girls" from 2000 and 2007 and has left countless fans in hysterics thanks to her roles in 2013's "The Heat" and 2015's "Spy". Beyond that, her career took a serious turn when she appeared in 2018's "Can You Ever Forgive Me?", which earned her another Oscar nomination. (Her first came after her hilarious turn in Paul Feig's 2011 comedy "Bridesmaids".)
As for Jenny, she has also scored her fair share of acting gigs over the years and even landed her own show in 1997 aptly called "Jenny". Before that, she first broke into the business as a Playboy model and went on to co-host MTV's "Singled Out" before eventually nabbing a gig as a co-host on "The View" and a judge on "The Masked Singer". While it's clear that both women are successful Hollywood stars, as their shared last name might suggest, they are also related.
Melissa and Jenny McCarthy have a personal and professional connection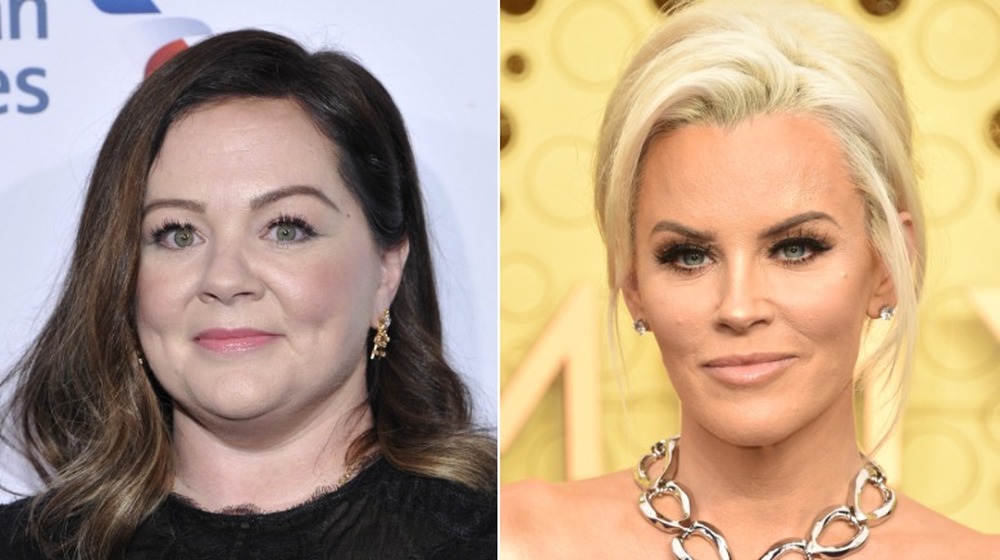 John Sciulli, John Shearer/Getty Images
Melissa and Jenny McCarthy are more than just two successful celebrities; Melissa also happens to be Jenny's older cousin. In fact, Jenny took to Instagram in July 2015 to post a throwback photo with the caption, "Me, my sis, and my cousin Melissa. 102 degrees at the zoo, not happy campers." They might not have been thrilled when the pic was taken, but fans loved seeing the two together, with one person writing, "Funniest family ever!"
Jenny and Melissa both hail from Illinois and would connect at family events while they were kids, according to Us Weekly. When they became adults, they both headed off to Hollywood where Jenny apparently found success a little faster. When she landed MTV's sketch series, "The Jenny McCarthy Show," Jenny scored her cousin a small appearance, which was Melissa's very first acting job.
While they both went on to establish themselves in different ways when it comes to their careers, Us noted that they don't usually make public appearances together, despite being good behind the scenes... maybe. In fact, they may not even interact in private. For instance, when Jenny married Donnie Wahlberg in 2014, Melissa was not one of the guests. That may be because, as Melissa told Howard Stern, the two were living in "opposite worlds." However, Jenny has also used her platform to defend her cousin from some unjustified attacks in the press, so maybe these cousins will always have each other's backs when it really matters.
Jenny McCarthy defended her cousin Melissa McCarthy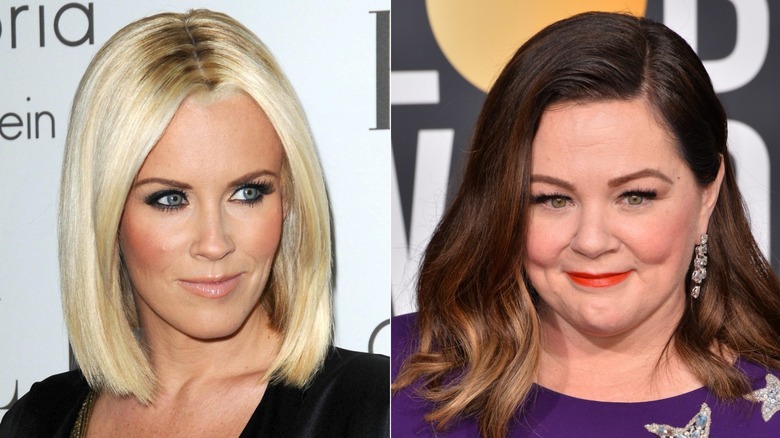 Shutterstock, Shutterstock
Jenny McCarthy not only helped Melissa McCarthy land her first acting gig way back in the day, but she's also ready and willing to stick up for her cousin when the need arises. That became obvious in 2013 when Jenny came to Melissa's defense. The situation was sparked when film critic Rex Reed released a review of Melissa's film "Identity Thief" which came out that same year and co-starred "Ozark" leading man Jason Bateman. Found in the New York Observer, the review claimed that "tractor-sized Melissa McCarthy" (whoa, what?!) is a "gimmick comedian who has devoted her short career to being obese and obnoxious with equal success" (rude, and untrue). At the same time, he called Jason "charming, talented, attractive, and versatile."
In response, Jenny told E! News, "I don't have the whole story, but, I do know that, after being in this business 20 years, it's really crummy that you get attacked in your personal life in general." Noting "that's obnoxious in itself," she went on to say that "for anyone to attack like that, it's just wrong and hurtful, and it doesn't do anyone any good — not even Rex Reed, you know?"
As for Melissa, Jenny also had something to say about her cousin, telling E! News, "She's very, very talented and people know that, so ... [Reed] can go to hell." Message received: Attacking someone over their weight is not okay and it's best not to go after the McCarthy family at all.