What Kathy Wakile Has Been Up To Since Leaving RHONJ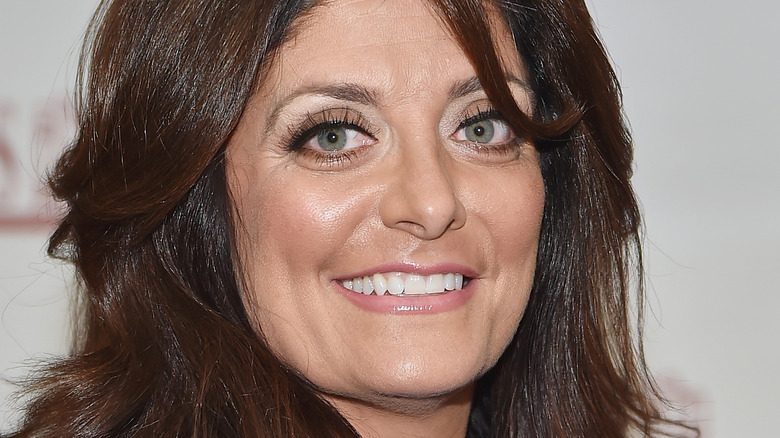 Mike Coppola/Getty Images
Kathy Wakile joined the cast of Bravo's "Real Housewives of New Jersey" during Season 3 and quickly won many of the viewers over with her cannolis and funny one-liners. (Case in point: "Sometimes I see really skinny girls. They may look great, but ... they're not happy. Have a cupcake.") Sadly, however, after Season 7, Wakile's time on the show had come to an end — a decision sources told the Daily Mail that Wakile was "disappointed" by. Meanwhile, others argued she was downright sour about the decision, including her cousin's wife and longtime "Real Housewives of New Jersey" cast member, Melissa Gorga. "Look, I know they are a little sour about not being on the show any longer, and it's unfortunate, to be honest. I wish them all well," Gorga quipped on an episode of "Watch What Happens Live" (via Page Six) after being asked about a comment Kathy's adult son made wherein he referred to the Gorgas as "farm animals." Yikes.
But if you think Wakile was willing to just fade away into obscurity, think again! So what has Wakile been up to since her "Real Housewives" days? The answer may or may not surprise you... 
Kathy Wakile wears many hats
"Real Housewives of New Jersey" alum Kathy Wakile is still eating, living, loving, and indulging!
She may not be a reality television star anymore, but according to her Instagram bio, Wakile still holds many hats including those of "wife, mom, cook, baker, and author." But that's not all. She also has her own podcast aptly titled "Eat Live Love Indulge," her own dessert line also dubbed "Indulge," co-owns a pizza restaurant, and worked as a culinary professor at Remington College. Phew!
As one can imagine, however, that hardly leaves Wakile any time left for watching television shows... including her old "Real Housewives of New Jersey" stomping grounds. "I'm busy doing other stuff," she declared during an interview with Bravo TV. Still, she admitted that even if she did have time, she's not sure she would tune in. "I just don't recognize the lives and the people anymore," Wakile revealed. "I'm not aligned with that energy, I'm not aligned with the whole lifestyle anymore." 
Kathy Wakile is a mother-in-law
Although Kathy Wakile is no longer in contact with her cousin Teresa Giudice and her cousin Joe's wife Melissa Gorga, she is making more memories with brand new family members — including her son-in-law!
Wakile's daughter, Victoria Wakile, tied the knot to Teddy Kosmidis on February 13, 2021, and made Kathy a mother-in-law. "Today was such a beautiful day, a pure love story, witnessed by family and friends with such magical moments from start to finish," the proud mother of the bride gushed to E! News about the nuptials. "Richie and I are over the moon that Victoria and Teddy were able to have a safe Traditional Greek Orthodox Church wedding and reception at The Pleasantdale Chateau following N.J. guidelines, it's a dream come true. The abundance of love on this special night [is] just priceless!" she added. 
Perhaps now all Kathy is waiting on is the sweet pitter patter of little feet coming from her very own grandchildren. Then she could add "grandmother" to her lengthy resume. TBD we suppose!