How Jennifer Coolidge And Sandra Bullock Knew Each Other Before They Were Famous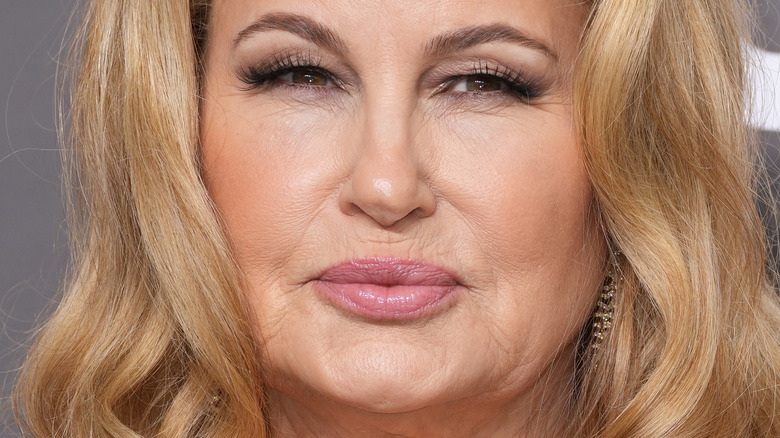 Kevin Mazur/Getty Images
Jennifer Coolidge and Sandra Bullock have more things in common than just being two of the most hilarious women in Hollywood. Many actors have had to work their way to the top, and many choose to pick up other gigs while trying to make it big in the entertainment industry. Bullock and Coolidge put their time into odd jobs while they were trying to make it as actors.
Coolidge came to Hollywood with big dreams, as she told DuJour Magazine (via the Daily Mail) in an interview. Coolidge said, "I had grand thoughts. Massive. I thought I could come from my little town and have a lead in something like Pretty Woman. I remember seeing that movie, thinking, I want that for myself. I truly believe you have to have insane thoughts like that to do well in this business." Although she didn't land a massive role at the beginning of her career, she continued to work hard to get into the industry.
Similarly, Bullock had to have passion and drive to get to the place she is at today. She became familiar with theater and production at a very young age, per Closer Weekly. She grew up with her mom being an opera singer, so it was no surprise she fell in love with the arts. Just like Coolidge, her career didn't take off right away, and in between auditions, she worked a part-time job. Funnily enough, Coolidge was working the same gig at the same time.
Jennifer Coolidge and Sandra Bullock worked at the same restaurant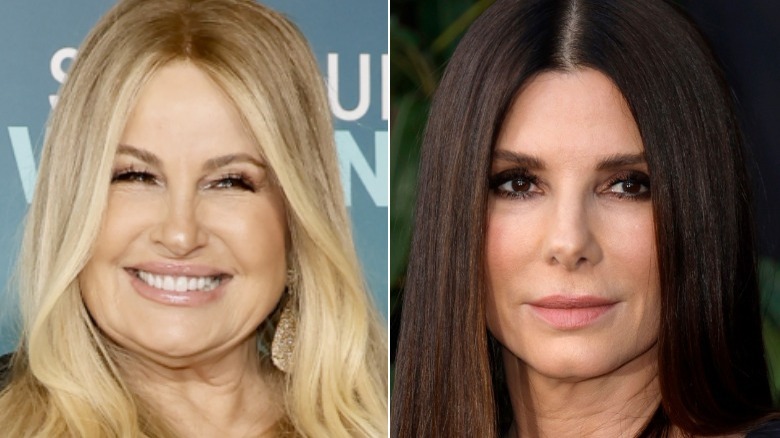 Emma Mcintyre & Frazer Harrison/Getty
What are the chances two of the biggest actor's worked the same job at the same time? Apparently, very likely. Before Jennifer Coolidge was known for her role in "The White Lotus" and Sandra Bullock was known for "Miss. Congeniality," the two had an interesting way they crossed paths.
Coolidge and Bullock actually worked in the same restaurant called Canastel's, located in New York City. Bullock talked about her time at the restaurant on "Jimmy Kimmel Live." "The Proposal" actor shared she took on many hats at the restaurant from coat check, hosting, and waitressing, she was where they needed her to be. Bullock even recalled a man who came into the restaurant claiming to be Peter Gabriel's drummer and left her a big tip. However, it turns out it wasn't Peter Gabriel's drummer, but some random man with a stolen credit card. The manager asked Bullock to give her $500 tip back, but she refused. At the time, she was a struggling actress and money like that could help.
As for working with Coolidge, Bullock said, "I think we passed like ships in the night. I think she might have come on to the hostessing stand, and done a really good job, as I was walking out and quitting on the principle of a stolen credit card." While this is all Bullock remembers of Coolidge, "The White Lotus" actor remembers her time there slightly differently than Bullock's description, per Just Jared.
Jennifer says Sandra had her act together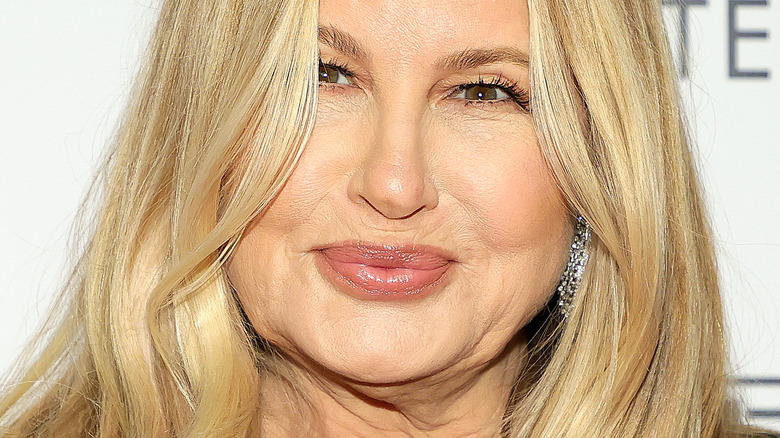 Dia Dipasupil/Getty Images
A couple of months after Sandra Bullock was on "Jimmy Kimmel Live," Jennifer Coolidge appeared on the show. During the interview, Kimmel asked Coolidge if she remembered anything about her time working with Bullock. Coolidge shared, "I remember it so much better than Sandra did. Well, let's just say, Sandra really had her act together, and she was the hostess." Coolidge implied she was not a good employee, compared to "The Blind Side" star, because Coolidge preferred to party.
The actor then shared a hilarious story about how she tried to get the Fourth of July off. She said, "I went to Roosevelt Hospital and found an ambulance driver, and he strapped a patch and a white thing around my head." Coolidge then called the restaurant to say someone had put a cigarette out in her eye. The manager didn't believe Coolidge, but when she showed up with the bandage, he sent her home.
Canastel's seemed like the place to be in the 80s with the likes of Coolidge and Bullock. Since their time at the restaurant, the two actors went on to do bigger and better things. According to IMDb, Bullock won an Oscar in 2010 for her role in "The Blind Side," and Coolidge nabbed a Golden Globe in 2023 for her role in "The White Lotus," per IMDb. Hopefully, in the future, the two actors will work together again on something that doesn't involve waiting on people.