Why Jennifer Coolidge Was Bleeped Three Times During Her 2023 Golden Globes Acceptance Speech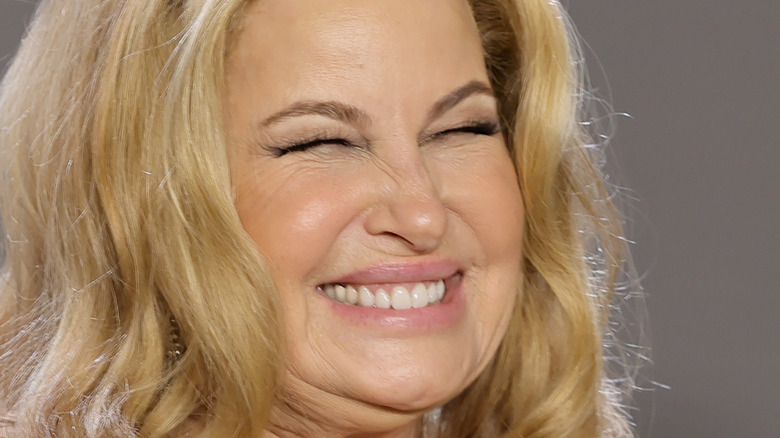 Amy Sussman/Getty Images
Leave it to Jennifer Coolidge to consistently give out iconic award acceptance speeches, even if it means getting bleeped out multiple times in a row.
It was just in September 2022 when Coolidge delivered a hilarious speech that had been the talk of the town for days. At the 2022 Emmy Awards ceremony, the actor's shocked expression at taking home the Outstanding Supporting Actress for "White Lotus" was on full display on stage. "Gosh. What a night. [...] I took a lavender bath tonight right before the show, and it made me swell up inside my dress and I'm having a hard time speaking. But anyway, this is so thrilling," she mused, eliciting laughs from the audience. She went on to admit that she wasn't expecting the award at all. "Well first I gotta, oh s***," Coolidge said while retrieving her list of names to thank from her dress pocket. "Because I didn't believe this was gonna happen!" She didn't get to finish her thank you's, but she refused to leave the stage. Instead, she danced along to the music. It was her first time gracing it, after all! "Wait, hold on," Coolidge added as the play-off audio raged on. "This is a once-in-a-lifetime thing and I'm full. I'm full! Wait, wait, wait, hold on, wait. [...] Wait hold on!"
Her acceptance speech at the 2023 Golden Globes was no different! In true Coolidge fashion, she has once again delivered a hilarious speech that warrants an award of its own.
Fans praise Jennifer Coolidge for cursing during her acceptance speech
Bleeping should be rendered illegal for Jennifer Coolidge's speeches, thank you very much. Coolidge took home the 2023 Golden Globe Award for Best Supporting Actress thanks to her brilliant portrayal of Tanya McQuoid on "The White Lotus." In her acceptance speech, she couldn't help but curse multiple times, forcing the show to bleep out parts of her monologue. "I had such big dreams and expectations as a younger person, but what happened is they get sort of fizzled by life. [...] I had these giant ideas. And then you get older and, oh, s**t is going to happen," she said. "[Mike White] really is one of the greatest people [...] I just want to say, Mike White...," she said before being bleeped out again. "Mike, I love you to death. [...] I just want to say, this is a real f***ing fun night," she added, warranting another bleep. 
Fans didn't seem to mind anyway, saying that Coolidge can curse as much as she wants! "Jennifer Coolidge energy is what we all need for 2023. Perseverance. Humor. Humility. Generosity. A soupcon of cursing," one fan wrote. "I need Jennifer Coolidge to be the host of every award show, and let her curse! She is truly the classiest and comedic dream," tweeted another. Keep doing you, Jennifer!