Shemar Moore Proudly Introduces His First Child To The World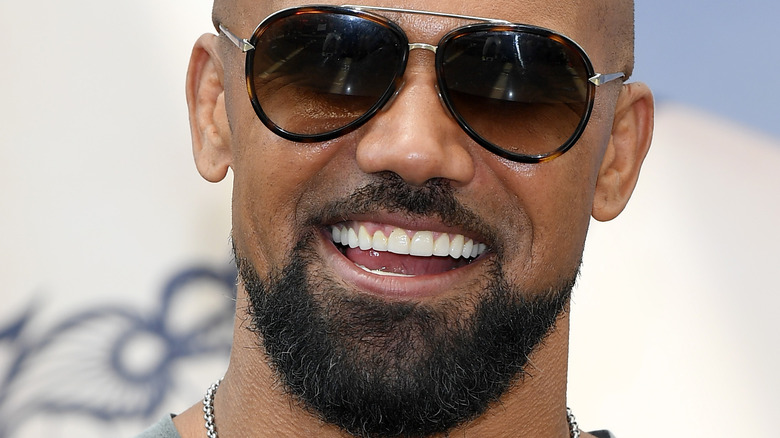 Pascal Le Segretain/Getty Images
Shemar Moore is officially a father! In early January, the "Criminal Minds" actor first made the exciting announcement that he and his partner, Jesiree Dizon, would be welcoming their first child together, per Instagram. The video, posted by Moore, showed him and Dizon's gender reveal party. As they awaited the reveal, Dizon shared, "I honestly just want whatever is healthy and happy ... I'm just so excited for this portion of our life together." The actor could barely contain his excitement as he discovered that he was going to be a girl's dad.
He later shared the news publicly on "The Jennifer Hudson Show." Moore shared, "My mother is in heaven right now. It'll be the three-year anniversary on February 8. On February 8, I'm gonna make one of her dreams come true because, in real life, Shemar Moore is about to be a daddy." The 52-year-old even opened up about how he was scared that because he was getting older, having kids was just not going to be part of his life. He continued, "My life is already pretty grand, but I know whenever God does call my name, once I get this experience, I'll be able to go to heaven whole." Although he and Dizon may have thought the little bundle of joy would come in February, the baby had her own agenda. The couple officially welcomed their first child together on January 24th.
Shemar Moore welcomes baby Frankie
The new year has started with a bang for Shemar Moore and Jesiree Dizon. On January 24th, the couple welcomed their baby girl, Frankie Moore, per Instagram. When the "Criminal Minds" actor first made the announcement, he was filled with so much joy and his joy has only grown as he welcomes their new baby girl. Moore shared the news on Instagram with a photo of him and baby Frankie. He wrote, "FRANKIE MOORE!!!! BABY GIRL in da building!!! Born January 24... at 3:38pm.... 7.1 Pounds... 20 inches.... 10 fingers n 10 toes... Already THE LOVE OF MY LIFE!! I'm a Girl Daddy!!!! HOLY S***!! DREAMS COME TRUE!!"
Originally, the little bundle of joy was supposed to arrive on the anniversary of the passing of his mother. Moore had a strong relationship with his mother, and despite the baby coming early, he knows his mother would be just excited. He wrote, "Grandma Marilyn is in heaven puff puff passing, drinking her wine, and doing her happy dance... I LOVE and MISS YOU everyday Mom." 
Dizon has yet to post about the new addition to her family, but a rep did speak with People about how the family is doing. They said, "Shemar Moore and his partner, Jesiree Dizon, are happy to announce the birth of their baby girl. The family is very happy and healthy." Friends, family, and fans filled the comments with congratulations to the couple on their new baby girl.