Inside Robert Downey Jr.'s Relationship With His Late Mother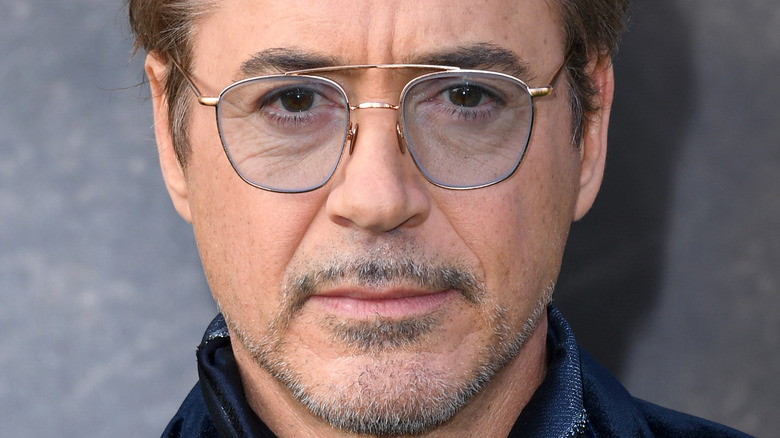 Jon Kopaloff/Getty Images
Robert Downey Jr.'s struggles with addiction and brushes with the law are the stuff of Hollywood legend. Throughout his troubles, he always had the support of his father, Robert Downey Sr., and his mother, Elsie Ann Ford, who both struggled with their own demons. 
The tragic real-life story of Downey Jr. reads like a movie script, packed full of drama, tragedy, and redemption. He admitted to Vanity Fair that his childhood had been "interesting." Per Biography, Downey Sr. was an avant-garde filmmaker, responsible for directing 70s shockers like "Pound" and "Putney Swope." His mother was an actor who appeared in several of his father's films. Downey Jr. moved to Los Angeles with his dad after their split and stayed there until he dropped out of school at 16, when relocated to New York to live with his mom.
Downey Jr.'s relationship with his father was troubled. It was his dad who'd first introduced his young son to drugs and alcohol. "There was always a lot of pot and coke around ... When my dad and I would do drugs together, it was like him trying to express his love for me in the only way he knew how," Downey Jr. explained to New Breed (via People). His father died in 2021 following a long battle with Parkinson's. "He was a true maverick filmmaker and remained remarkably optimistic throughout," the actor posted on Instagram. Robert Downey Jr.'s relationship with his late mother started out just as complicated but ended in redemption.
Robert Downey Jr. credits his mom for being his inspiration in life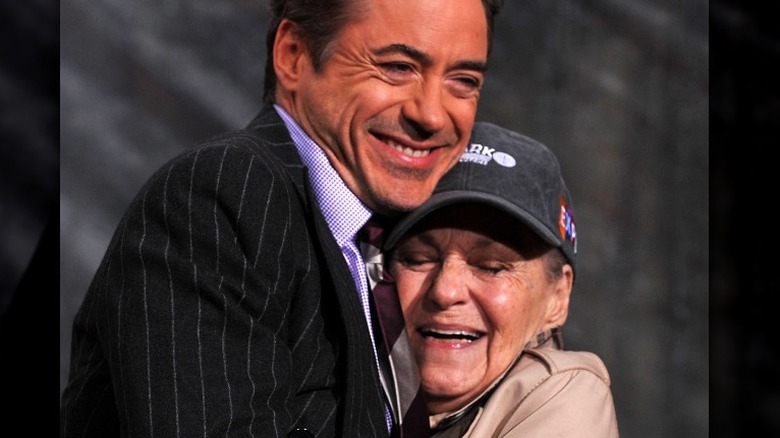 Kristian Dowling/Getty
Elsie Ann Ford and Robert Downey Jr. struggled with addiction, but they both made it through, together. Ford was an alcoholic, and despite her best efforts to intervene, she was forced to watch her son stumble down the same path. "Pick a dysfunction, and it's a family problem," Downey Jr. told Vanity Fair, admitting he'd likely "inherited" his predisposition to addiction from his parents.
E! News reports that Ford had always been there for her son during his darkest times and that she'd given her all to help him overcome his battle. Following her death in 2014, Downey Jr. posted a tribute on Facebook. He shared that Ford rang him in 2004 during the depths of his addiction which was destroying his career and personal life. "She called me out of the blue, and I admitted everything," Downey Jr. wrote. "I don't remember what she said, but I haven't drank or used since."
He praised his mom for the impact she'd had on his life. "My ambition, tenacity, loyalty, 'moods,' grandiosity, occasional passive aggression, and my faith. . .That's all her. . .and I wouldn't have it any other way," he wrote. Downey Jr. shared that Ford "was survived by her extremely loving and tolerant partner of 37 years," and that she'd been his "role model as an actor, and as a woman who got sober and stayed that way."
Robert Downey Jr. has fond final memories of his mom
"While I strived to have the kind of success that eluded her, my own addiction repeatedly forbade it," Robert Downey Jr. wrote in his tribute to Elsie Ann Ford. The actor's life had spiraled out of control as his addiction grew worse. Per CNN, during the 1990s, he was arrested repeatedly for DUIs, possession, and parole violations, leading to Downey Jr. serving multiple stints in jail. He even escaped from court-mandated rehab on two occasions and was once discovered wandering the streets of Culver City, wasted and barefoot, per ABC News.
However, after finally getting back on track financially and personally, Downey Jr. moved his ailing mom to live with his family in Los Angeles. "She had a special affinity for my firstborn son Indio, and really got a kick out of Exton," he shared. Downey Jr. also recalled some of the happy memories he had of their last years together. "Holidays, kid-stuff, her strutting around with a walking stick. I knew it was difficult and understood as the visits got shorter," he admitted.
Downey Jr. has now been sober for two decades. It took a lot of time and effort to regain the trust of studio heads (and insurance companies). However, Downey Jr. finally managed to get his career back on track in 2008 after scoring the leading role in "Iron Man" (per IMDB), and he's not looked back since, even helping make a documentary about his late father for Netflix. His mom would be so proud.
If you or anyone you know is struggling with addiction issues, help is available. Visit the Substance Abuse and Mental Health Services Administration website or contact SAMHSA's National Helpline at 1-800-662-HELP (4357).