Nikki Bella Keeps Strong Connection To Ex John Cena In Her Wedding To Artem Chigvintsev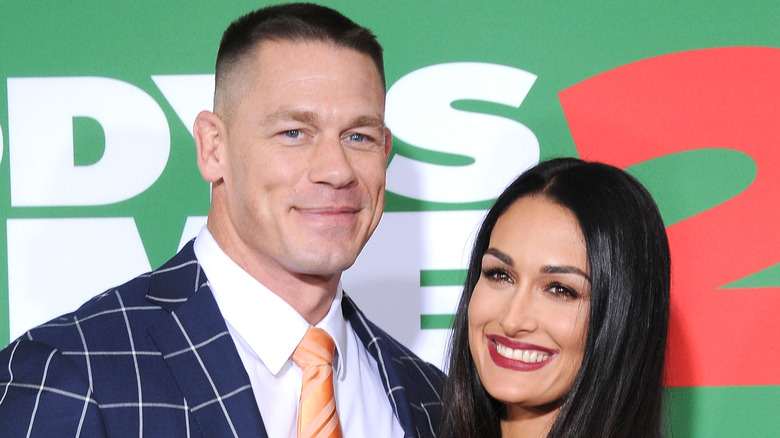 Barry King/Getty Images
Unless you've been living under a celebrity news repelling rock, you'll probably know that Nikki Bella (who, alongside her twin sister Brie Bella is one half of The Bella Twins) had a pretty lengthy relationship with John Cena. The two started dating all the way back in 2012 and didn't do much to hide their personal life, as their ups and downs were well documented on the E! reality series "Total Divas" and it's spin-off, "Total Bellas." Despite the couple's differing opinions on having children and getting married, Cena eventually popped the question in the WWE ring (with a ring!) in 2017. It seemed like the two had every intention of walking down the aisle too, as the "Total Bellas" cameras were around as the couple got preparations for their big day underway and made some big decisions about what they wanted to happen.
But this one just wasn't meant to be. In 2018, Nikki and Cena announced they were calling off their engagement, saying in a statement obtained by Us Weekly, "While this decision was a difficult one, we continue to have a great deal of love and respect for one another."
Shortly after that, Nikki found love again when she started dating "Dancing with the Stars" pro Artem Chigvintsev, and he popped the question in January 2020. Nikki and Chigvintsev went on to tie the knot in August 2022 — but it turns out that big day had an unexpected connection to Nikki's famous ex.
Nikki Bella wore the wedding dress she bought while with John Cena to marry Artem Chigvintsev
While many people may want to purge themselves of anything and everything that reminds them of their ex following a breakup, it turns out that's just not the way Nikki Bella rolls. In fact, she's so comfortable with her past she had no problem wearing the wedding dress she originally chose while engaged to John Cena when she wed Artem Chigvintsev.
Nikki made the surprising admission to Us Weekly, explaining she had a very special moment when she first put the dress on and didn't want to choose another. "I went back and forth with that decision. For me, it [reflects] how I stand as a strong woman, I was like wait, why should I not wear what I love? Because of my past? It just didn't make sense to me." She added that Chigvintsev had no problem with her decision, either. "He probably wanted me to save money but then didn't realize I bought a few other dresses after," she quipped. Someone who wasn't so keen on the idea though? Brie Bella — but that didn't stop Nikki rocking it anyway.
As "Total Bellas" viewers will remember, fans got a front row seat when Nikki went wedding dress shopping while she was still with Cena. "You always know when a bride finds her dress," Nikki gushed at the time, admitting she had the biggest smile on her face after finding a gown.