The Devastating Details About Joe Rogan's Childhood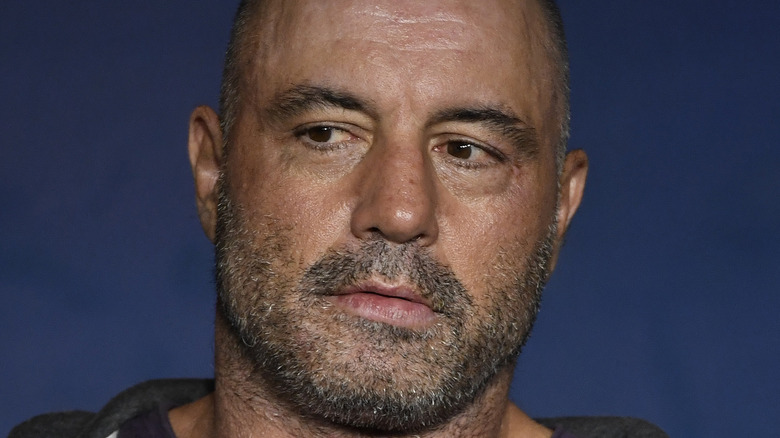 Michael S. Schwartz/Getty Images
Joe Rogan is one of the most successful multi-hyphenate celebrities out there. While many may know him best as the Ultimate Fighting Championship's colorful commentator, he is also a standup comedian, podcast host, television host, and actor, per his website. Although Rogan is wildly successful now, as with many stars, he had to pay his dues. On his podcast, "The Joe Rogan Experience," he recalled how his first gig for UFC was interviewing fighters after the show. "It was so rinky dink. Like, we were in this weird little f***ing hotel ... We flew in there on a propellor plane. The gig was supposed to be in Buffalo, New York, but New York State banned it at the last minute," he explained. Rogan went on to say that he barely made any money from UFC and was pulling in $2000 a weekend from his comedy gigs.
It's hard to believe Rogan was surviving on a couple of thousand dollars a week when he is reportedly worth a fortune these days. The former mixed martial artist came from a humble background, with his father working as a police officer. His parents divorced when he was five years old, and many may be surprised to learn that he had a sad past.
Joe Rogan reveals his father was abusive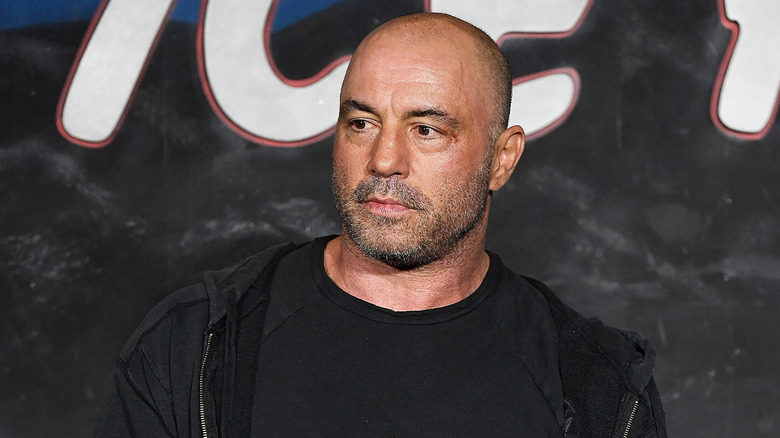 Michael S. Schwartz/Getty Images
In an episode of "The Joe Rogan Experience," Joe Rogan revealed that he grew up with an abusive father. "All my damage s*** came from my real father before I was seven ... My real father was crazy. He was like a psychotic person," Rogan shared. He described his father as a "big, scary, crazy cop from New Jersey" who was physically abusive to his mother and other family members.
Rogan detailed how his father encouraged violence over crying when he was upset. "One time I had a fight with my cousin because I liked King Kong and he liked Godzilla ... My dad pulled me aside, pulled me in a room, shut the door. I'll never forget this because I was five years old," he described. His father asked him what happened and said, "You didn't cry, did you?" Rogan told him he didn't, and his dad patted him on the head and left. Growing up with his stepfather, whom he called a "hippie," taught him there was another side to life. "All of a sudden, I'm living with this hippie guy in San Francisco, and it's like peace and love," he shared.
Rogan married Jessica Ditzel in 2009 and gained a stepdaughter as a result, per Parade. They went on to have two girls of their own, and now that Rogan is a father, he tries to be the best role model for his three kids.
Joe Rogan encourages his daughters to express themselves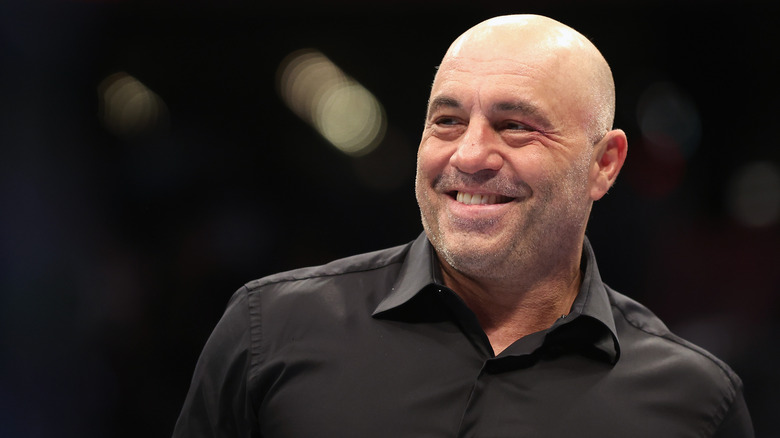 Christian Petersen/Getty Images
When it comes to his children, Joe Rogan is drawing on his experience with an abusive father to raise his children differently. While he was discouraged from crying and showing emotions other than anger, he revealed on his podcast, "The Joe Rogan Experience," that to him, communication is paramount. "We communicate a lot. We love talking. I don't want them to be like me. I want them to be themselves, and I want them to be girls. I don't want them to mirror my resilience. I want them to be vulnerable if they want to be vulnerable," he told Gabrielle Reece. On living with a houseful of women, he joked that he had "no say" in decorating the house.
While Rogan likes to talk about his family life, he is pretty private about their personal details and is reluctant to share their photos on social media. However, he isn't shy about posting snaps of his dog Marshall, who has his own Instagram page. On December 9, 2022, he celebrated the pup's 6th birthday with a doggie biscuit. "Yesterday's birthday festivities. Can you believe I'm already 6?" he captioned a sweet pic of the hound. Although Rogan's childhood may have been tragic, he's come a long way in ensuring a better life for his kids — and his dog as well.