Joe Rogan's Net Worth: The Podcast Star Is Worth A Fortune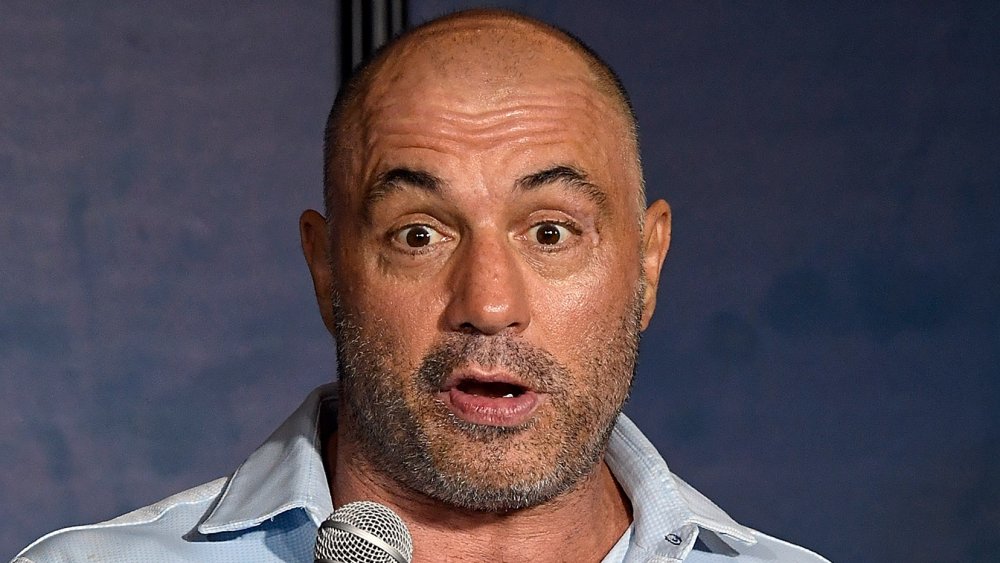 Michael S. Schwartz/Getty Images
Joe Rogan has transformed an eclectic career as a stand-up comic, sports commentator, and Fear Factor host into a powerhouse of a podcast known simply as The Joe Rogan Experience. The show essentially features Rogan talking candidly with a diverse array of prominent guests from the worlds of comedy, politics, sports, science, medicine, philosophy, entertainment, and more. Rogan will chat with his guests about anything and everything — literally. Don't believe us? 
The guy smoked a joint on air with SpaceX CEO Elon Musk while discussing everything from artificial intelligence and time management to tunnels and swords ... for more than two hours. (We'll circle back to that in a minute.) Founded in 2009, Rogan's show manages to sound both polished and spontaneous, and the results have made him one of the most successful — and richest — personalities in the podcast realm.
According to Forbes, The Joe Rogan Experience attracts "as many as 190 million downloads per month," with millions of additional views on YouTube. His loyal fan base tunes in to hear him dive deep into current events, world history, pop culture, alternative medicine, extraterrestrials, and on and on. The one thing Rogan doesn't like to talk about: his fame and fortune. Let's dig a little deeper to learn more about this unorthodox celebrity's impressive net worth. 
Joe Rogan rails against 'cancel culture'
Ethan Miller/Getty Images
The Joe Rogan Experience doesn't shy away from sensitive subject matter, and its titular host has attracted plenty of controversy over the years. One of Rogan's most infamous podcasts aired in 2018, when he shared a joint on-air with Tesla co-founder Elon Musk. Twitter erupted when Musk took a hit, resulting in countless jokes and memes and numerous reports about worried stockholders.
Rogan's political opinions have also proven divisive. In January 2020, he took some heat when he seemingly endorsed Vermont Sen. Bernie Sanders for president shortly aftrer the Democratic hopeful appeared on his show. "I think I'll probably vote for Bernie," Rogan said on his podcast. "Him as a human being, when I was hanging out with him, I believe in him, I like him." Some called on Sanders to refuse the endorsement due to Rogan's positions on other topics, but Sanders promoted Rogan's clip instead. Rogan's statement essentially took on a life of its own, but the self-described libertarian dismissed the idea of serving as some sort of political influencer. "If you're basing who you're going to vote for for president based on what I like? ... I'm not the guy." he said on his show. 
In fact, Rogan has railed against "call-out culture" and "cancel culture." "Everybody wants everybody to lose their job," he quipped. 
Joe Rogan's Spotifiy deal is worth a fortune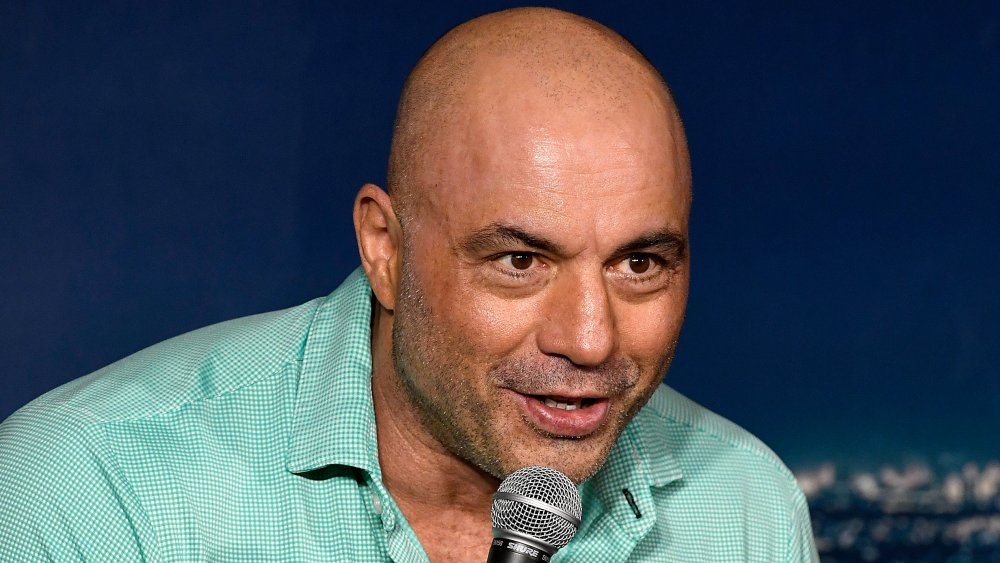 Michael S. Schwartz/Getty Images
Love it or loathe it, The Joe Rogan Experience has proved very profitable for its host. According to Forbes, Rogan earns an estimated $30 million a year thanks to sponsors and YouTube revenue, in addition to cheddar earned from his stand-up comedy shows and his role as an official commentator for the UFC. In May 2020, Rogan signed a $100 million deal — one of the largest podcast deals in history — to make Spotify the exclusive home of his show. Starting Sept. 1, 2020, his entire library of content will move to Spotify and disappear from Apple and YouTube, where it boasts millions of subscribers. The show will continue to be free, and Rogan expects his fans to follow him to the new platform. 
In an interview with Forbes, the podcaster assured fans that not much would change. "I am not going to be an employee of Spotify," he said. "We're going to be working with the same crew doing the exact same show." 
Maybe so, but Rogan has certainly changed the game. To put this deal in perspective, music writer Ted Gioia estimated that "a musician would need to generate 23 billion streams on Spotify to earn what they're paying Joe Rogan for his podcast rights."
Rogan typically doesn't discuss his family or his estimated $100 million net worth. "It feels gross," he told The New York Times in May 2020. "Especially right now, when people can't work." All Rogan would say is that he's become "weirdly richer," adding, "Like it doesn't register. Seems fake."