Who Is Ice Cube's Wife, Kimberly Woodruff?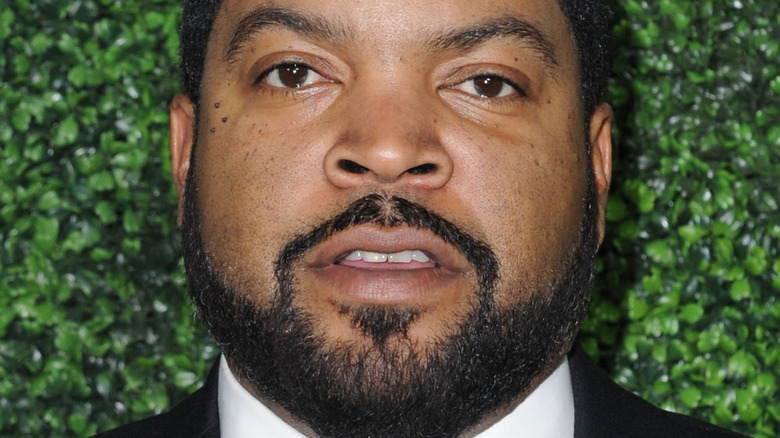 Joshua Blanchard/Getty Images
Ice Cube has been called out for shady behavior, but none of it has involved his marriage. The rapper, whose real name is O'Shea Jackson, has been married to Kimberly Woodruff for more than three decades and their relationship is as strong as ever. A year before tying the knot in 1992, Woodruff and Cube welcomed son O'Shea Jackson Jr., the first of five children they went on to have, according to HollywoodLife. 
Proving he had no doubts about his relationship, the "Boyz n the Hood" star asked Woodruff to marry him a second time to mark their 20th wedding anniversary in 2012. "The second time I basically said, 'If I propose again, would you say yes?'" Cube recalled on Australia's "Fitzy and Wippa" podcast in 2018 (via Daily Mail). "She said, 'Yeah I would,' so I didn't really have a lot of pressure. I had built up 20 years of good faith."
While Cube is a big name in music, having helped popularize "gangsta rap" with his 1988 album "Straight Outta Compton," his wife has stayed out of the limelight. Woodruff has no public social media and Cube keeps his family out of his platforms, opting to use Instagram and Twitter to promote projects and upcoming performances, and to show support for social causes. Though Woodruff is often with Cube on red carpet events, she stays away from interviewers. Despite their low profile, Cube has given quite a bit of insight into his wife and their lasting marriage.
Ice Cube and Kimberly Woodruff met at a mall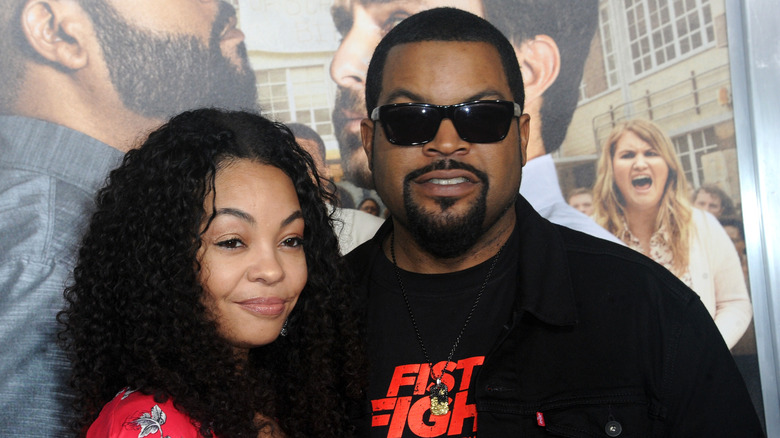 Albert L. Ortega/Getty Images
Ice Cube first saw Kimberly Woodruff at a shopping mall with fellow rapper T-Bone in early 1989. She was coming down an escalator when he glanced at her. And that was all it took. "When I saw her, something automatically went through my head and said, either that could be your woman or that should be your woman," he said on "In Depth with Graham Bensinger" in 2021. For himself, anyway. Woodruff had no interest at first. Woodruff was in a relationship then and turned down Cube's advances.
Six months later, she and Cube crossed paths again. By then, Woodruff was single and a lot more open to Cube's attempts to woo her. They worked like a charm this time around. "We ain't been apart since about August 5th, 1989," he detailed. Not long after, Cube went all in when he decided it was time to take the relationship to the next level.
Instead of getting down on one knee, Cube purchased a BMW for Woodruff's birthday and placed the ring in the seat. "She came out for the car and that was one moment of joy, but when she saw the ring, it just went to another level," he said. Cube wasn't trying to go all out. He just wanted to pop the question while also getting something nice for her birthday. "I don't know if it was considered romantic," he laughed on "Fitzy and Wippa" (via Daily Mail).
Inside Ice Cube's secret to a lasting marriage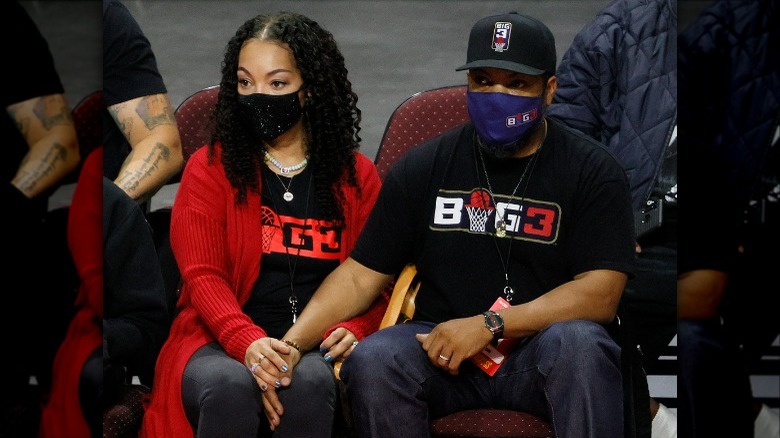 Ethan Miller/Getty Images
Ice Cube believes the secret to his long-lasting marriage can be attributed to a mutual dedication to their shared daily life. That includes having a nice, long breakfast together every chance they get. "I like to hang out with my wife, talk about things, get some coffee, you know?" he told Rickey Smiley in 2015. But that doesn't mean he and Woodruff have lost their spark. "I still get the butterflies when I see her," he gushed. "It's a true partnership. I respect my wife and she respects me."
While it might seem to others that Cube's career and private life are separate, he doesn't see it that way. "I always felt like I wouldn't be nowhere near as successful as I am without her," he told Graham Bensinger on his podcast, adding she helped him make the decision to leave N.W.A., the group he formed with Dr. Dre and Eazy-E in 1987. And Cube understands he needs to show up and carry his weight in the relationship as well. "I still want her to look at me and say, 'this is the man I still want to be with," he told Smiley.
Cube also believes keeping his private life away from the spotlight helps preserve his marriage. "Thank God we're not in Hollywood, you know? We keep it all out of Hollywood," he said in a subsequent 2017 interview with Rickey Smiley. "Y'all hearing none about none of my business."