Jenna Fischer And Angela Kinsey Have A Long History As Best Friends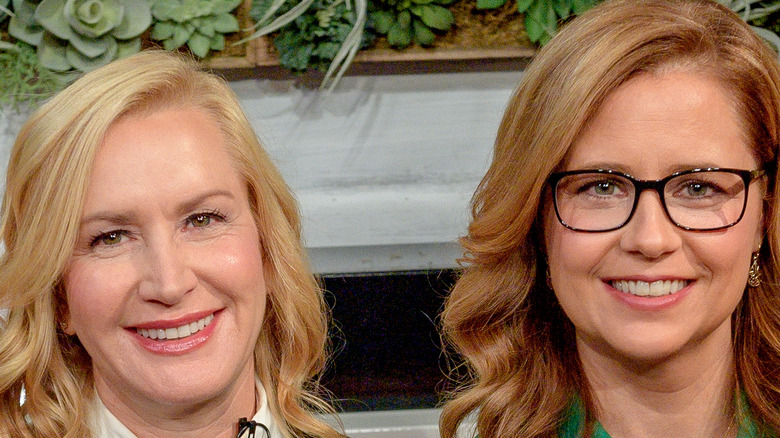 Roy Rochlin/Getty Images
"The Office" was a hit mockumentary series that provided fans with many laughs for nine seasons. The show was based on the British show of the same name starring Ricky Gervais. The American version starred Steve Carell as the office manager Michael Scott, who often acted clueless and said inappropriate things. Also working at the fictional Dunder Mifflin was Pam Beesly, played Jenna Fischer, and the grumpy cat-loving Angela Martin, who was played by Angela Kinsey.
While their characters never became close friends despite working together for years, Fischer and Kinsey started a real friendship that began on the show. "The Office" ended in 2013, despite the producers' willingness to extend the show for two more seasons, per Entertainment Weekly. The cast decided to move on, as many of the original writers and actors had moved on themselves to do other projects. "I mean, the idea of slowly kind of losing people, it just felt like, I don't know. It just felt sad and wrong," Fischer said. Kinsey agreed, saying, "It felt wrong. It felt wrong and like it would just ruin the ['Office'] world to slowly make up excuses of why people are leaving." The cast of "The Office" went on to do other things, but Fischer and Kinsey never lost touch with each other and their friendship only deepened over time.
The moment Jenna Fischer and Angela Kinsey became friends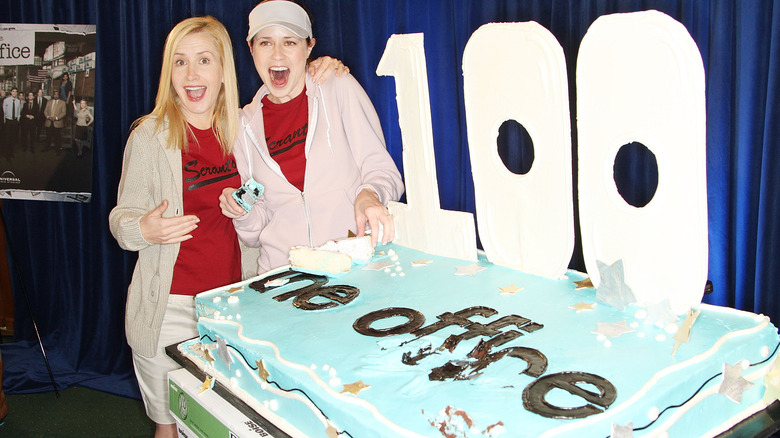 Frederick M. Brown/Getty Images
Jenna Fischer and Angela Kinsey have the sweetest story on how they became BFFs. The two were friendly acquaintances on the set of "The Office," but really bonded while shooting an episode for Season 1 when they had to sit on a bench for two long days, per People. Fischer revealed that during the shoot, they told each other their "life story" and were fast friends by the time the episode wrapped. "We were leaving the warehouse and we were so giddy. We had this really fun friendship. You don't expect to make a friendship like this when you're older," she shared. Kinsey recalled doing the "Laverne & Shirley" walk with Fischer and being embarrassed when Steve Carell caught them. However, he told the pair, "No matter what happens, this is what you'll take with you. This." Kinsey added, "He was so right," calling her friend her "life anchor."
The two friends revived viewers' love of "The Office" when they launched their podcast "Office Ladies" in 2019. "My bff @angelakinsey and I are excited to be teaming up with @earwolf to bring you our new podcast Office Ladies! Each week we will watch an episode of The Office and tell you all the behind-the-scenes scoop and trivia...the kind of stuff that only two people who were there can know," Fischer announced. Two years later, they would go on to finish another project together.
Jenna Fischer and Angela Kinsey co-authored a book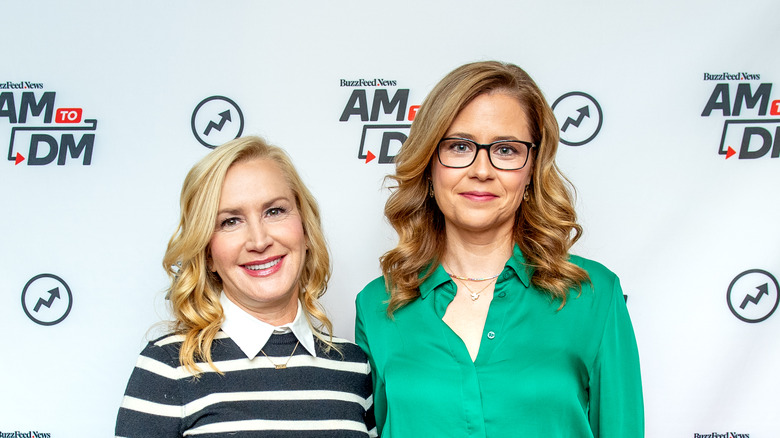 Roy Rochlin/Getty Images
Jenna Fischer and Angela Kinsey prove that they can do it all — as long as they're together. Along with their hit podcast, "Office Ladies," the two co-wrote a book called, "Office BFFs: Tales of The Office from Two Best Friends Who Were There." Fischer and Kinsey shared that the idea of the book came from a spring cleaning of their clutter and finding memorabilia from their time in "The Office," per Shondaland. The keepsakes, which included photos and menus, sparked memories for the two friends and inspired them to put them in a book for fans to read. The labor of love took Fischer and Kinsey almost four years to finish and highlights their friendship. "[The book's] also a story of friendship. The story of our best friendship but also the friendship that was created by this team of people and what's possible in life when you have a good friend by your side," Fischer stated.
Fischer and Kinsey would go on to support each other over the years. Fischer revealed on "The Kelly Clarkson Show" that Kinsey helped host a Halloween party for her children when she had to work (via NBC). The "Tall Girl" star also was there for Fischer when she took a fall. Kinsey rode with her in the ambulance to the hospital and Fischer insisted she stay in the room while a nurse put in a catheter. Now that's true friendship!