Britney Spears' Wellness Check False Alarm Fully Explained
Matt Winkelmeyer/Getty Images
Despite earning her freedom after a major legal victory, Britney Spears' life post-conservatorship hasn't exactly been smooth sailing. From the revelation of her estranged relationship with sons Sean and Jayden Federline to a series of puzzling Instagram posts, Spears' fans have continuously voiced concerns over her well-being. 
And her January 13 restaurant incident certainly didn't assuage fan worries. Out to dinner with husband Sam Asghari at a Los Angeles eatery, Spears was filmed, in footage obtained by TMZ, displaying "manic" behavior, according to eyewitnesses. Sitting by herself at the couples' table, Spears began rambling and yelling incoherently, when she noticed others turning their attention to her. Asghari reportedly left their table at one point and exited the restaurant by himself. (He later explained to TMZ that he simply left to retrieve their car.)
Meanwhile, Spears has, once again, deactivated her Instagram account. Deleting her feed on January 24, she first announced a startling name change in the days prior, per the Daily Mail. "I see right through it all ... it has liquid and is wet ... it's playful and has mass !!! I changed my name to River Red!!!" the "Hold Me Closer" singer captioned a video of her dancing. Even writing "River Red" as her Instagram name, the artist formerly known as Britney Spears then vanished from social media. With many Spears devotees alerting the police of her online disappearance, here's the result of the cops' follow-up on their concerned calls.
Britney Spears was reportedly annoyed by police welfare check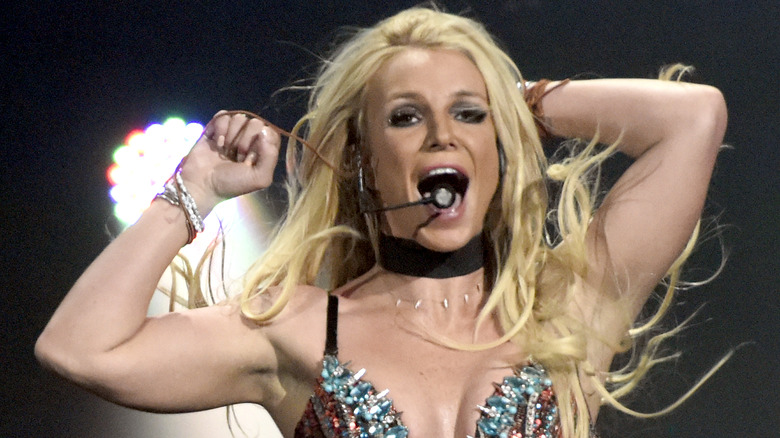 Tim Mosenfelder/Getty Images
Despite fans' concerns, Britney Spears is not in any danger. After worried fans called Ventura County police upon Spears' latest deletion of her Instagram account, a spokesperson for the sheriff's office told Page Six on January 25, "I can confirm that we did get calls into our dispatch, and essentially, I can confirm that we don't believe that Britney Spears is in any kind of harm or any kind of danger." TMZ additionally reported that deputies from the Ventura County Sheriff's Office indeed paid Spears a visit at her Thousand Oaks home on the night of January 24 for a welfare check.
Reportedly, Spears was "annoyed" by the surprise visit from local law enforcement (understandably). Although the singer understood and appreciated the concern from her fans, per TMZ sources, she reportedly considered the wellness check an "inconvenience," nonetheless.
With some fans live-streaming their 911 calls on TikTok, one such caller, "Christina," told the police dispatcher (via Page Six), that she was "worried about the physical safety of a resident" due to "suspicious activity online and now her [Instagram] account has been deleted."