Britney Spears' Son Finally Reveals The Real Reason He Didn't Go To Her Wedding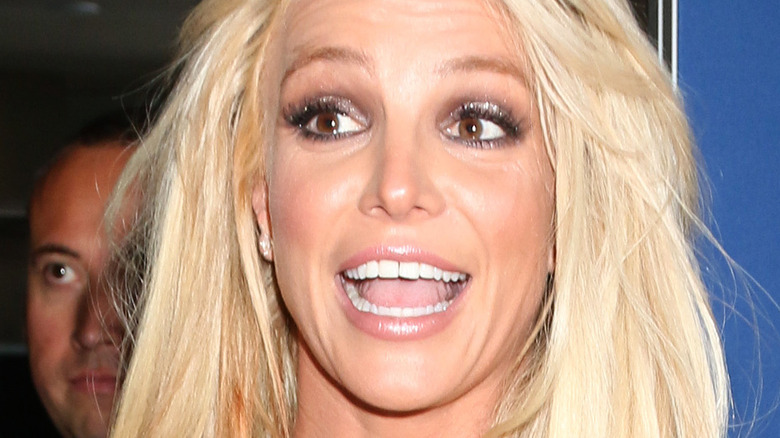 Kathy Hutchins/Shutterstock
While Britney Spears' life definitely seems to be on the up-and-up since her 13-year conservatorship finally came to an end (she finally got to get married, she's writing a memoir), there are still plenty of leftover family tensions and complicated relationships to sort through — many of which are playing out in public. After it was revealed that Spears' two sons, Jayden and Sean, were not attending her wedding, fans wanted to know why. Well now, Jayden is explaining. 
Spears' relationship to her teenage sons has been a matter of particular interest and concern to the pop star's many fans, especially considering her often contentious relationship with their father, Kevin Federline. In an ITV Interview in early August (via Today), Federline claimed, "The boys have decided they are not seeing her right now. It's been a few months since they've seen her. They made the decision not to go to her wedding." After Spears responded to this interview on Instagram, describing it as "hateful," Federline then posted two videos of Spears apparently fighting with her sons when they were 11 and 12, per TMZ. 
Now, Federline is back on ITV, with his youngest son in tow, who is explaining their decision to skip the wedding. 
Jayden says it wasn't a good time
In an interview with "60 Minutes Australia" (via the Daily Mail), Britney Spears' son Jayden said he and his brother Sean Preston are happy for their mom, but it just wasn't a good time for them to attend the wedding. "I'm really happy for them, but she didn't invite the whole family, and then if it was just going to be me and Preston, I just don't see how that situation would have ended on good terms," Jayden, accompanied by his father Kevin Federline, said. By "the whole family," Jayden was presumably referring to the rest of the Spearses — including father Jamie and sister Jamie Lynn — with whom Britney is not exactly on speaking terms. 
Jayden also pushed back on some of his mother's claims about her parents, Jamie and Lynne Spears. "They are not bad people," he said. "They know what we are going through now. They want our future to be what we want it to be." 
Spears herself responded to her son in a lengthy Instagram statement, writing, "I send all the love in the world to you every day for the rest of my life!" But she also added, "I helped your father who hasn't had a job in 15 years," and, "If you can honestly say with your sensible brilliant mind what memaw and pawpaw did to me was fine and call them not bad people, then yes I have failed as a mother." Honestly, we just wish none of this was happening in public.