How Much Does The Jersey Shore Cast Get Paid?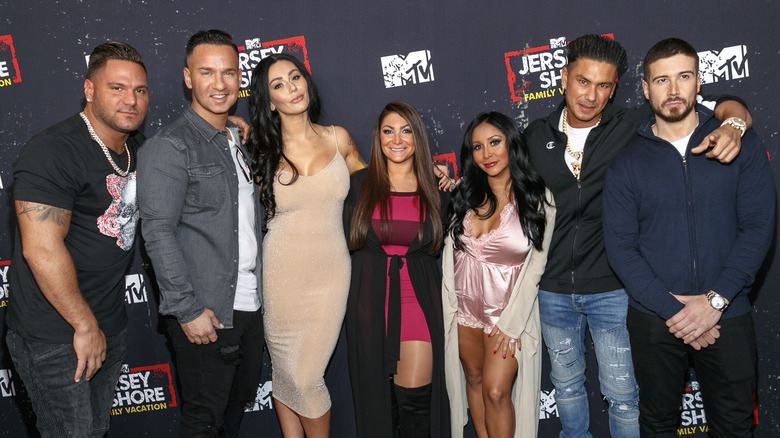 Rich Polk/Getty Images
The "Jersey Shore" cast has fist-pumped their way into making millions of dollars. The MTV reality series captivated audiences as Nicole "Snooki" Polizzi, Jenni "JWoww" Farley, Vinny Guadagnino, Mike "The Situation" Sorrentino, Sammi "Sweetheart" Giancola, Angelina Pivarnick, Ronnie Ortiz-Magro, Deena Cortese, and Pauly "Pauly D" DelVecchio lived it up at the Jersey Shore. 
Per IMDb, the original show premiered on MTV in 2009. From GTL (gym, tan, laundry) and partying, to all the drama in between, viewers couldn't get enough of the wild cast and their shenanigans. Although the show became one of the highest-rated shows, fans would be surprised to know that the cast got paid little to nothing in their first season, per Elite Daily. Polizzi revealed that instead of cash they were given gift cards for the store where they worked. She shared, "We would get $200 a week from the Shore Store. I had never gotten that much in a week, like, every single week, because you usually get paid every two weeks. That was crazy for me."
Guadagnino even spoke to Vulture about how not getting paid almost caused him to leave the show alongside another cast member. "Me and Ronnie, the first week, we told production, 'Listen, I think we have to leave. We don't have any money,'" he said. Luckily, Guadagnino and the rest of his cast mates never decided to call it quits that first season and they went on to make some good money.
The cast got paid fairly by the final season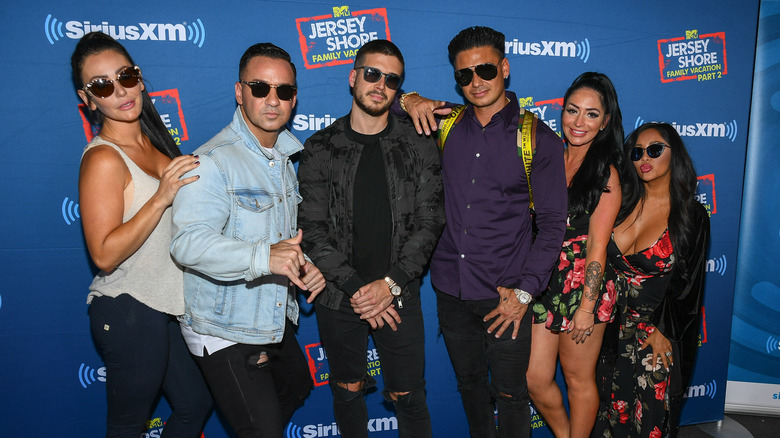 Dave Kotinsky/Getty Images
The cast of "Jersey Shore" could definitely afford their guido and guidette lifestyle as seasons progressed. Following the successful first season, the cast was paid more than their weekly gift card at the Shore Store. "Jersey Shore" went on for a total of six seasons. By the end of it all, the cast was raking in millions of dollars.
Fan favorites Nicole "Snooki" Polizzi, Mike "The Situation" Sorrentino, and Pauly "Pauly D" DelVecchio were the top three breadwinners by the end of season six. Per Life & Style, all three earned $150,000 per episode then. With a 12-episode season, each of them earned $1.8 million! That's not all because, according to Radar Online, these three got an additional $400,000 sign-on bonus as well as a $200,000 end-of-season bonus. Plus, they earned $300,000 for the two-part reunion series. 
The salaries for the remaining cast members salaries vary. Jenni "JWoww" Farley is the fourth-highest-earning castmate from the show as she gets $100,000 per episode. Vinny Guadagnino makes $90,000 per episode, Sammi "Sweetheart" Giancola and Ronnie Ortiz-Magro made $80,000 per episode, and Deena Cortese made $40,000. These amounts are anything but small and the incredible success of the show is why the reality stars are getting paid so much. However, one castmate makes the most thanks to other side ventures.
DJ Pauly D is bringing home the most money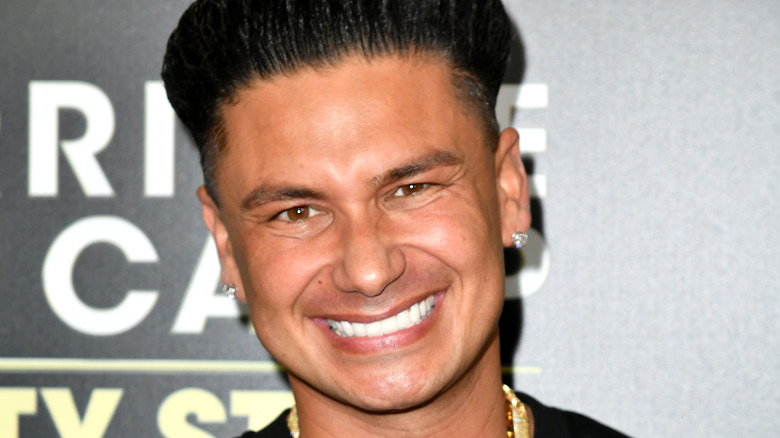 Earl Gibson Iii/Getty Images
Pauly "Pauly D" DelVecchio is the highest-earning cast member of "Jersey Shore," per Cosmopolitan. DelVecchio has made a nice chunk of change thanks to his DJ talents, usually bringing in $40,000 per set. In fact, his pay as a DJ earned him a spot on Forbes' highest-paid DJs list back in 2019. Besides "Jersey Shore" and his DJ gigs, DelVecchio has starred in several other reality shows and also has a clothing line, bringing his total net worth to $20 million!
The next highest-paid cast member is Vinny Guadagnino. According to Cosmopolitan, Guadagnino has earned $5 million, thanks to various reality shows and his Chippendales gig in Las Vegas. Nicole "Snooki" Polizzi, Jenni "JWoww" Farley, Sammi "Sweetheart" Giancola, and Angelina Pivarnick (who left the original show after two seasons but returned for "Jersey Shore Family Vacation"), are all reportedly worth an estimated $4 million. In addition to reality TV, the women made their money as influencers and entrepreneurs.
As for the last three members, Ronnie Ortiz-Magro has a net worth of $3 million, while Deena Cortese is worth an estimated $2 million. Finally, although he was one of the top earners of the original show, Mike "The Situation" Sorrentino comes in last with $300,000. His conviction for tax fraud greatly impacted his income. Overall, however, it seems the "Jersey Shore" cast has no issues making money.