Inside NFL Stars Travis And Jason Kelce's Sibling Relationship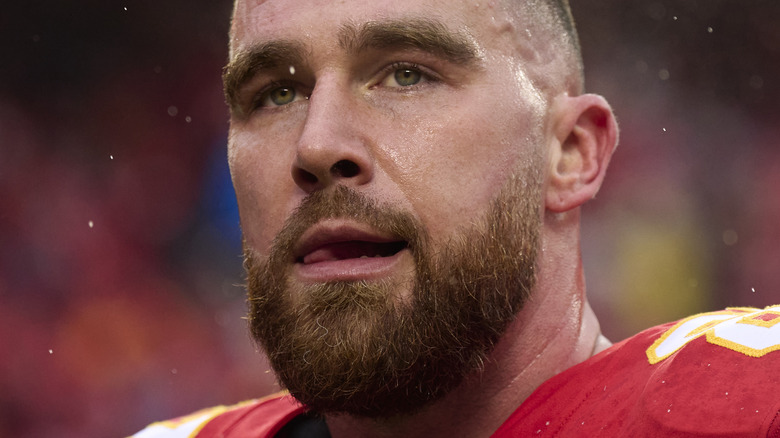 Cooper Neill/Getty Images
As of January 2023, the Kansas City Chiefs are headed to the AFC Divisional Championship for the fifth time in five consecutive years, per the NFL. Apart from star quarterback Patrick Mahomes' throwing arm, a large part of that success comes from tight end Travis Kelce. 
By December 2022, the future Hall-of-Famer had joined an elite group of tight ends (including Shannon Sharpe, Tony Gonzalez, Antonio Gates, and Jason Witten), all of whom logged 10,000 yards or more in their careers. Fast forward about a month later, and Travis put up a typically stellar performance in the 2023 postseason, hauling in two touchdowns in the Chiefs' 27-20 win over the Jacksonville Jaguars. But when asked about his big night in a post-game interview, Kelce was modest. "We got the ultimate team right now," he said. "We're playing great ball on all three phases."
With talent from Kelce, Mahomes, and more on the Chiefs' roster, it's no wonder they've dominated the AFC in recent years. But over in the NFC, a new rival is emerging. The Philadelphia Eagles finished the 2022-2023 season with a 14-3 record, and like the Chiefs, they've blown through playoff competition thus far. Travis Kelce is arguably one of the biggest names in the NFL, but there's another Kelce who plays for the Eagles: center Jason Kelce (Travis' older brother), who has started in a record 139 consecutive games for the franchise. So, what's this sibling relationship like when they face off in the NFL?
Travis and Jason Kelce challenge each other to be better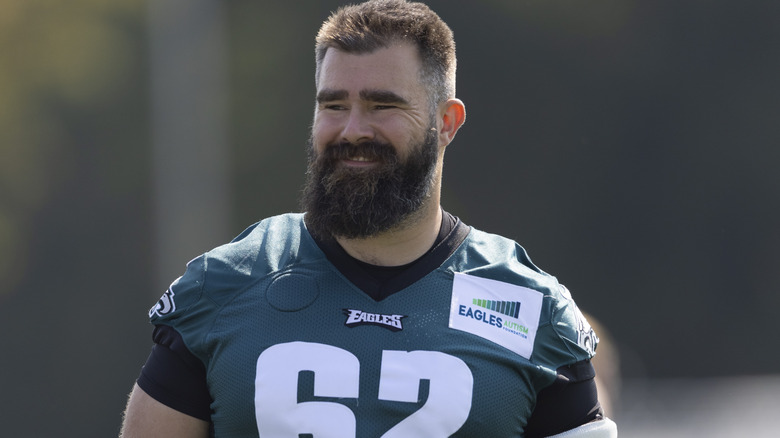 Mitchell Leff/Getty Images
The NFL has a few notable sibling duos (we're looking at you, Joey and Nick Bosa), but Travis and Jason Kelce might be the most accomplished. The brothers have a combined 12 Pro Bowl appearances and 2 Super Bowl rings between them, per Sporting News, and this year, they're each the number one seed in their respective divisions. Though they play completely different positions, they have nothing but respect and admiration for each other. "[Travis'] ability to understand spacing ... when he feels somebody approaching him to make a spin move, to juke to get extra yards — that's what I really think makes him special," big brother Jason shared with SI. Travis was equally complimentary, telling the outlet, "There [are] certain things that register in [Jason's] mind that I'm amazed when I see on film."
All that athletic prowess didn't just happen overnight. According to Heavy, both Kelce brothers played college ball at the University of Cincinnati, with Travis setting records in his final year. They were competitive even as youngsters growing up in Cleveland Heights, Ohio, whether it was on the football field, the lacrosse pitch, or the hockey rink. "There were a lot of fights," the boys' mother, Donna Kelce, told SI of their childhood. "It all just stemmed from somebody being better than the other one, and the other one not being able to deal with it."
The Kelce brothers are best friends
The days of childhood fights are long behind them, and it's likely that Travis and Jason Kelce will each be rooting for the other in the lead-up to Super Bowl LVII. Both on and off the field, these two bros seem like the best of friends, as evidenced by their decision to create a podcast together. According to Forbes, "New Heights with Jason & Travis Kelce" features the duo's unique take on the NFL, which is "like we're just kicking it at dinner back when we were in high school and college together," Travis said. The outlet additionally noted that Travis comes across as the more laidback and playful of the two, while Jason adopts a more serious, big brother position.
This seems typical of their relationship. Their mother, Donna Kelce, told SI that Travis was always following Jason around the neighborhood when they were kids. Travis also chose his jersey number (87) to honor Jason's birth year — 1987. As for Jason, he's never stopped looking out for his younger brother. When Travis failed a drug test in 2009 and was suspended from the college football program, Jason came to Kerry Coombs, Cincinnati's former defensive backs coach, in tears. "Basically, it was, 'I've got this, and you've got to trust me on this,'" Coombs said of how Jason defended Travis. Still, it's not all responsibility, all the time — and even Jason isn't above stealing some of Travis' thunder.