Michael Strahan's Son Is Practically His Twin
Kathy Hutchins/Shutterstock
Widely known for his NFL career, Michael Strahan is a man of many talents. Strahan got his start in entertainment playing football for the New York Giants, playing defensive end from 1993-2007, according to ESPN. He was even elected to the Pro Football Hall of Fame. During his career, Strahan has accomplished many milestones, including having the fifth-highest quarterback sacks (141.5) in NFL history. His football career ended on a high note, as he secured a win at the Super Bowl against the New England Patriots, per ESPN. 
According to National Today, Strahan retired in 2007. It was only a matter of time before the ex-NFL player embarked on a second career in TV. Strahan has hosted two of ABC's top shows, "Live with Kelly and Michael" and "Good Morning America." The two-time Emmy-winner is unstoppable as he has had a successful career both on and off the field.
Yet, despite Strahan's myriad of successes, he may say fatherhood is his biggest win of all. The ex-NFL player is a father to four children: Tanita and Michael Anthony Strahan Jr. from his first marriage to Wanda Hutchins, and twin daughters, Isabella and Sophia Strahan whom he welcomed in 2004 with ex-wife Jean Muggli. While each of Strahan's children resembles the TV personality to some capacity, none are as strikingly similar as his son, Michael Jr.
Michael Anthony Strahan Jr. closely resembles his father
By all accounts, Michael Strahan dotes on all of his children, but there seems to be an especially special connection between the media personality and his only son, Michael Anthony Strahan Jr. In September 2022, Strahan posted a series of photos on Instagram in honor of his son's birthday with the sweetest caption. "Happy birthday to my son, @mstrayjr! Wishing you the most amazing day!! You are an amazing son, friend, brother, and a great human being. So proud of you!" the tribute read.
Many fans took to the comments to share their birthday wishes, while also addressing their uncanny resemblance to one another. "Happy birthday You look just like your dad both of you are handsome [heart]. Love the picture," one fan wrote. Another kept it simple and called it like it is: "I can see the resemble of you and your son."
In the photos, Strahan's son showcased the features he shares with his father, such as his athletic build and his million-dollar smile. The tribute isn't the first Strahan's posted, though. To celebrate National Son's Day in September 2021, Strahan shared a throwback photo of the pair alongside a family friend. Unlike his superstar father, Michael Jr. opted for a less center-stage career, as he's focused on marketing, albeit in the entertainment field, according to LinkedIn. While not much else is known about Michael Strahan Jr., their uncanny resemblance is unmatched.
Michael Strahan adores fatherhood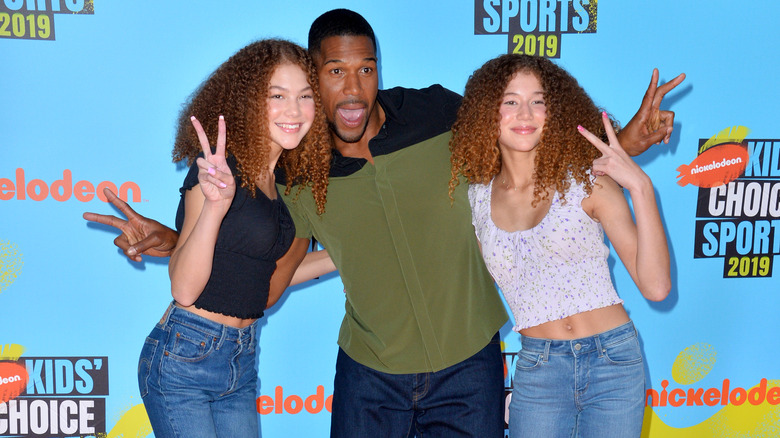 Featureflash Photo Agency/Shutterstock
Michael Strahan and his son might be spitting images of each other, but the father-of-four clearly loves being a dad. In a celebratory Father's Day post in June 2022 Strahan took to Instagram to share images of his children and a photo of him with his father. "No greater honor than being a father. Happy #Fathersday to my dad, who looks down over us every day, and thank you to my kids for giving me the most significant title, dad!," the sweet tribute read. Fans quickly acknowledged the similarities between the "Good Morning America" host and his own father. "Aww I see you got your good looks from your dad!" one user wrote.
Without a doubt, the Strahan gene is strong, however; that's not the only trait inherited from his parents. "I love being the person my kids depend on to learn. Everything they learn for the most part comes from you," Strahan dished to Parade in June 2014. "I love being that example for them, just like my parents were for me."
Sure, Strahan has embraced a variety of roles in his life. But, if you ask the NFL alum about his favorite, we're sure he'd say fatherhood.