The Story Behind Alec Baldwin's Night Out With Jackie Kennedy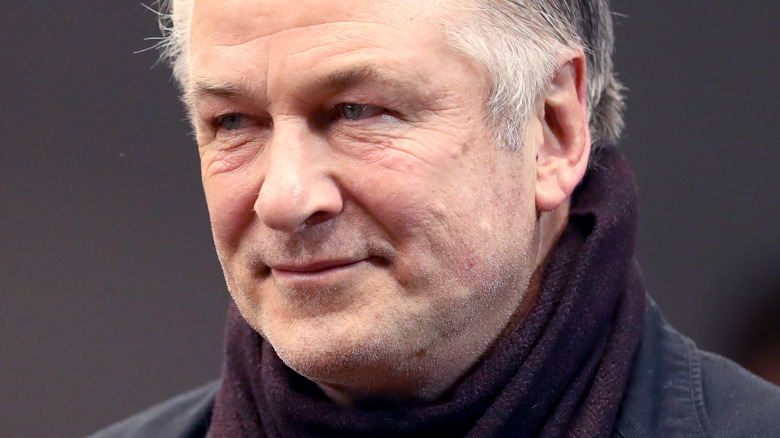 Rich Polk/Getty Images
Imagine, if you can: early '90s post-"Glengarry Glen Ross" Alec Baldwin with former first lady Jackie Kennedy on his arm for a night out on the town. It's surprising, but it truly did happen!
After recovering from the assassination of her husband in 1963, widowed Kennedy would go on to continue her dating life and even got remarried. One of her husband's personal advisors, David Ormsby Gore, was also recently widowed when he proposed to the first lady in 1968, per Vanity Fair. But, she turned him down in favor of her relationship with Aristotle Onassis, who was a shipping mogul and one of the richest men in the world at the time. The wealthy couple wed in 1968, but Onassis died just seven years later in 1975, per Britannica. After two marriages with tragic endings, Kennedy would not remarry again, but she still continued living her life to the fullest in New York City.
One night, with her friends by her side, Kennedy decided to call upon the "30 Rock" actor.
Alec Baldwin and Jackie Kennedy's rendezvous on Broadway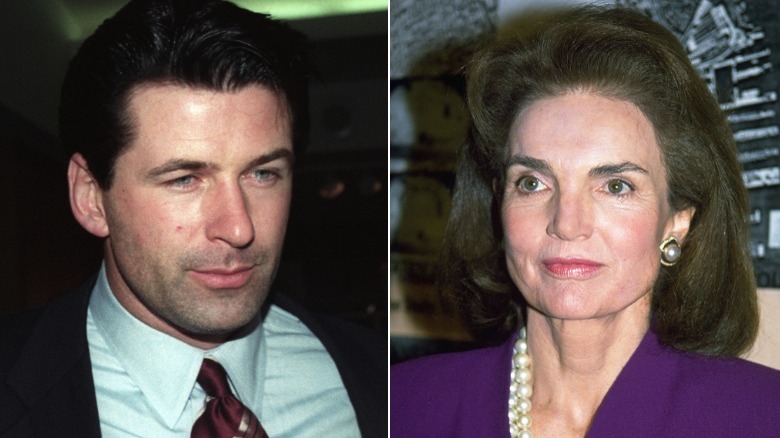 Diane Freed/Getty & Bart Sherkow/Shutterstock
Somehow, Alec Baldwin scored a double date with Jackie Kennedy in the early 1990s. Singer Carly Simon — who was great friends with the first lady before she died in 1994 — told the story of that eventful night in her 2019 memoir, "Touched by the Sun: My Friendship with Jackie" (via People). In need of a plus one for a Broadway show with Simon and her husband, Kennedy agreed to be on Baldwin's arm for the night. The "You're So Vain" singer claims the group donned wigs to hide their identities before they went out on the town.
When rumors first began swirling about the date in 2017, the actor set the record straight on "The Howard Stern Show." He insisted the rendezvous was completely platonic, and the socialite in her 60s was no "cougar." In fact, Baldwin revealed that she mostly asked him for acting advice for her son, John F. Kennedy, Jr.. The actor-producer was also in a relationship with future wife, actor Kim Basinger.
"If I was single and I was on my own, would I have had a fling with Jackie Kennedy?" he joked on the radio show. "It's hard to say. I don't know. Maybe." Either way, Simon wrote in her memoir that Jackie later gushed about the "magical evening" and how fun it was to "cavort like a child now and again." Sometimes former presidents' wives just wanna have fun!
Jackie Kennedy was already off the market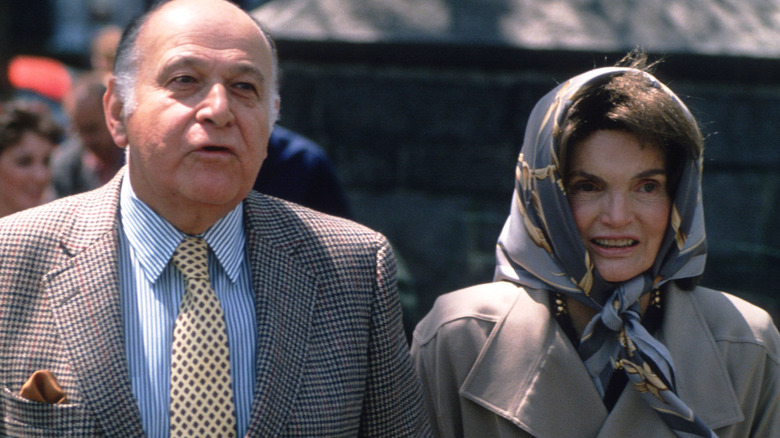 Steve Allen/Getty Images
While Alec Baldwin was in a relationship of his own when he and Jackie Kennedy met on that fateful night, she was seeing someone special to her, as well. Known as the man who was with her until the end, businessman Maurice Tempelsman was the CEO of the diamond seller Lazare Kaplan Inc., per The Washington Post. The two had been friends since they met when JFK was on the presidential campaign trail, but it wasn't until they reunited after the death of her second husband that things reportedly went to the next level. According to The Washington Post, Tempelsman was a financial advisor for Kennedy when she received more than $20 million from Aristotle Onassis's trust.
The couple began secretly dating sometime in the 1980s, and Tempelsman supposedly moved into Kennedy's apartment in New York City while he was still legally married to his wife, Lilly Bucholz. As low-key as their relationship was in the public eye, the two were often seen together at events and out and about in the city.
Tempelsman and Kennedy kept each other company until the former first lady's death from non-Hodgkin's lymphoma. As Carly Simon recalled in an interview with NBC News Tempelsman was with her and JFK Jr. at Kennedy's bedside when she passed.