The Seemingly Shady Comments Sam Smith Made About Taylor Swift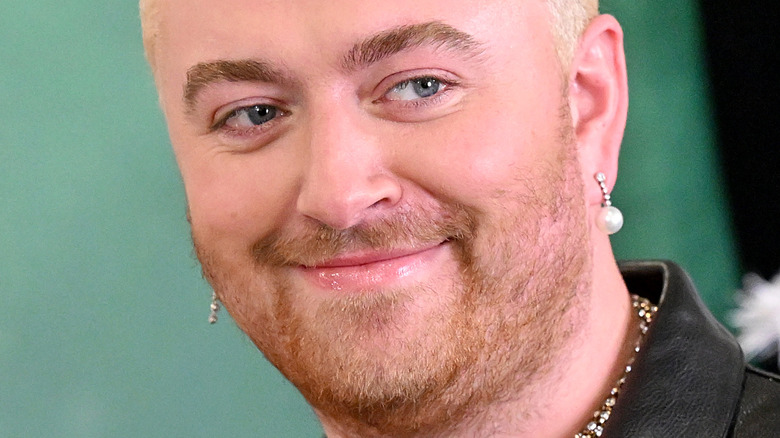 Paras Griffin/Getty Images
Over the last 15 years, an array of singer-songwriters have come onto the scene and changed the landscape of pop music. Arguably, two of the most influential talents that have made a lasting impact in the industry have been Taylor Swift and Sam Smith. Getting her start in 2006 with the release of her self-titled debut, Swift wasted no time making history by becoming the youngest talent to write and sing a number-one country single on her own, per Songwriters Hall of Fame. Of course, the incredible feat was just the beginning for the "Shake It Off" singer, who can count 11 Grammy awards among her many accolades.
A few years after Swift made her unforgettable debut, Smith strutted onto the scene with their hit collaboration with Disclosure, "Latch." With the momentum of their infectious single, the talented singer reached international acclaim with their first album, "In The Lonely Hour," which featured their hit singles "Stay With Me" and "Lay Me Down." While the two were on opposite ends of the pop spectrum in 2014, Swift and Smith finally had their first encounter, so to speak, when their albums – "1989 and "In The Lonely Hour" – became the first and third best-selling albums of the year, per Forbes. In the years since the two mega stars have continued to share space and statements about one another. However, the nature of their exact relationship has kept fans stumped.
Sam Smith seemingly picked a side in Taylor Swift's feud with Kim Kardashian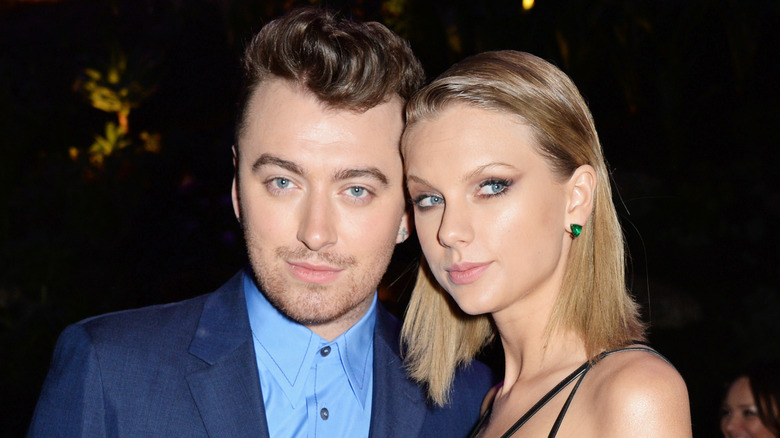 David M. Benett/Getty Images
In 2016, Taylor Swift was sailing high with a Grammy for album of the year and a burgeoning friendship with her former rival, Kanye 'Ye' West. However, their civility was short-lived after the "Faded" rapper released his controversial song "Famous," which painted an unflattering picture of Swift — to say the least. While reports suggest Ye supposedly called Swift for lyric approval, a rep for the singer denied the claim in a statement. Things continued to get murky for the "Evermore" singer after Ye's former wife, Kim Kardashian, released clips of Swift and the rapper's aforementioned conversation to prove the latter's innocence, as noted by Vox.
Amid fans and celebrities picking sides on social media, Sam Smith appeared to show support for Kardashian during their appearance on "Watch What Happens Live." When asked if they were Team Taylor or Team Kim, they said: "I don't really know, like Taylor Swift, I don't know her too well, it's been made up that we know each other, but I don't know her too well," they explained. "I only met her five times, very briefly. I feel like I know Kim more than I know Taylor, so yeah." When host Andy Cohen attempted to confirm Smith was Team Kim, Smith replied: "We'll there's no teams is there really?"
Sam Smith reportedly liked a shady comment about Taylor Swift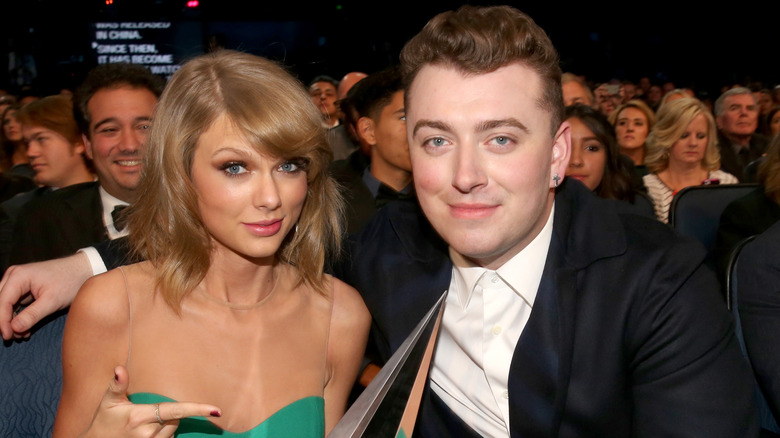 Christopher Polk/ama2014/Getty Images
A month before Sam Smith's "Watch What Happens Live" interview, they found themselves in hot water after supposedly liking a shady tweet about Taylor Swift. "When someone thinks Taylor Swift is a better artist, singer, and songwriter than Sam Smith," the tweet in question said. At the time, Smith and Swift had just released their albums – "Reputation" and "The Thrill Of It All" –- a week apart from each other. The tweet proved controversial with both fanbases, resulting in the Swifties calling out Smith for liking the post. "Sam Smith really out here liking Taylor Swift shade tweets," one person wrote.
However, the "Like I Can" singer refuted the claim after one Twitter user theorized that they had mistakenly liked the tweet. "Maybe it was an accident .. Sam would never do such a thing," they wrote. In response, Smith retweeted the user's statement with a finger emoji pointing down at the message alongside an "x," which is short for a kiss. 
While the two talents might not be best friends or acquaintances, they have shared friendly moments in the past. Back in 2014, Smith praised Swift for being "amazing" and a "role model" in an interview with GQ. "I really respect her," they added. Swift echoed similar sentiments in 2015 after the two sat next to each other at the American Music Awards. "I had this feeling that we'll be friends for life," she told Rolling Stone.