What Is Jenny Jones Doing Today?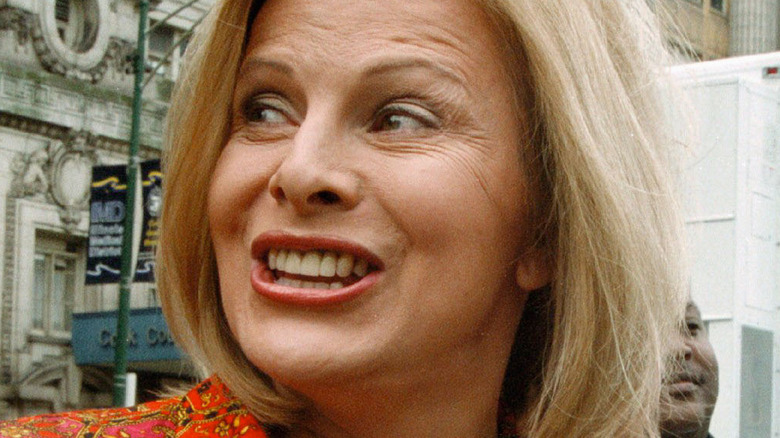 Tim Boyle/Getty Images
TV was dominated by tabloid talk shows in the 1990s. It seemed like every channel had people strutting their stuff, airing dirty laundry, and discovering if they were the father, in front of a baying live audience and millions of viewers. Montel Williams, Maury Povich, Jerry Springer, Ricky Lake, and Jenny Jones all became household names but their high profiles faded over time. So what happened to them?
Somehow, Povich is still dishing out the DNA but Williams' life these days is drastically different from his Sylvia Browne times. After being diagnosed with MS in 1999, per Multiple Sclerosis News Today, he runs a cannabis medical supply company. Springer continues with his syndicated fight-fest in addition to hosting "America's Got Talent" for two seasons and announced he would be trying out something in the theatre," he told Hollywood Reporter.
Entertainment Tonight reports that Lake has a podcast, "Raised By Ricki with Ricki Lake and Kalen Allen." But what about Jones? Along with Lake, Jones hosted one of the least abrasive and combative tabloid TV shows. However, a disastrous "Secret Crush" segment in 1995 sparked a huge scandal. Newsweek reports that one of the guests, Jonathan Schmitz murdered his neighbor Scott Amedure after Amedure declared his romantic feelings for Schmitz on the show. Jones denied any culpability, and the series continued for 10 years before it — and she — disappeared off of the media grid. So, what is Jenny Jones doing today?
Jenny Jones is cooking up a storm on YouTube
Following her show's cancellation in 2003, Jenny Jones struggled to find work. Newsweek reports that she occasionally appeared on "The View" and was a judge on an episode of "Iron Chef" in 2010. Other than that, it was pretty much crickets on the TV screen for Jones. So, the plucky Canadian-born immigrant remade herself and her career, just as she'd done many times previously.
"Jenny Jones is best known for hosting the nationally syndicated talk show 'Jenny Jones,' but her resume lists many careers, including waitress, bookkeeper, temp worker, fashion model, caterer, comedian, musician, singer, songwriter, author, food blogger, and philanthropist," her website bio reads. Jones decided to jump on the YouTube bandwagon and take her love of food along for the ride. She launched her own channel, "Jenny Can Cook" in 2008 along with an accompanying website. At the time of posting, "Jenny Can Cook" has 1.25 million subscribers and over 132 million views.
"I can cook. I really can. Thanks to my good fortune, I get to do something I love every day," she writes. "And I'm sharing all my healthy, easy recipes with the world — 190 countries! I never expected that! People everywhere really like my cooking. Who knew?" Jones' cooking videos include her whipping up meatloaf, fudge brownies, and apple pie. "I'm just a home cook sharing the recipes I make in my kitchen, hoping to motivate more people to cook at home," she explains.
Jenny Jones is an author and philanthropist
"It's chow time, baby!" Jenny Jones declares in her YouTube introductory video. "Garlic bread in the oven is like a man in a strip club; it shouldn't be in there too long," she quips. Before starting "Jenny Can Cook!" Jones penned two books. The first was her 1997 autobiography, "Jenny Jones: My Story." In the memoir, she offers up a surprising glimpse into her troubled childhood. Jones admits she was "an eleven-year-old runaway" who supported herself by "waiting tables and shoplifting." Jones says she was forced to return home after being "arrested for the first of four times in her life."
Jones followed up with a cookbook, "Look Good, Feel Great," published in 2006. "She shares more than eighty of her personal recipes, bringing the power of superfoods to home-style dishes that taste too good to be 'healthy,'" the book jacket promises. The former show host vowed to donate all profits from both books to the City of Hope breast cancer research program, per her website.
"Jenny Can Cook!" hasn't added any new content for four years, but its creator has kept busy. She launched the Jenny's Heroes campaign, which started throughout the US before expanding to Canada. "In 2008, I offered grants up to $25,000 to everyday citizens to spend in their own communities," she writes on the home page. "Just look at how much they did that will benefit their communities and neighborhoods for years to come."