Why Jerry Springer Stopped Hosting America's Got Talent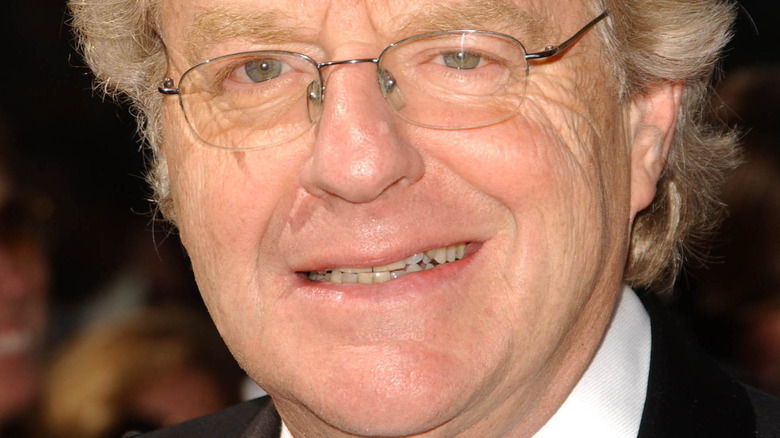 s_bukley/Shutterstock
"America's Got Talent" has seen quite a few stars come and go over the years. One of the most consistent change ups has to be on the judging panel, where a whole host of famous faces have sat behind the famous desk with the big red Xs. While Sofia Vergara, Simon Cowell, Howie Mandel, and Heidi Klum held down the fort for Season 17 in 2022, before that, the likes of Piers Morgan, Sharon Osbourne, David Hasselhoff, Howard Stern, Brandy Norwood, Mel B, Julianne Hough, and Gabrielle Union all called themselves judges on the ABC show (which, in Union's case, came with its fair share of controversy).
But it's not just the famous faces who hit those big red (or gold!) Xs who have rotated since the talent show first hit our screens in 2006. The show has also seen its fair share of hosts over the years, with the late Regis Philbin first helming the series, though he only stuck around for a single season. While Nick Cannon, Tyra Banks, and Terry Crews have all preceded him, Philbin passed the baton to another TV legend in the former of Jerry Springer, who fronted the series for Seasons 2 and 3. But why did the talk show host really decide to hang up his mic?
Jerry Springer left America's Got Talent due to work commitments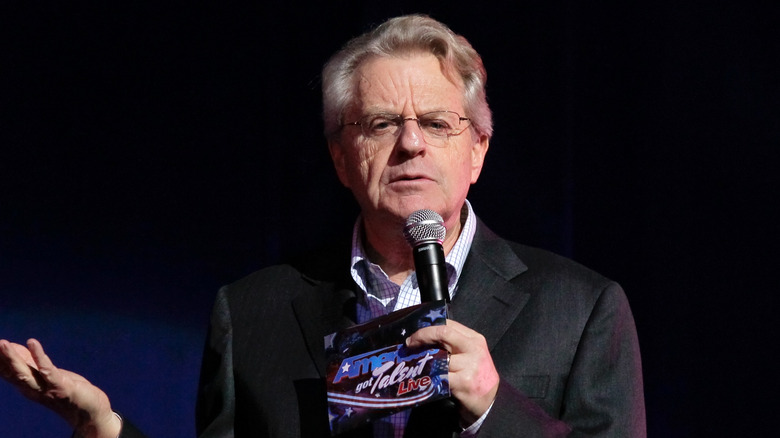 Noel Vasquez/Getty Images
The year was 2009, and "America's Got Talent" had already seen a big shakeup after Regis Philbin stepped down as host and Brandy Norwood left the judging panel, but it was about to see another big change. Following the Season 3 finale, Jerry Springer announced that he would not be returning to the talent show, blaming a full schedule as the reason for his departure.
"These last two seasons, working with everyone associated with the show and all the extraordinary and talented performers across America, has been an incredibly rewarding experience for me," Springer said in a statement, per The Hollywood Reporter, admitting he loved his two seasons hosting the show. "This summer, I will be pursuing a wonderful opportunity in the theatre. That, coupled with my syndicated talk how leaves my plate more than full," he added. It seemed like there was no hard feelings either, as alternative programming head at NBC Paul Telegdy said, "We thank him for his hard work and dedication to the show and congratulate him on this new endeavor."
Springer didn't totally sever ties with the show, though. Today confirmed in 2009 that he would serve as the host of "America's Got Talent Live" in Las Vegas, before he then hosted "America's Got Talent: All Stars Tour," which hit 40 cities across the U.S. Springer even returned to "AGT" to promote the tour and praise Nick Cannon on his hosting duties.
Jerry Springer didn't think he could fill Regis Philbin's shoes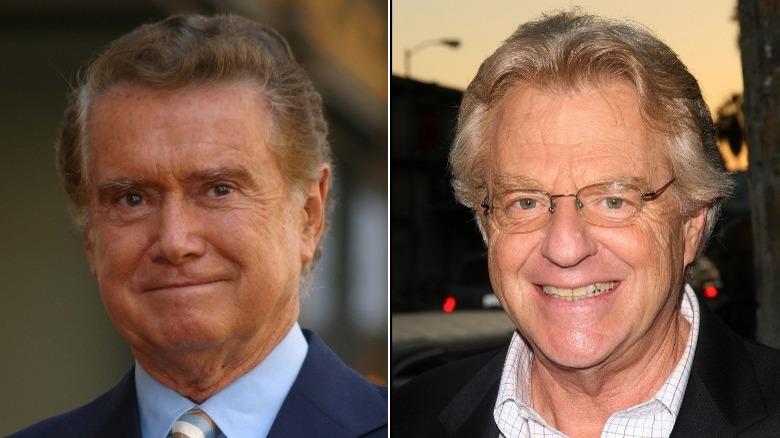 Joe Seer & s_bukley/Shutterstock
When Jerry Springer became the news face of "America's Got Talent," he admitted that it was never his plan to do the same thing legendary host Regis Philbin did. "You know Regis is the best there ever was at this business so I'm not even going to pretend I can fill his shoes. It would be insulting to him and foolish of me," Springer said on a conference call at the time (via TV Fanatic). "I'm going to be what I can be as best I can be. But it's going to be me, it's not Regis. I would never pretend to have his competence," he added.
Springer was clearly pretty excited to join the show, though. Variety reported that Philbin said bye bye to the variety series due to what he described as "heavy travel commitments," but Springer knew he was the perfect person to step in. "I've been around some of America's most talented individuals on my talk show, so I'll feel right at home hosting 'America's Got Talent,'" he said.