What Is Drake's Real Name?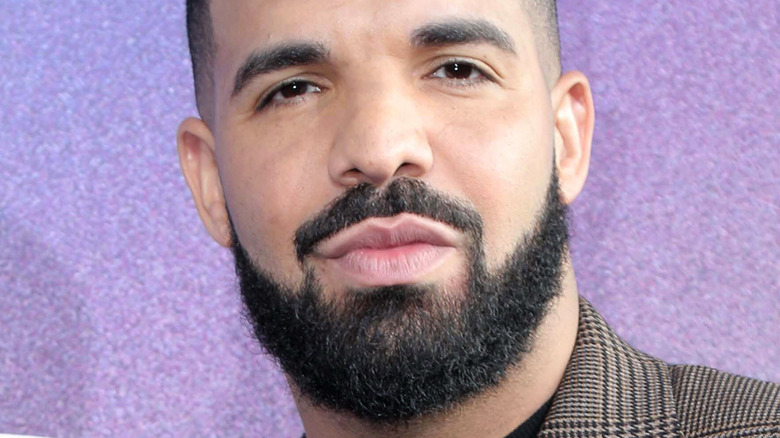 Kathy Hutchins/Shutterstock
There are few people interested in music that don't know the name Drake. Originally connected with Young Money Entertainment, the record label created by Lil Wayne, Drake released his debut studio album "Thank Me Later" in 2010, per Pitchfork. His influence only continued to grow as he released hit after hit with his genre-crossing abilities to sing and rap, often in the same song. His name also started to appear in the record books, seemingly setting a new record with every release. For example, in July of 2022, Drake broke a record long held by The Beatles by having an insane 34 top-five hits on the Billboard Hot 100 chart. With Drake's collaborative album "Her Loss" with 21 Savage, all sixteen songs on the record landed on the Hot 100 and gave him a record-setting 15 songs in the top 20 spots. On the album is the track "Calling My Name," where Drake sings "Your ***** is calling my name," via Genius. Drake also couldn't keep his name out of controversial conversations. In the midst of a beef with a fellow rapper, Pusha T released a song called "The Story of Adidon" where he claimed Drake was hiding a son from the public.
While Drake was the featured artist on Rihanna's song "What's My Name?" it is a legitimate question about the rapper. Though fans may wear merchandise with his stage name or chant about the artist during concerts, many probably wonder, what is Drake's real name?
Drake before he was Drake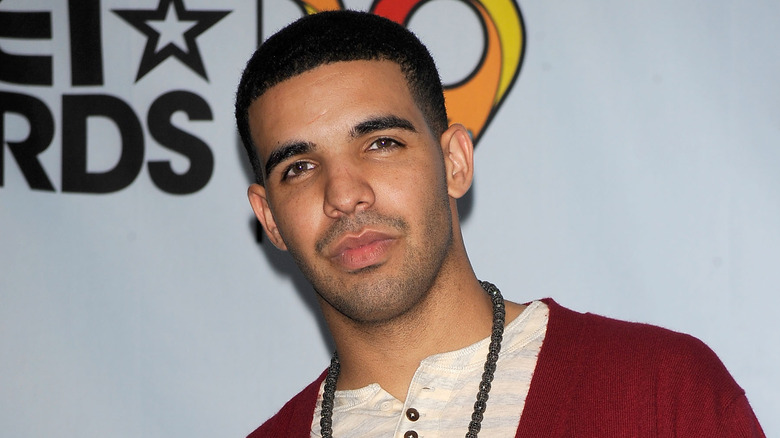 Frazer Harrison/Getty Images
In 1986, a future star was born in Toronto, Canada named Aubrey Graham, the son of Dennis and Sandi Graham, "Elvis Duran and the Morning Show," recapped. Dennis was responsible for giving Aubrey his middle name Drake. "His reasoning behind it, I am not sure," the rapper told HipHopCanada about his dad's choice of Drake. "My dad is a character so it could be anything," Drake explained. As a teen, Drake landed a role on the Canadian TV series "Degrassi: The Next Generation" and was credited by his birth name Aubrey Graham. At this time, he also started to develop his skills as a musician. When it came to choosing a stage name, Graham decided to stick with his middle one. "I just really loved the name and I embraced it my whole life," he revealed. "I like the fact that I have two names because I find that in this industry you have to have dual personalities [especially] being a transitional entertainer," Drake added. According to this dual threat, he considered his Drake persona to be closer to his true personality while Aubrey Graham was a more polished version of himself.
Even after he became a superstar, Drake never shied away from his acting history or how he, in his own words, started from the bottom as Aubrey and worked his way to the top. "This is my real age, my real name, my real past, and I'm good with that," Drake told GQ.
All about Drake's heritage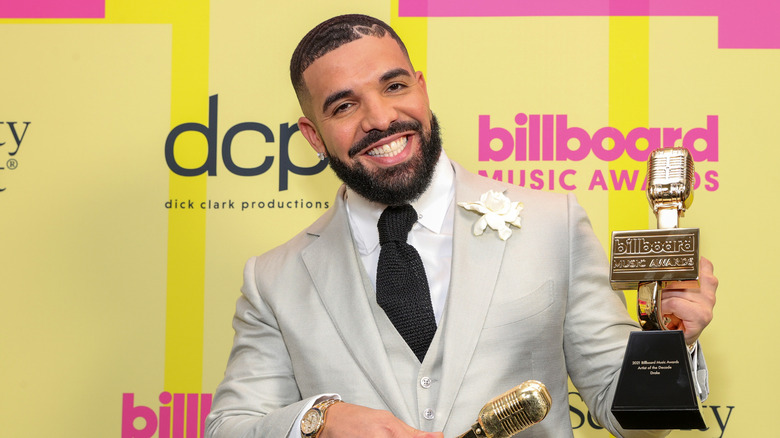 Rich Fury/Getty Images
When guest hosting "Saturday Night Live," Drake explained to audiences that he is Jewish, coming from a Jewish mother and a Black father. At the end of his monologue, the rapper and actor then starred in a skit recreating his 1999 bar mitzvah. As he expanded his empire and turned to entrepreneurial projects, Drake opened a nightclub in Toronto called the Sher Club. This is a reference to his two Jewish grandparents named Reuben and Evelyn Sher. "My grandmother was the first person to ever play catch with me and my grandfather was the biggest sports fan in the world. I opened this club in the memory of both of you," he wrote on Instagram, via the Jewish Telegraphic Agency.
Other important names throughout Drake's career are his many alter egos and nicknames. One is Drizzy, like what he called himself in the song "8 Out of 10," via Genius. Another, 6 God, is a reference to the zip code of his hometown of Toronto. He also made a song, "6 God," per Genius. When it comes to social media, Drake uses the Instagram handle of Champagne Papi. According to Dictionary.com, this name may have come from his personal fashion style and musical influences in the early '10s when he first used the Instagram handle. He even still carries a name from his early acting career in Canada. Wheelchair Jimmy is a reference to the character he played on "Degrassi: The Next Generation."