Ryan And Mackenzie Edwards' Marriage Is Seemingly Over (And It's Getting Messy)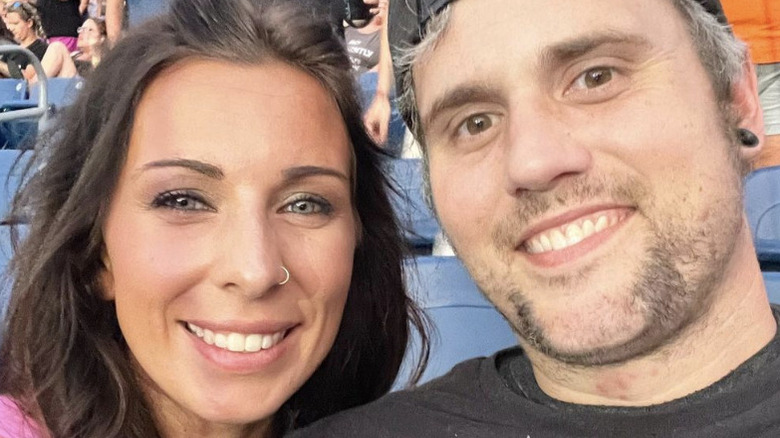 Ryan Edwards and his wife Mackenzie Edwards (née Standifer) are apparently calling it quits, with more drama suddenly throwing an even bigger wrench into their already tumultuous relationship.
The couple — whose relationship has played out on MTVs "Teen Mom OG" — secretly tied the knot in 2017 and later exchanged vows at a church ceremony that same year, as noted by People. Their relationship was fraught with issues from the start. In 2018, Ryan checked into rehab for a second time to deal with his substance abuse issues, leading some fans to speculate that the two would part ways. However, Mackenzie stuck with her husband, defending her decision to do so on Instagram. "Just because someone has a problem doesn't give you an excuse to give up," she wrote (via Us Weekly). "Thankful for a man who accepts me for who I am and what I have been through and supports me even when I feel broken. As much as I have been there for him, he's been there for me 10x over."
Mackenzie also blasted haters who questioned their relationship, especially after they were fired from the show. "We are in a happy place at the moment," she said during an interview with The Sun. "Nobody is saying that we haven't made mistakes, because we have. But I'm not going to harp over them or live in sadness or shame." Now, nearly six years after exchanging vows, Ryan and Mackenzie have called it quits for good.
Ryan Edwards broke social media hiatus to address the split
Ryan Edwards has remained relatively quiet on social media over the last five years, so fans were stunned when he suddenly re-emerged on Sunday, January 29. In a cryptic post shared to Instagram, the reality star appeared to address the status of his relationship with Mackenzie Edwards — and by the looks of it — their marriage is over. Ryan shared a photo of a quote that read, "I trusted you but now your words mean nothing to me, because your actions spoke the truth," and accompanied it with the caption: "Your regret is coming."
What's more, Ryan commented under one of Mackenzie's old Instagram posts with more details about their apparent split. "Take wife down off this. I'm not proud of being married to someone that stays out in bars and goes home with others guys," he reportedly wrote in a since-deleted comment (via InTouch). "Tomorrow can't get here fast enough! Don you know what happens when u lay with dogs? ... wait look who I'm talking to. And then blaming it on my addiction yea divorce is the right thing."
While Ryan and Mackenzie's marriage was marred in controversy, the two remained together for many years. However, an insider previously noted that the only reason why they would part ways is if Ryan relapses. "If he relapses again, she's going to file for divorce," the source dished to Radar. "She's serious. She doesn't want to continue to be with someone who doesn't help himself."