What We Know About Toby Keith's Wife, Tricia Lucus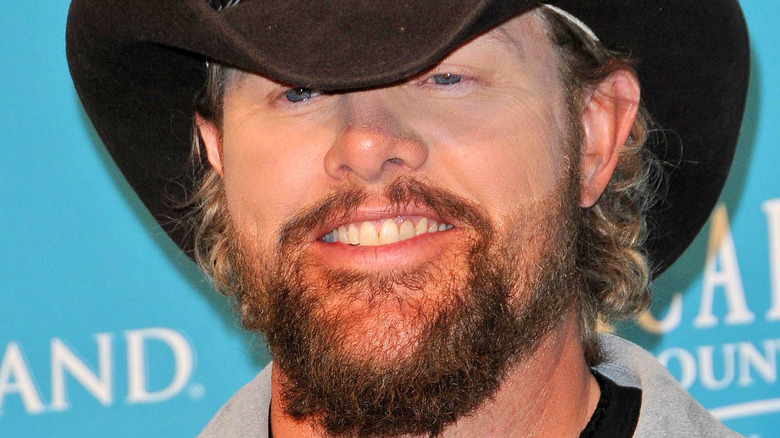 s_bukley/Shutterstock
Toby Keith has gone from strength to strength since he burst onto the country music scene with his debut single, "Should've Been a Cowboy," back in 1993 (yes, it really was that long ago!) Since then, he's had multiple number ones on the country charts, including the likes of "How Do You Like Me Now?!," "Courtesy of the Red, White and Blue (The Angry American)," and "As Good As I Once Was."
But while the world knows plenty about Keith's music, one thing his fans may not know so much about is his personal life. While some of the genre's biggest stars like Carrie Underwood, Miranda Lambert, and Luke Bryan may be more common names in the gossip columns, Keith has mainly stayed out of the tabloid's column inches over the years. He's a happily married family man after finding love with his wife, Tricia Lucas, before he even released his debut single... but who exactly is the woman behind this country music superstar? This is what you need to know about Tricia Lucas.
Tricia Lucas was just 19 when she met Toby Keith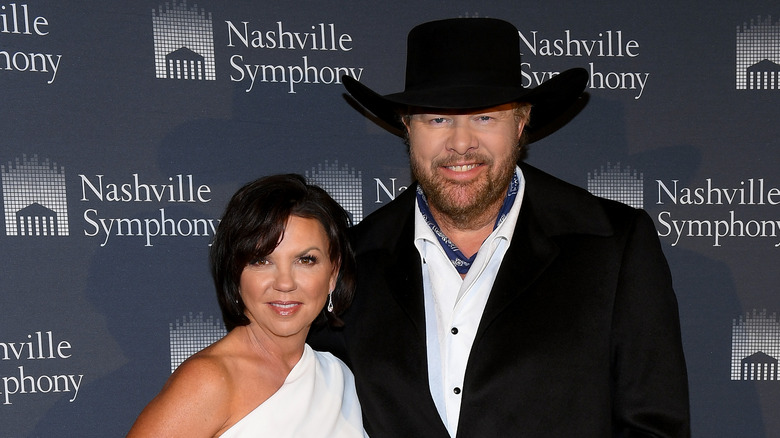 Jason Kempin/Getty Images
It was all about the young love for Toby Keith and Tricia Lucas. The two told People in 2001 that they met at a club when he was just 20 and she was 19, years before the former became one of the most prominent stars in country music. In fact, at the time, Keith was earning $50,000 a year working at an oil-field and would play shows in bars in his free time while Lucas was a secretary. She clearly felt an instant attraction to Keith, though. "He was just one of those larger-than-life guys, full of confidence," she recalled, while he told Country Weekly in 2011 they shared a dance that fateful night they met. "I thought she was great," he added. The two ended up dating for three years before walking down the aisle, though things weren't always the easiest before Keith made it big in the music world.
"Dozens of people told Tricia, 'You need to go tell your old man to get a real job.' It took a strong-hearted and loving woman to say, 'He's good enough at music that I've got to let him try. And it'll be a great shot for both of us if he can make it work,'" Keith admitted to Country Weekly of how his wife always supported his dream. Lucas told People, "He'd say, 'Trish, one of these days, my time is coming. Hang in there.'" And hang in she did.
Tricia Lucas is a businesswoman and mom of three
Tricia Lucas was already a mom when she met Toby Keith, as she welcomed daughter Shelley Covel Rowland in 1980, per Taste of Country, around two years before she met her now husband. But Keith clearly always considered Rowland his daughter, as he adopted her after he and Lucas tied the knot. The happy couple then went on to welcome two more children, daughter Krystal in 1985 and son Stelen in 1997.
As for what Lucas is up to these days, she seemingly prefers to stay out of the spotlight. She doesn't appear to have any public social media accounts where she shows off her life as a mom and grandma (Shelley and Krystal both have two children, per The Sun), though she does sometimes appear on her family's pages. In November 2018, Keith posted a gorgeous family shot on Instagram showing him and Tricia posing with their children and grandchildren, while Krystal posted a throwback family photo on her own Instagram that same month which showed the gang several years ago rocking Toby Keith sweatshirts.
As for what Lucas gets up to outside of family life? Business! Lucas founded the women's golf apparel brand SwingDish alongside Krystal and Shelley. "I've been a mother for all of these years, a stay-at-home mom while my husband worked," she explained to Haute Living in 2015, admitting she thought it was time to give her dream a go after Stelen went off to college.