How Sting Got Scammed Out Of Millions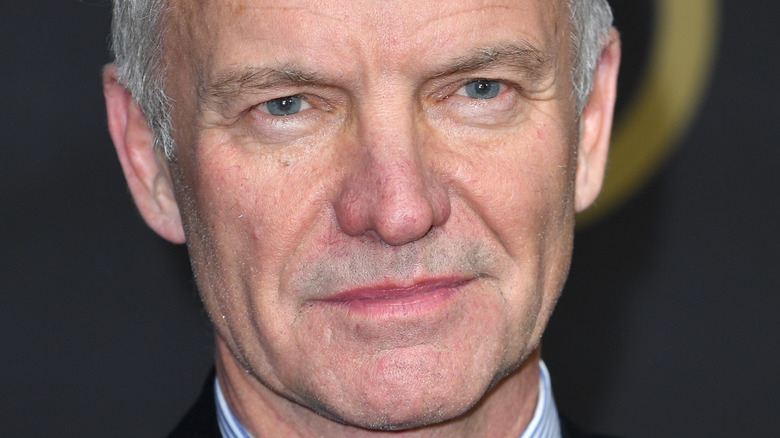 Gareth Cattermole/Getty Images
Sting may be known as the songwriter, lead singer, and bassist for the new wave rock outfit The Police, but he's also living proof that even world-famous rockstars can get duped by a scammer. In fact, when the musician joined the ranks of celebrities who've been scammed out of millions, the case brought against the perpetrator was front-page news.
Some estimates peg the rockstar's net worth at $550 million. Not exactly a shocker, after all, Mirror reported that his company, Steerpike Ltd., did exceptionally well in 2020. So well that Sting is thought to have earned over £70 million ($86 million) that year alone. Peanuts for writing disturbing pop songs that people love. We're not surprised then, as This Is Money pointed out, Sting and his wife, Trudie Styler, collect palatial homes like some mere mortals collect baseball cards.
Its clear Sting knows a thing or two about making money. Even so, he still managed to fall prey to a con artist a few decades ago. So, just what happened, and how did the legendary rocker recover from the entire debacle? 
Sting's financial advisor spent his money behind his back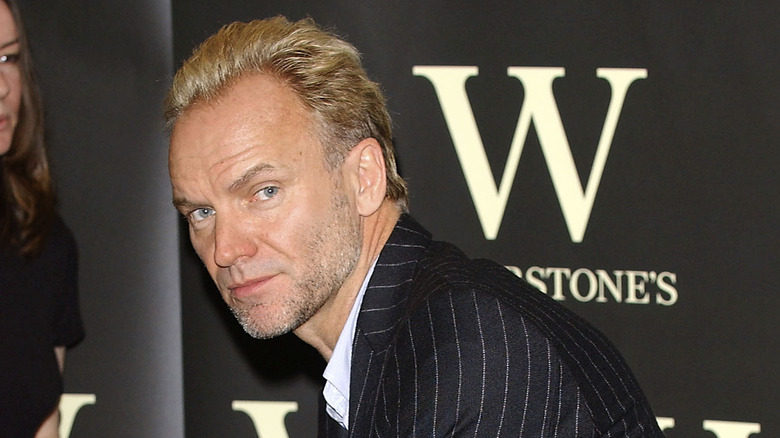 Steve Finn/Getty Images
As noted in an interview with Rolling Stone, Sting's scam nightmare began in the early '90s after he noticed something amiss with his accounts. Or rather, he realized something missing from his accounts: More than $6 million of his hard-earned cash. In the wake of the discovery, Sting requested an immediate investigation by the British authorities, which set the ball rolling for a very public case. 
According to the Independent, the accused — Sting's financial advisor, Keith Moore — was said to have invested in several curious ventures, including restaurants and aircraft. The kicker? He was using Sting's money to do it. And, as if that wasn't enough, the outlet claims Moore used the rest of the cash to avoid bankruptcy. To that, the now-disgraced advisor is said to have argued that Sting knew a £69,000 (around $85,000 at the time) check he signed off on was intended for personal use. Sting's response? "I'm a generous man ... But I'm not that generous," he quipped. 
Ultimately, Moore was found guilty of his crimes and sentenced to six years behind bars. And, after it was revealed that the singer's bank, Coutts, had never authorized the withdrawals made by Moore in the first place, they paid him back more than £4.8 million ($3.8 million) in reimbursements. It's safe to say that Sting stung back. 
... but it made Sting re-evaluate his ideas about wealth.
Craig Barritt/Getty Images
Sting was only half joking when he told the court he was "a generous man" (via The Independent). For most of his career, the rocker has made it a point to be generous with his wealth. In fact, according to the celebrity philanthropy site Look to the Stars, the singer has been involved with no less than 158 charities over the years. 
Even so, the scam he endured marked a turning point for Sting. Speaking to Rolling Stone ahead of his court case, the singer revealed, "It made me very seriously look at the idea of wealth, and I came up with the conclusion that wealth isn't what you have in the bank. Your wealth is your friendships, family, health and happiness." In light of that, it's not all surprising that in 2014, he told the Mail on Sunday he wasn't planning on leaving his millions to his kids. "Obviously, if they were in trouble I would help them, but I've never really had to do that. They have work ethic that makes them want to succeed on their own," he explained. That, he shared, and the fact that he was focused on his obligations in the here and now. "We have a lot of commitments. What comes in, we spend, and there isn't much left," he said. 
Well, there's certainly more to spend now that he's foiled his financial advisor's caper.