Travis And Jason Kelce's Historic Super Bowl Appearance Has Skeptical Fans Sounding Off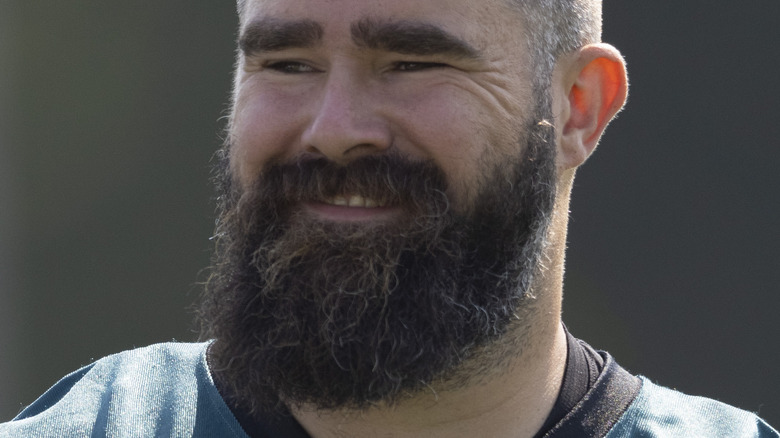 Mitchell Leff/Getty Images
Travis and Jason Kelce will face each other in the Super Bowl. According to the NFL, the two brothers are used to their sibling rivalry. "He punched me in the face after playing a game of basketball," Travis said of his and his older brother's last physical fight. "I picked him up and threw him on the kitchen floor and knocked the stove off its hinges." He added that they almost injured their dad who intervened to break up the fight.
The two brothers played football together at the University of Cincinnati, per People. Jason was drafted by the Philadelphia Eagles in 2011, and Travis followed suit after being drafted by the Kansas City Chiefs in 2013. The brothers also have their own podcast. "It's been good to just have that set amount of time to be able to just sit down and chat," the Chiefs tight end told Forbes.
And no one could be prouder of the Kelce brothers than their mother, Donna. The NFL's Twitter account tracked the mom's whereabouts when she accomplished going to two playoff games in one day. She started out in Tampa Bay where the Eagles took on the Buccaneers and caught a quick flight to Kansas City for the Chiefs playoff game. Now, Donna gets to see her sons play against each other in the same location, but the historic narrative has some fans questioning the true intentions of the NFL.
Fans suspect the NFL wanted the Kelce brothers in the Super Bowl
According to USA Today, Jason and Travis Kelce facing off in the Super Bowl marks the very first time two brothers play against each other in the big game. "It's going to be an amazing feeling playing against him," Travis said. He mentioned that he has a lot of respect for his brother and his team. "I love my brother, but it's definitely going to be an emotional game, that's for sure," he added.
But after the Kansas Chiefs defeated the Cincinnati Bengals in the AFC Championship Game, fans are thinking the referees and game officials  "rigged" the game to get the Kelce brothers to the Super Bowl. "The NFL needs storylines, and they do their best to help the teams they want to win," one Chiefs fan tweeted, listing the potential stories that could increase the popularity of the game. Another fan tweeted about how Chiefs head coach Andy Reid will be coaching against his former team, the Philadelphia Eagles, adding to the historic moment. "NFL wanted the Andy Reid/Kelce Bowl?" another fan tweeted, adding that they never believed anything was "rigged" until now, saying, "Well they got it. Good for them."
Last season, Los Angeles Rams head coach Sean McVay and Bengals head coach Zac Taylor were the youngest head coaches to face off in the Super Bowl, per Marca. Taylor also used to be an assistant coach for the Rams.