Meghan Trainor's Family With Spy Kids Actor Daryl Sabara Is Expanding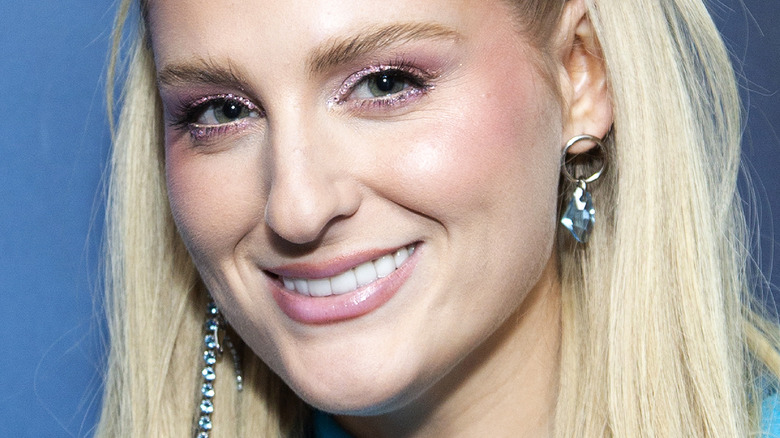 Santiago Felipe/Getty Images
"Made You Look" singer Meghan Trainor and "Spy Kids" actor Daryl Sabara made an exciting announcement about their family. The couple, who tied the knot in 2018, welcomed their first child in February 2021. Trainor posted the news on Instagram, sharing, "This sweet baby boy's due date was today on Valentine's Day. We got to meet him Monday, Feb 8th! We are SO IN LOVE. Thank you @darylsabara for the best Valentine's gift ever! Welcome to the world Riley!" Right away, the couple revealed they wanted more children.
Trainor was not shy about sharing her thoughts on wanting to grow her family. In August 2022, the "All About That Bass" singer spoke with US Weekly about how she and her husband would love to add to their family. She said, "If I could've got pregnant months ago, I would've. We're just busy and I don't want to be, like, nauseous while doing all this fun stuff." The musician even revealed, ideally, she would like to be pregnant by November or December of that year. A month later, the musician spoke about how she would love to have a girl next, per E! News. These were only two of the many interviews in which Trainor had shared that she wanted to grow her family, it turns out, the manifestation may have worked in Trainor and Sabara's favor. The two just made an exciting announcement about their family.
Meghan Trainor and Daryl Sabara are welcoming another baby
Meghan Trainor and Daryl Sabara's dreams are coming true. The couple just made the exciting announcement they will be welcoming a second child. The "Made You Look" singer shared an Instagram post holding the sonogram pictures of their new baby. She wrote, "BABY #2 COMING THIS SUMMER @darylsabara." The couple has been patiently waiting to grow their family, and it looks like the stars aligned.
While promoting her book on the "Today Show," Trainor made the official announcement to the public. Hoda Kotb was left shocked after she opened Trainor's book to reveal a picture of a sonogram. Sabara stepped into the frame with Trainor as she shouted, "We're pregnant!" The excitement was felt all around as the musician and her husband looked ecstatic to share the news. Kotb asked the singer if she knew the gender of baby number two, and although she does, she revealed they're waiting to post that announcement on TikTok.
The musician shared that she's been pregnant for four months and has even tried to explain the pregnancy to her son, Riley. However, the almost one-year-old is still confused about what is happening. The Grammy winner told Riley there was a "baby in mama's belly," but he ended up thinking there was a baby in his belly as well. Even though Riley doesn't completely understand now, the couple is excited for him to be a big brother as they welcome their second child this summer.