Meghan Trainor Opens Up About Her Son's 'Terrifying' Birth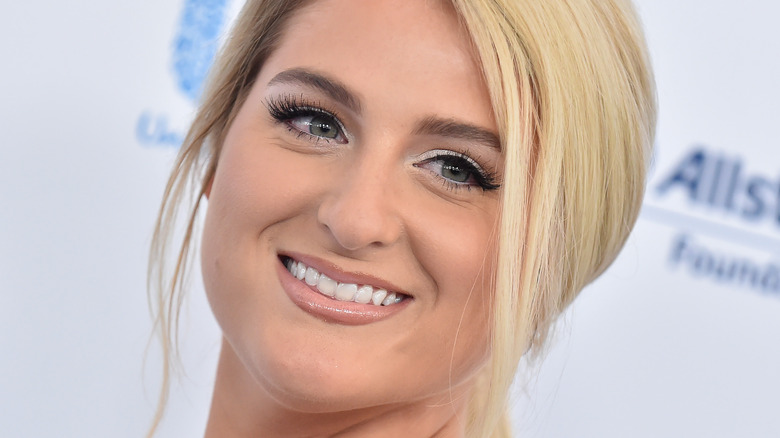 Shutterstock
Meghan Trainor has likened giving birth to a "horror story" as her son did not cry after being born. Trainor welcomed Riley with husband actor Daryl Sabara, famously known for his role in the "Spy Kids" franchise, back in February. But on June 2, the "All About That Bass" singer opened up to "Today" about her harrowing experience in the maternity hospital room, where Riley was born via cesarean section, per People. "It was one of those horror stories where he didn't cry," Trainor began. "He didn't make noise when he came out. I was like, 'Why isn't he crying?' Then they told me he was having breathing issues. It was terrifying." 
Trainor explained Riley was breech and suffered "breathing issues," which meant she got to hold him for just "one second" before he was rushed to the neonatal intensive unit, per Yahoo News. "I got to see him for one second before they took him away. That was probably the worst part." Fans got to see a few glimpses of Riley in a video compilation posted to Trainor's TikTok and Instagram in April. The emotional clip showed her early motherhood journey, from FaceTiming Riley while he was intubated, to eventually gaining the strength to breathe on his own as Trainor held him. 
While Trainor called it a "rough start," she feels grateful to have been able to take her baby home after five days. "I'm biased, but he's the smiliest, happiest baby," Trainor said. Likewise, Trainor says she, too, is "feeling good" following years of struggling with anxiety and depression, per Yahoo News. 
Meghan Trainor did this to aid her mental health while pregnant
While Meghan Trainor called her now 3-month-old son "perfect," she understands her mental health is not always 100%. Trainor shared her precautionary pregnancy measures with "Today," which included going on a low-dose antidepressant, per People. "I made sure it was safe and talked to my doctors," Trainor said. "They told me, 'If you're happy, then your body will be happy and then your baby will happy.' I haven't had any postpartum depression or anything. I think the medicine definitely helped."
Trainor previously opened up about her battle with anxiety and depression back in 2018, which began after she experienced complications with her vocal chords — a health issue potentially detrimental to her singing career, per Glamour. "I thought, 'My God, is it going to be over for me forever?' I fell into a crazy, deep hole of depression and anxiety," she revealed on "The Dan Wootton Interview." After having a "full-blown panic attack," which saw Trainor even end up in the emergency room, she managed to get help via therapy — and a bit of old-fashioned self-care. 
And it seems like Trainor is continuing down that positive path, as she credits her quick recovery following her C-section to "eating well and staying hydrated" and eventually "working out," per Yahoo. "So I'm super-proud, and I know now that I can achieve anything. I'm like, if I can get through that C-section, man, I can do anything."