What Went Wrong Between Nicolas Cage And Patricia Arquette?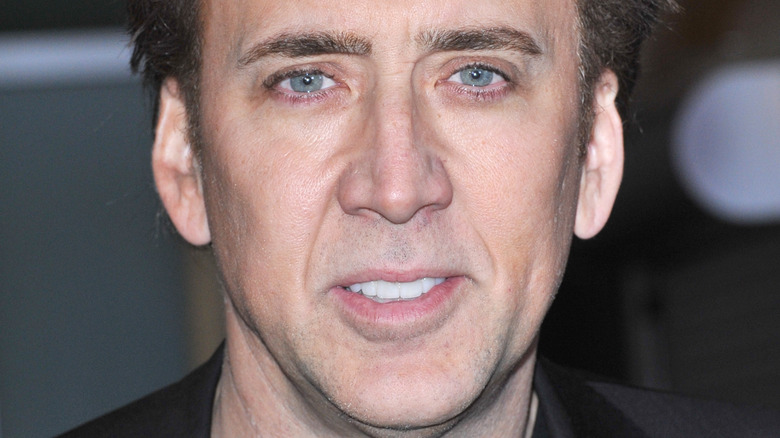 Kathy Hutchins/Shutterstock
Nicolas Cage hasn't always been lucky in love. As of 2023, the actor had four ex-wives, including two very high-profile relationships and splits. You'll likely recall how, in 2002, he took fans by surprise and married Lisa Marie Presley. However, the couple called it quits six months later, per Us Weekly, when Cage had what Presley called a "temper tantrum." Well, years before that headline-making romance, Cage had an equally eyebrow-raising union with Patricia Arquette, which also hit the rocks because of his temper.
The pair first met at Canter's Deli in Los Angeles, California in 1987, per Paper, and Cage was so smitten, he pretty much proposed on the spot. An 18-year-old Arquette decided to give her 23-year-old suitor a run for his money and came up with an impossible scavenger hunt, per The Telegraph. Arquette reportedly asked Cage to find everything from JD Salinger's autograph to a black orchid — and he did. "One by one they started coming to me," she told Andy Cohen in 2018. Even the fact that black orchids don't exist didn't dissuade him. "I peek out the window and there he is with a purple orchid and a black spray paint can and he's spraying it," she recalled to Rolling Stone (via Paper). His commitment was impressive but intense. "It scared me," Arquette said, per InStyle, while Cage himself admitted, "She was freaked out." Even so, she decided to give him a chance, and eventually, a strange marriage would follow their unusual courting.
Nicolas Cage and Patricia Arquette's first split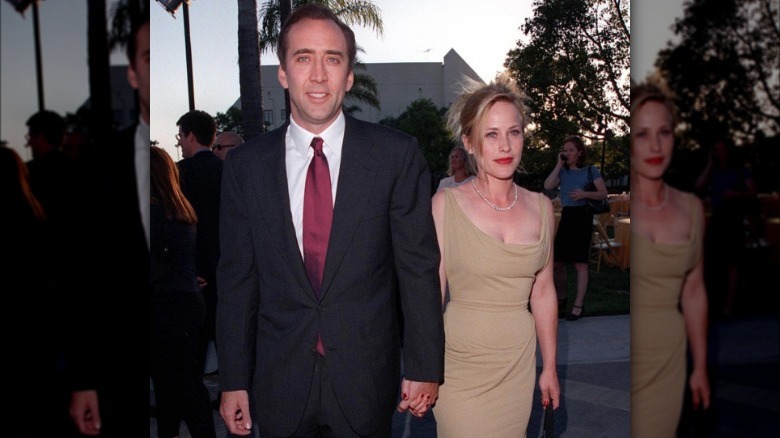 Featureflash Photo Agency/Shutterstock
While she didn't agree to marry Nicolas Cage, Patricia Arquette did reward his dedication to the scavenger hunt by agreeing to accompany him on a trip to Cuba. However, it would be their first and last vacation. According to Paper, there was an issue with their tickets and Cage didn't take the news in stride. Rather, he reportedly had a very public and very extreme "meltdown" and Arquette quickly called it quits. Cage later admitted to Rolling Stone, per Paper, that he wreaked havoc on his own relationships. "Back then, I was living out my fantasies of what I thought an exciting man should be," he shared. "I wanted to be unpredictable and frightening, and I guess I was. I mean, Patricia says that at the time I was pure testosterone." As for Arquette, she told Rolling Stone that she was put off by both the incident and the fact that "his success was scary to me — I couldn't touch him."
It wasn't until 1995, eight years after their first encounter, that the pair rekindled their romance. Almost unbelievably, they bumped into each other at Canter's Deli again and this time, she made the first move. As Arquette told the New York Times, per InStyle, "I needed to be reassured that the depth of his love would be as brave as before," and she was. So much so that she decided to propose.
Nicolas Cage and Patricia Arquette's marriage and divorce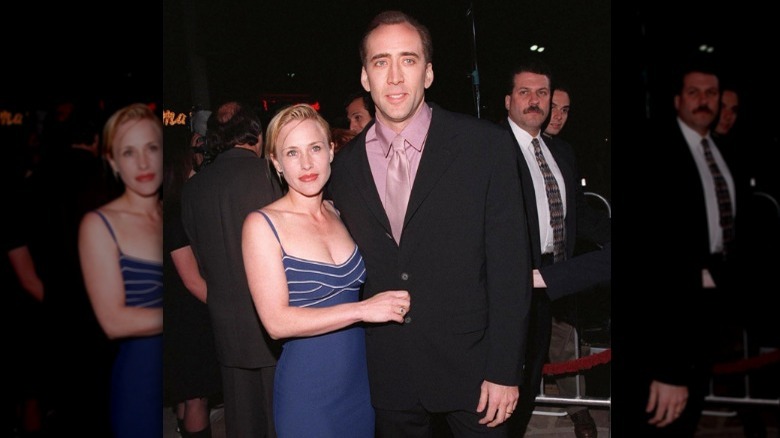 Featureflash Photo Agency/Shutterstock
The second time was the charm for Nicolas Cage and Patricia Arquette. After reconnecting in 1995, Arquette proposed to Cage and he had no qualms about saying yes. "When she showed up at my house dressed head to toe in black vinyl, carrying a big purple wedding cake, I knew I was with the right woman," he told Rolling Stone, per Paper. They were married just two weeks later, but theirs would prove to be an on-again, off-again union. According to E! News, they broke up nine months into their marriage and pretended to be a couple until 2000 when they filed for divorce, backtracked, then filed again. "After several months of attempting to resolve their differences [...] divorce proceedings have begun due to irreconcilable differences," Cage's rep said that November.
Well, Arquette didn't take kindly to rumors that her marriage was faked for nearly five years. "There were times when we weren't living together because we were fighting, but it wasn't as reported and I didn't feel that I needed to explain that," she told The Telegraph in 2000. Adding that work and family obligations also kept them apart at times, she concluded, "It's funny when people are so wrong, and they put you in this position and decide who you are." 
In the end, they went their separate ways and drifted well apart. As Cage told The Guardian in 2018, they hadn't talked "in a long time."