Justin Bieber Dated Sofia Richie For Only A Short Amount Of Time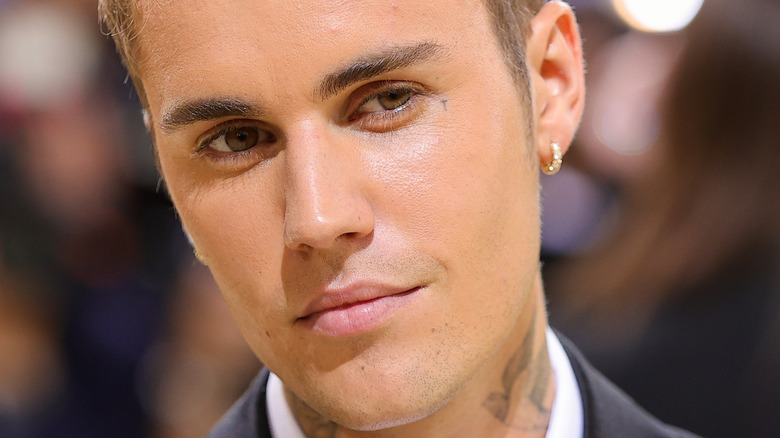 Theo Wargo/Getty Images
When Justin Bieber popped up on the music scene, he quickly became a heartthrob. His dashing looks, musical talent, and dancing abilities had girls falling head over heels for him. As a result, it's no surprise that Bieber's love life piqued many people's interest.
Of course, people became even more interested when he and Selena Gomez began their whirlwind romance. The "Sorry" singer opened up about his relationship with the Disney star and how they were captivated by one another, per Complex. He said, "We were so in love. Nothing else mattered. We were all about each other." Many fans thought that he and Gomez would end up together for good, despite the on-and-off again nature of their relationship. However, according to US Weekly, a couple of months after they broke up, Bieber was back with another intermittent flame, Hailey Bieber. And it didn't take long for the two to take their relationship to the next level. By July 2018, the couple got engaged and later tied the knot.
Controversy ensued following the couple's marriage, causing Bieber to speak out to those hating on his relationship with Hailey, as noted by Harper's Bazaar. He said, "I absolutely loved and love Selena she will always hold a place in my heart, but I am head over heels in love with my wife and she is absolutely the BEST THING that has ever happened to me period." Because fans focus on the famous love triangle, they seem to forget the "Peaches" star once dated another famous model. For a short period, Bieber was linked to Sofia Richie.
Justin Bieber and Sofia Richie's relationship caused drama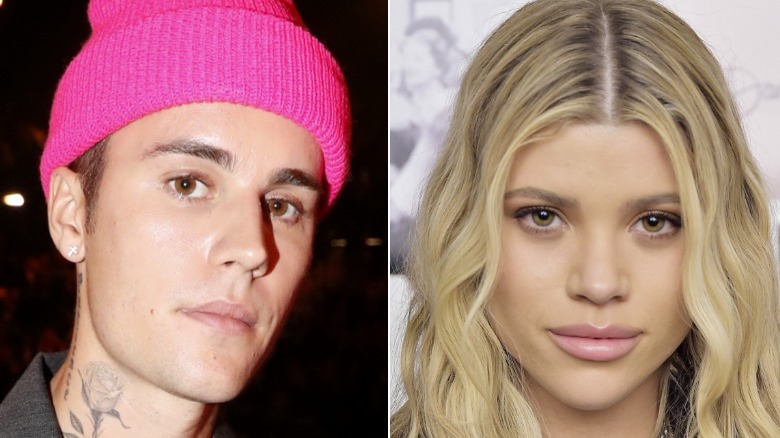 Johnny Nunez & Stefanie Keenan/Getty
Amidst all the madness of Justin Bieber's relationship history, Sofia Richie can be thrown into the mix. Richie, the daughter of singer Lionel Richie, dated Bieber in August 2016, as noted by Us Weekly. While it's unclear how the two crossed paths, it didn't take long for the lovebirds to develop a connection.
Whether they were official or not, Bieber decided to share a post of him and Richie on his Instagram, per Yahoo. Now, the "Love Yourself" singer has some dedicated fans. And at the time, many felt passionate about his relationships and believed the model wasn't up to snuff, so much so that they began sharing hateful messages toward Richie. However, Bieber was not letting the hate slide. Bieber wrote to fans, "I'm gonna make my Instagram private if you guys don't stop the hate this is getting out of hand, if you guys are really fans you wouldn't be so mean to people that I like." As if that didn't cause enough drama, Bieber's ex, Selena Gomez, decided to defend his fans.
Gomez wrote, "If you can't handle the hate then stop posting pictures of your girlfriend lol – it should be special between you two only. Don't be mad at your fans. They love you." Bieber took notice and accused his ex of using him for attention, but she quickly hit back with allegations of infidelity. After that, neither Bieber nor Richie responded to Gomez, and instead, the Grammy winner briefly deleted his Instagram account.
Justin Bieber and Sofia Richie traveled the world together before breakup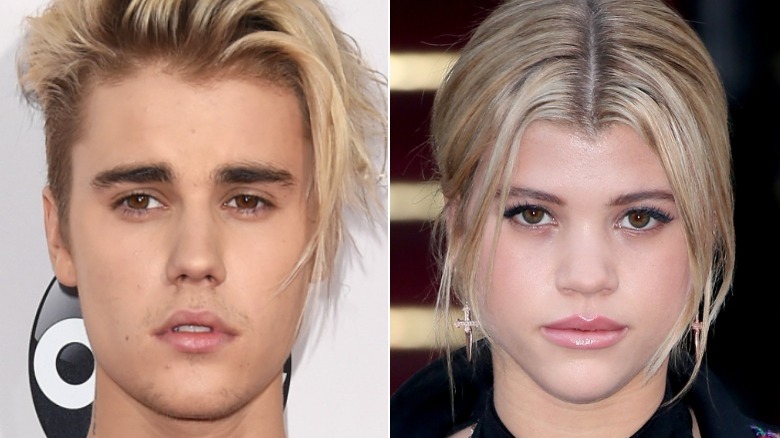 Jason Merritt & Pierre Suu/Getty
Despite the drama surrounding their relationship, Justin Bieber and Sofia Richie decided to block out the haters and focus on one another. Richie even briefly spoke about her and Bieber's connection with Billboard. She said, "We have a special relationship. Justin is very easy to talk to, and that's hard to find with people in Los Angeles."
The two even shared some life milestones with one another. Richie had turned eighteen during her brief relationship with Bieber, and he made sure to pull out all the stops. According to ET, the "Love Yourself" singer took the model on a trip to Cabo San Lucas in Mexico. The musician showered Richie with flowers – literally. The model documented parts of their trip, showing the romantic setup. Red roses in heart shapes and the word "love" were surrounded by candles in honor of the model's birthday.
However, after the trip, things between the two got quiet. By September, just six weeks after they were first spotted together, the couple decided to call it quits. A source told E! News the reason behind the couple's breakup. They said, "It was super-hot and heavy, and because Justin doesn't want a relationship right now, he wanted to cool things down." The source revealed that the breakup happened naturally, and there were no hard feelings between the two. So, although it was short-lived, Bieber and Richie's romance was truly a rollercoaster of emotions.