What Happened To Cam And Emily From Too Hot To Handle?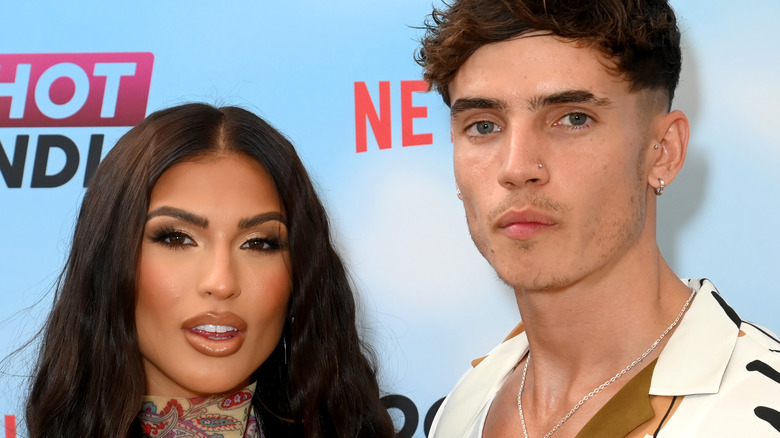 Dave J. Hogan/Getty Images
"Too Hot To Handle" offers a twist on the typical reality dating show. Couples have to remain celibate for the majority of the show and if they breach this agreement and have any physical contact, they lose money from the cash prize. Since this pot is traditionally shared by the group, any couple that sneakily gets busy smooching is majorly raked over the coals. It's intense stuff.
Loads of people get together on the show, but how many last out in the real world? There was Melinda Melrose and Marvin Anthony from Season 2, who left "Too Hot To Handle" together. Season 2, which premiered in June 2021, also introduced us to the lovely Emily Faye Miller, a model from London who fell in love on the show. She met Cam Holmes and the two rode off into the sunset. But couples formed on reality dating shows don't always work out, so what's the scoop with these two?
Rumors of a breakup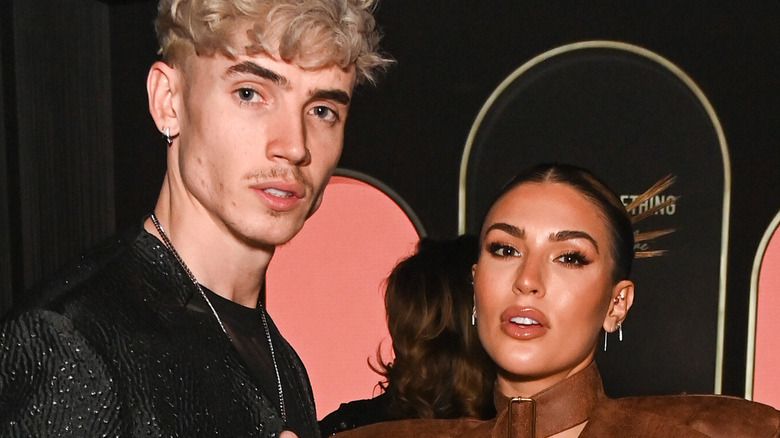 David M. Benett/Getty Images
Things got rocky for Emily Faye Miller and Cam Holmes back in April 2022. The Daily Mail reported that Cam cheated on Emily while she was in Thailand. An insider who is close to Cam said, "We are shocked by Cam's actions. We really thought he wouldn't cheat on Emily but their relationship has been up and down and super stressful from the pressure of the public and the show nature."
The insider added, "We knew Cam was cheating on Emily but didn't want to confront him as we are his friends and thought it was awkward." They also said that Cam was "stupid" to cheat on her and admitted that Cam should have come clean about it.
A few days after the Daily Mail story broke, Emily jumped on TikTok and made a video that confirmed these suspicions of a breakup. She made a sad face and wrote, "Me [realizing] I'm single af," via Capital FM. She quickly cheered up and wrote, "Me [realizing] it's gnna (sic) be a hot girl summer." While it looked like the end of an era, the two reconciled and they're still going strong.
Emily and Cam faced love and loss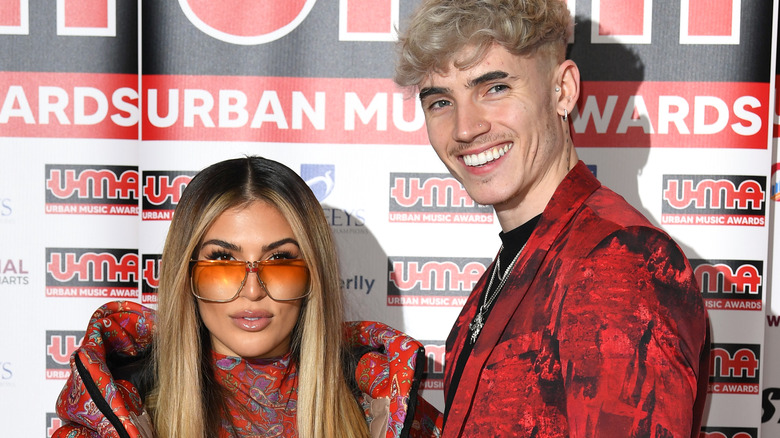 Joe Maher/Getty Images
While Emily Faye Miller and Cam Holmes might have briefly broken up in April 2021, they patched things up and appear to be going strong. How do we know? They're all over each other on social media. On January 27, 2023, Emily posted a series of photos with Cam as she did a little sponsored content for Valentine's Day. Hey, everybody's gotta make a living!
Cam is also all about posting photos of Emily on his feed. One of his pinned photos is a pic of the two of them with the caption: "You" followed by an emoji of the world. Nevertheless, fans still had questions for them. "they still together? if they is im shock," one person commented. "They still together?" another asked. But most of their followers are huge fans of their relationship. "Best Too Hot to Handle graduated couple ever!" someone else added.
They faced a different hurdle in June 2022. Emily disclosed on Instagram that they suffered a pregnancy loss. "So a few weeks ago I discovered I was pregnant," Emily began. "Although it was a shock it was something I was also quite excited about." She went on to explain that she had an ectopic pregnancy. "At 10pm Wednesday I was taken into surgery and I don't know who was crying more me or Cam but was extremely emotional to say the least," she added. Such a sad experience for the couple, but they seem to be able to ride the ups and downs.