Who Is Emily Faye Miller From Too Hot To Handle?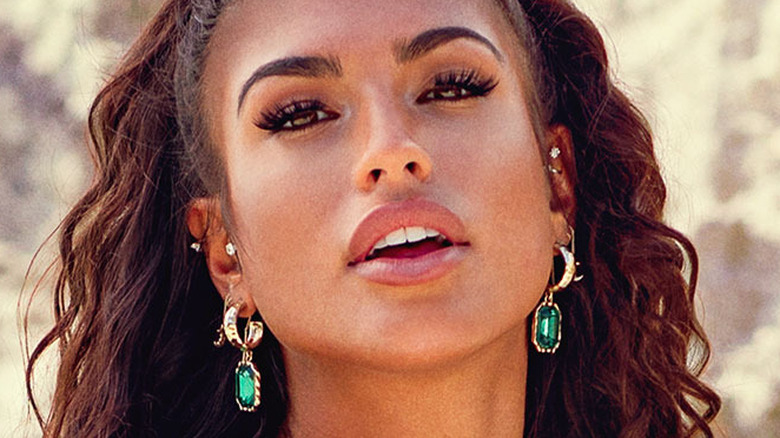 Courtesy of Netflix
Season 2 of Netflix's NSFW reality dating show "Too Hot to Handle" is about to drop, and we know fans of the show are eager to meet the new cast. The show first came out in April 2020, and each season follows a bunch of Instagrammable singles as they try to make lasting connections with one another without hooking up in the process. If the cast can follow the no-touching rules, they also can take home a cash prize of $100,000, divided among all of them. However, despite this sounding like an easy challenge, Season 1 was proof that it can be difficult keeping a group of good-looking people from canoodling with one another. 
According to Marie Claire, "At the end of the first season, each of the remaining 10 contestants walked away with $7,500 before taxes (and the potential for future earnings based on thousands of new Instagram followers)." So, what is the new season expected to look like? 
Set to release June 23, 2021, Season 2 is expected to be "hotter" than ever, thanks to it being filmed in an even more tropical location, Turks and Caicos, and including a whole lotta new oh-so attractive international singles. According to People, the show is back with "10 new sexy singles," one being London-based model Emily Faye Miller. Keep reading to learn more about this "Too Hot to Handle" Season 2 cast member. 
Emily Faye Miller is a 27-year-old model from London
If you're a fan of "Too Hot to Handle" and want to know more about Emily Faye Miller, well, you've come to the right place. We did some digging and learned all there is to know about this new reality heartthrob. From her age to her dog's name to how she likes to party, here's all we know about this new "Too Hot to Handle" cast member. 
Ahead of the "Too Hot to Handle" Season 2 release, People was able to get the exclusive on all the new cast members who will be trying to remain celibate for a chance to win some cash. One of the new reality stars who will be introduced is the 27-year-old U.K.-based model Emily. As People reports, "London-based Emily has no interest in commitment, and she always gets what she wants. This multi-lingual model is the life and soul of the party, but she's not afraid to break a few hearts in her search for satisfaction."
Per Emily's Instagram account, People's bio is pretty spot-on, too. Her feed is filled with heart-breaking pictures, such as bikini mirror shots, selfies, and snapshots from her travels. Her Instagram also proves she has a softer side, thanks to her adorable dog Twix, who is featured in one of her highlights. Emily definitely has the potential to become a fan favorite when Season 2 hits Netflix!