Julie Bowen Opens Up About Scott Phillips Divorce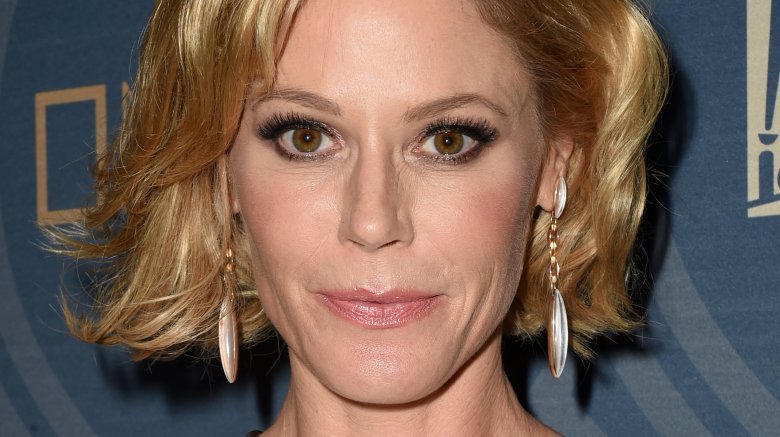 Getty Images
Julie Bowen is opening up about her divorce.
While attending Modern Family's For Your Consideration event in Los Angeles on Monday, April 16, 2018, the TV star spoke with Us Weekly about her recent split from husband Scott Phillips, revealing that her sons and co-stars have been helping to keep her mind off things.
"The beauty of having three children is they don't give you much time for thinking," Bowen told the magazine. "They're like a crash course in being in the now."
One thing she is worried about, however, is her kids' sudden interest in watching her performance in Happy Gilmore, in which she played Adam Sandler's love interest. "The other day one of them was like, 'Can we watch Happy Gilmore?'" the Emmy winner said. Explaining that she immediately said no, she jokingly added, "It's my hair that I'm most afraid of them seeing, not me in lingerie making out with strangers. It's the hair. I don't want them to be traumatized by my hair."
According to longtime castmate Jesse Tyler Ferguson, Bowen's TV family has rallied around her following her breakup. "We've seen marriages, we've seen breakups," he explained. "We are really a family within ourselves so obviously we're going to be there for each other when we have these hard times. It's just a part of life and I'm glad we have one another because we're such a tight group."
And apparently, keeping his on-screen sister distracted means epic group text exchanges. "We have a lot of group texts that go on and on and then they turn into funny videos and funny photos of our family," Ferguson, 42, continued. "It is a way of just connecting with one another. There's no one in this cast that I wouldn't feel 100 percent comfortable reaching out to and asking for help or comfort."
As Nicki Swift previously reported, Bowen, 48, filed for divorce from Phillips, 45, in February 2018 after 13 years of marriage. The two, who had separated a week before, tied the knot in September 2004. They share three young children: Oliver, 11, and twins John and Gustav, 8.
Citing irreconcilable differences in her filing, Bowen asked for joint physical and legal custody of the former couple's kids and requested a termination in the court's ability to grant spousal support to her ex.