Tamra Judge's Husband Eddie Has Fourth Heart Surgery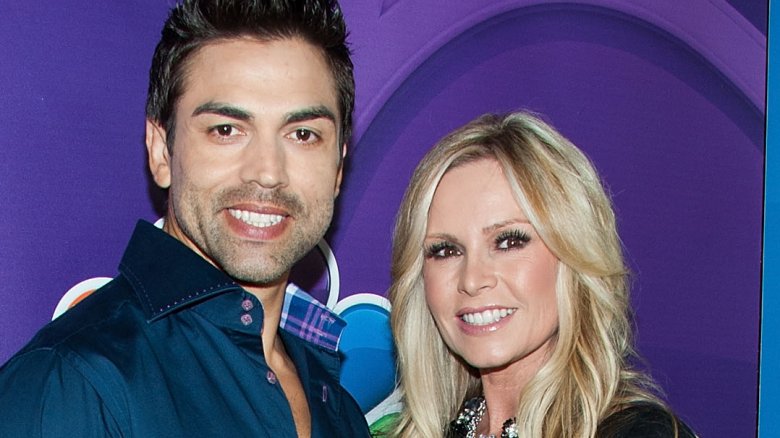 Getty Images
Tamra Judge is supporting her husband, Eddie Judge, as he undergoes major surgery.
On Monday, April 16, 2018, the Real Housewives of Orange County star shared a photo of Eddie in a hospital bed on Instagram, revealing that her husband had been admitted to Hoag Hospital Heart And Vascular Institute in Newport Beach, Calif. for his fourth heart surgery in four months. In the caption, Tamra wrote, "As I sit in the waiting room I need everyone to pray for @eddiejudge ❤️ another Cardio version 😫 4th heart procedure in 4 months. I want my healthy husband back. #powerofprayer🙏 Thank you."
Tamra also posted an image that read, "I said a prayer for you today, that God would touch you with His healing hand and give you comfort and peace you need to get through."
Eddie's exact condition isn't clear, but Tamra has briefly talked about his health before on social media. In December 2017, she posted a photo of Eddie in the hospital, as he prepared to have electrical cardioversion. According to John Hopkins Medicine, electrical cardioversion is often used to treat abnormal heart rhythms.
In February, Tamra shared that her husband was in the hospital again, using the hashtag, "#cardioablation." Cardiac ablation is another form of treatment for heart arrhythmias, as explained by Mayo Clinic.
Unfortunately, Tamra's had her fair share of health problems in recent months too. In March 2018, she broke her foot, and, as Nicki Swift previously reported, Tamra received a skin cancer diagnosis in August 2017, after doctors determined that she had a cancerous mole. She's had brushes with skin cancer in the past as well, having had multiple basal cell skin cancer spots removed from her body.
We hope both Tamra and Eddie get well soon!