The Story Behind Suki Waterhouse's Unique Name (& Why She Changed It)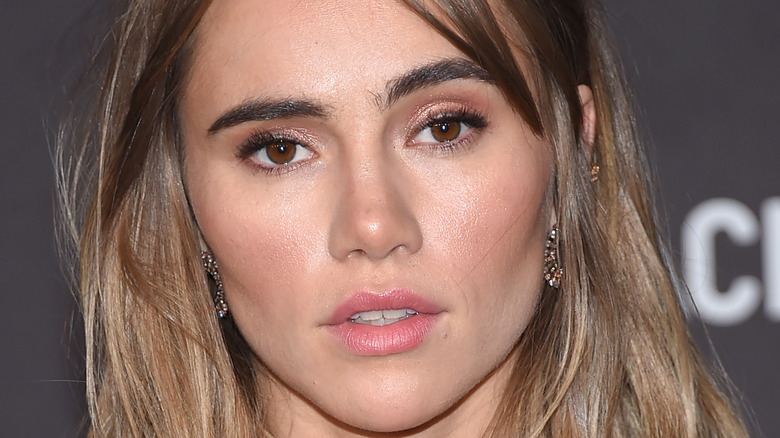 DFree/Shutterstock
Actor, model, and singer Suki Waterhouse has seen her career grow considerably over the years, but something fans might not know about her is that she's among the celebrities who have changed their names for the limelight. Waterhouse's career began with her modeling work, but her public profile grew when she began a relationship with actor Bradley Cooper in 2013.
Unlike some stars who have tried to shed every shred of their past upon becoming famous, though, it turns out this wasn't exactly the case for Waterhouse. While speaking to Vanity Fair in 2014, she explained her relatively unusual name and her parents' decision to bestow it upon her. She said, "Suki means 'beloved' in Japanese. They just wanted to call me anything weird. They were going to call me Kooky." Now, "Kooky Waterhouse" might not have the same ring to it, but even "Suki" isn't the star's full legal name. 
Despite her parents' interest in giving her a name that would stand out from the crowd, her full name is actually a little more on the classic side.
Suki Waterhouse has a relatively common first name
David M. Benett/Getty Images
While Suki Waterhouse is the name she goes by in her public life, for the most part, that isn't the whole story when it comes to the star's name. As the "Daisy Jones & The Six" actor told Into the Gloss, "I've always been called 'Suki,' but my actual first name is Alice." Based on data from the United Kingdom's Office for National Statistics on the Top 100 most popular baby names in England and Wales, Alice was the 18th most popular baby name for girls born in 1994, the year closest to Waterhouse's birth year of 1992.
For Into the Gloss, Waterhouse added that she has been referred to by her legal first name on occasion. "My boyfriend started calling me Alice because I told him that that was my name when we first met, and I called him something else, too. It was just something fun, but then I stopped and he didn't, so he introduced me to everyone as Alice. It confuses people sometimes." Entertainingly, she also mentioned that her name has caused confusion due to the popularity of the fantasy television series "True Blood." She said, "You know, on True Blood the character's name is Sookie Stackhouse, and my name is Suki Waterhouse. So, I get people saying, 'Oh, I thought we were meeting the girl from True Blood.'" She laughed before adding, "It's nice having a more traditional name as an option — I can be Alice or I can be Suki."
She is not of Japanese heritage despite her name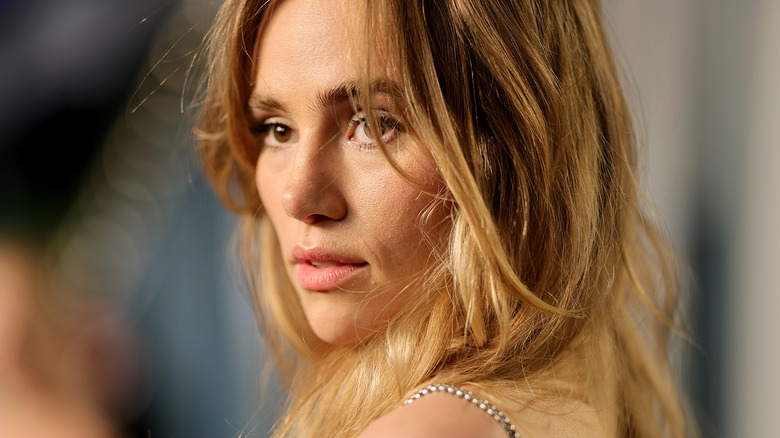 Rich Fury/vf22/Getty Images
Although Suki Waterhouse has noted the Japanese origins of the name Suki, she has not publicly mentioned having cultural or ethnic ties to Japan. Rather, she told Into the Gloss she was raised in Chiswick, West London, to parents who are both of English origin. It doesn't appear that either of her parents has a connection to Japan. In an interview with Extra, Waterhouse further explained her name by saying, "My parents named me Suki. My actual real name is Alice Suki Waterhouse. Uber drivers always think I'm Japanese so they never know to pick me up. They're always chasing Japanese people."
It seems both elements of her given name have inspired Waterhouse's fashion sense. In a 2012 interview with the blog What Olivia Did, the 31-year-old described her style by saying, "Describe it as a 60's swinger/cave woman or [J]apanese school girl going to [an] Alice in [W]onderland tea party." No matter which name she chooses to use, it's clear Alice Suki Waterhouse remains a star to watch.