Here's Who Took Fergie's Spot In The Black Eyed Peas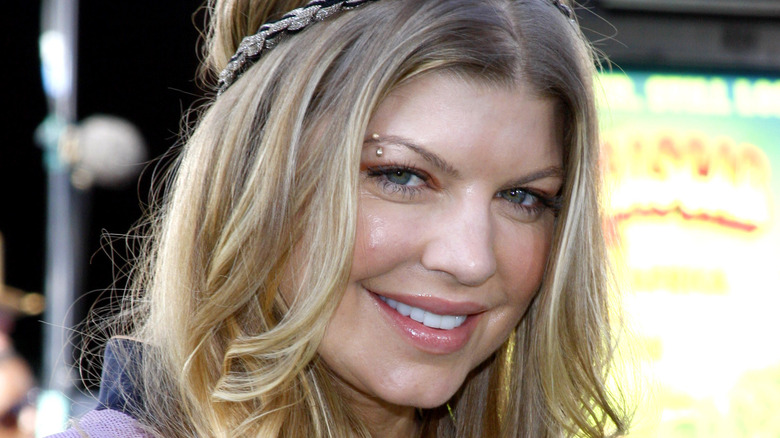 Tinseltown/Shutterstock
Fergie (and her humps) was The Black Eyed Peas' most famous member. She joined the band in 2002, and record sales immediately skyrocketed. "Boom Boom Pow" and "I Gotta Feeling" were on constant replay for six months straight during 2009 — but Fergie soon tired of the monotony of super-group life. "When you perform songs every night, you do tend to get sick of listening to yourself," she told The Guardian.
However, Fergie did get occasional breaks from the boredom. All Music reports she released her first solo album, "The Dutchess," in 2006. She followed up with "Double Dutchess" in 2017. Its lead track, "L.A. Love (La La)," featuring YG, was heavy on hip hop and way edgier than The Black Eyed Peas' usual frothy fare. It definitely appeared the singer and the band were at a musical crossroads. So, it wasn't shocking when in June 2017, Will.i.am confirmed Fergie was no longer in the group.
The rapper insisted to Ahlan! magazine that their irreplaceable leading lady would return to the fold in the future. "What people know The Black Eyed Peas to be, nobody is replacing Fergie," Will.i.am vowed. Sadly, she didn't get the memo, though, as the performer slammed the reunion door firmly shut. "Fergie reuniting with the Peas is pretty unlikely," a music insider told E! News. So, Will.i.am was forced to perform a 180 in 2020. He signed a new talent to take Fergie's spot in the Black Eyed Peas — because, life goes on.
J. Rey Soul is The Black Eyed Peas' Fergie 2.0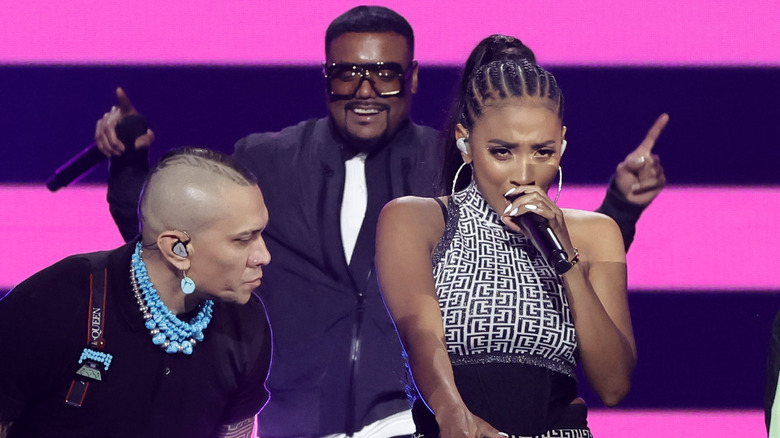 Kevin Winter/Getty Images
Will.i.am was left wondering, "where is the love?" after Fergie permanently waved goodbye to the band in 2017. Despite previously claiming that she was irreplaceable, it really didn't take too long — a matter of months, in fact — for Will.i.am to install a Fergie 2.0. The Black Eyed Peas' newest member, J. Rey Soul, started lowkey jamming with the band in 2018, per Distractify. However, over time she took on a more prominent role.
In 2020, it was announced that the Filipino-American was the Peas' new leading lady. And J. Rey Soul, who was born Jessica Reynoso, wasted no time rolling her sleeves up and getting to work on the band's new album. "It's gonna be great," the singer-songwriter told Billboard. "It's very Afrobeat, Latin vibe, dance — just very uplifting music, which is what we need right now at this time of our life, you know?"
It transpired that J. Rey Soul was no stranger to the Peas; in fact, they went way back. She'd met Apl.de.Ap in 2013 when he was a coach, and she was a finalist on "The Voice of The Philippines" talent show. They got to spend a lot of time together, as she was also a member of his hand-picked team. "The Voice was amazing! It was really nerve-wracking and stressful, but it opened a lot of opportunities that I could never have imagined," J.Rey Soul told CelebMix.
Fergie just can't get enough family time these days
The Black Eyed Peas raved about J. Rey Soul in an interview with Billboard. The musicians said they were stoked she'd stepped into Fergie's (very large) shoes. Taboo said he felt like the group was "giving birth to a new artist." Meanwhile, Will.i.am insisted that there was no bad blood with Fergie. "We try to keep in touch," he said. "She's focusing on being a mom. That's a hard job," he continued.
And she really is focusing — hard — on being a mom. She's all about the family these days, albeit a fractured family. Fergie was devastated when she split with her husband of eight years, Josh Duhamel, in 2017. "I'm good. You know, as good as you can be with a separation," she admitted on "The Talk" (via Redbook) following the breakup. "The good thing is we don't lose each other as parents."
The couple shares a son, Axl, who they co-parent, which is both a blessing and a challenge. "Everything basically is staying the same except for we're not a romantic couple anymore," Fergie tearfully explained before confessing, "I love Josh." She said the former couple was "just making it happen" the best they could. In an interview with Entertainment Tonight Fergie praised Duhamel's co-parenting skills and also shared that they're "all love, and we love each other. We're all cool and just a family."