Why Britney Spears Came Under Fire For Her Collaboration With Rihanna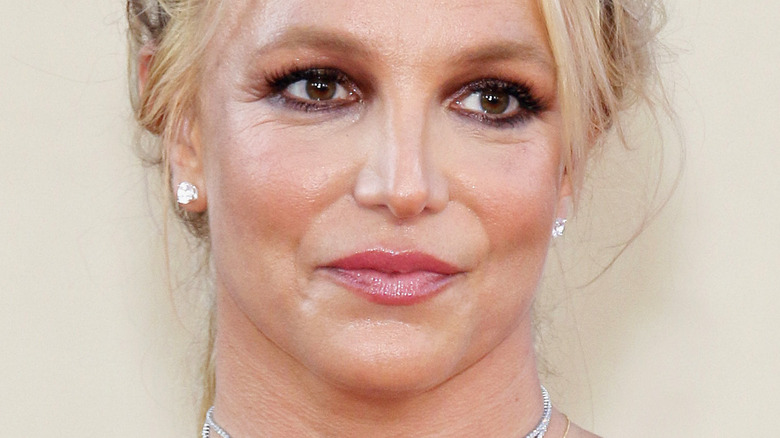 Tinseltown/Shutterstock
The "Slam Britney Spears" movement appeared to begin after she transformed from a sweet Mouseketeer to a sexy schoolgirl in the late '90s. It started with her video for "...Baby, One More Time," which showed the then-16-year-old — clad in a short skirt and belly-cropped open-neck shirt — daydreaming in class before busting out the hot moves with her pals in the high school gymnasium and corridors. Since then, Spears has been slammed by conservatives and concerned moms alike.
In 2003, The LA Times posted an article — headlined "It's all the rage now: Hating Britney Spears" — about the backlash. "The old Britney was really fun," Karen Kreutzberg, a mom of a pre-teen, told the Times at the time. "Innocence was a part of it. Her choreography was new and fresh; she was kind of an original. But in the ensuing years, she's gotten cheap. If you're promoting yourself only from the sexual angle, you're missing a whole life."
Sadly, Spears haters were just getting started. The singer's life became unbearable as her every move was scrutinized and documented. Spears was constantly criticized and subjected to endless tabloid headlines, and fans of the singer eventually jumped in to defend her. Superfan Chris Croker summed it up in his 2007 viral video. "Leave Britney alone!" he implored, tears pouring down his face. But the criticism continued. And in 2011, Britney Spears came under fire again — this time for a collaboration with Rihanna.
Britney Spears and Rihanna's S&M performance caused outrage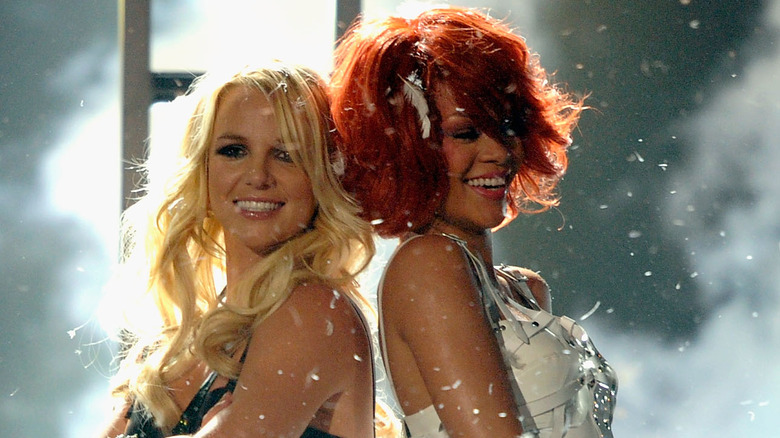 Ethan Miller/Getty Images
Rihanna discovered what it's like to work with Britney Spears — and to deal with the inevitable media fallout — after the two collaborated on "S&M (Remix)." In 2011, they took to the stage at the Billboard Music Awards, and it was quickly apparent that things would get a little down and dirty. Britney made a grand entrance with a latex bunny mask on. During the performance, there was gyrating, pole dancing, chains, leather-clad half-naked hunks, and pillow fights.
As usual, Spears came under attack, and this time, Rihanna was onboard for the ride. The Parents Television Council fired off a statement expressing their outrage. "The overtly sexualized performance ... was no accident or mishap, but a deliberate effort to target teens with images and lyrics that glamorize whips, chains, and other sexual fetishes," they charged (per The Hollywood Reporter).
Spears was also slammed for her live singing abilities, and Rihanna jumped to her defense. "It's dynamic, and it's No. 1 on iTunes right now. It doesn't matter, you know? People will always have their opinion, and that's fine," she told NOW FM host Lil Cee at the time (via Pop Crush). Rihanna insisted she was thrilled with Spears' performance. "I thought she did incredible," she said, sharing that Spears was raring to go when she approached her about collaborating. "[Britney] was enthusiastic, loved the idea, and went right into the studio!" Rihanna insisted.
Britney Spears is still coming under fire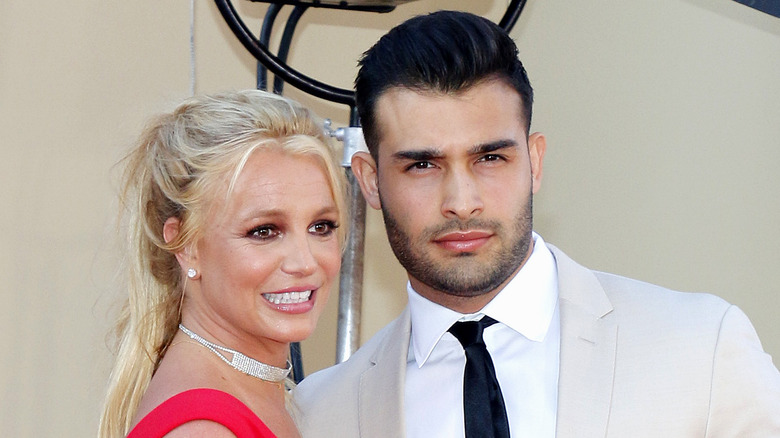 Tinseltown/Shutterstock
Britney Spears was finally free after her conservatorship was officially dissolved in November 2021, per the Associated Press. One of the first things she did was get engaged to her boyfriend, Sam Asghari. Per People, Spears announced the news on Instagram. "I can't f***ing believe it," she captioned a video showing off her giant engagement ring.
The New York Times documentary "Framing Britney Spears," which examined press coverage of the pop star, resulted in a slew of media apologies. "We're sorry, Britney," Glamour wrote. "We are all to blame for what happened to Britney Spears." They said they "may not have caused her downfall" but admitted they "funded it." However, the Britney scrutiny continues. The current focus of ire is her racy pics on Instagram. "Honestly, some photos should be kept to yourself. You don't have to share everything," one commenter opined (via Rolling Stone). "What will her kids say?" worried another.
"Britney Spears is free. Let her post her damn nudes," Rolling Stone wrote in her defense. "[She's] faced negative, misogynistic comments about her body autonomy. Why do y'all care so much?" they asked. Meanwhile, Harper's Bazaar reported Britney was forced to respond to "concerns" over temporarily deactivating her Instagram account. "Since everyone thinks they know my story. THINK AGAIN !!!" she wrote when she reactivated it. "Nope, I'm not having a breakdown ... I am who I am and moving forward in my life. I have never felt better!!!"