The On-Set Romance That Occurred Between Alexis Bledel And Vincent Kartheiser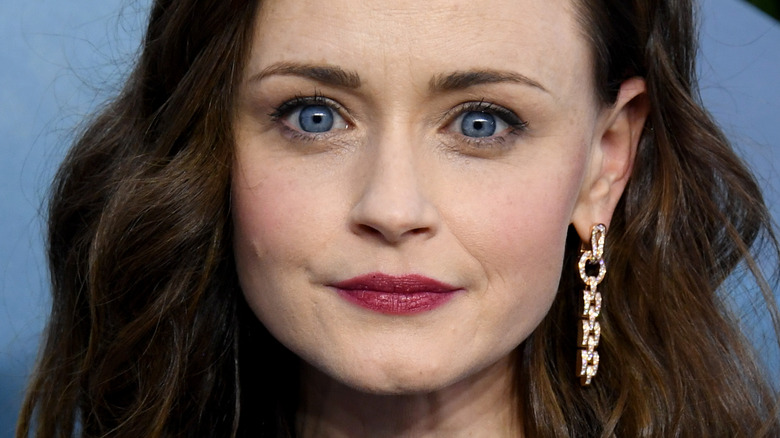 Jon Kopaloff/Getty Images
Alexis Bledel may have a type: co-stars. The "Gilmore Girls" actor has a short list of past romances, but they all have something in common. They all once worked alongside the actor, and many of them famously worked with her as she starred in "Gilmore Girls." Funny enough Rory's first love interest on the show, Dean, or as he's known in real life, Jared Padalecki, was actually Bledel's first high-profile relationship. The two were very young and only briefly dated before "The Sisterhood of the Traveling Pants" star moved on to another co-star, Chris Heuisler.
Once again, Heuisler had been a guest star on "Gilmore Girls." Bledel's relationship with Heuisler lasted only a brief period before she began dating another famous actor. Many may know Milo Ventimiglia from "This is Us," but before he was Jack Pearson, he was Rory's on-again off-again boyfriend on "Gilmore Girls." The romance went from on-screen to off as they began dating in 2003. The couple had serious talks about marriage before they decided to end their relationship three years later.
After the breakup, Bledel remained single for several years. But that all changed when she met Vincent Kartheiser. Like her past relationships, Bledel met Kartheiser while they were filming a project together, per Vulture. Here's everything we know about their sweet on-set romance.
Alexis Bledel met Vincent Kartheiser on the Mad Men set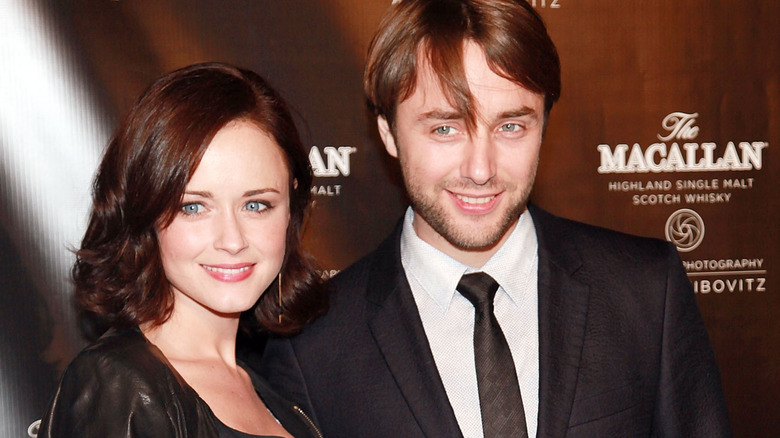 Astrid Stawiarz/Getty Images
Alexis Bledel and Vincent Kartheiser first met on the set of "Mad Man" in 2012. Kartheiser played Peter Campbell on the show, while the "Gilmore Girls" actor guest-starred as his mistress, per Vulture. Despite filming several romantic scenes together, Kartheiser reassured fans that they didn't begin dating until two months after they wrapped filming. "We were completely professional," he told the publication. "We never saw each other out. We never — it was nothing, it was just work." Despite Kartheiser's cool demeanor, his co-workers saw a different side to the romantic connection to Bledel.
Jon Hamm shared, "I did know he liked her from a very early point. I was a supporter of that union." It was evident to cast members the pair was a perfect fit. The show's creator, Matthew Weiner, explained, "They're both very down to earth, with a sense of responsibility and strong family ties. And they've been acting since before they can remember, which makes for a very special personality." Although Bledel and Karthesier are actors, they managed to keep their personal life out of the public eye. In fact, the couple preferred to keep their relationship private.
Karthaeiser told Vulture, "It's something I realized about the most important things in my life. If I share them with the world and I open that door to their fuming anger that they need to get out or their adoration that they want to flaunt, it lessens it."
Alexis Bledel and Vincent Kartheiser's journey from marriage to divorce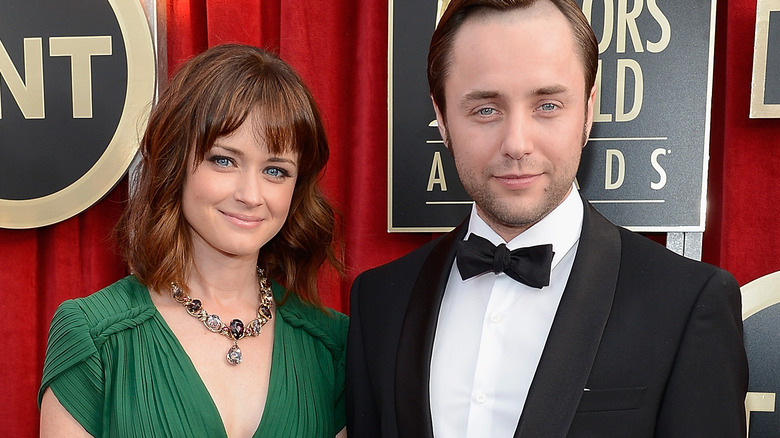 Kevork Djansezian/Getty Images
Sometimes the love you have for someone can fade over time. Sadly, this eventually happened to Alexis Bledel and Vincent Kartheiser's relationship. The couple's romance took off after they first connected on-set in 2012. In 2013, the "Mad Men" decided to pop the question to Bledel, per PopSugar. The actor only briefly spoke about his engagement to the "Gilmore Girls" star when he described himself as a "very lucky man."
The couple was extremely private about their personal lives, even keeping news that they'd welcomed a child a secret. In fact, it was Bledel's former co-star Scott Patterson who accidentally revealed they'd welcomed a baby boy, per People. He said, "She's really blossomed as a woman and now she's a proud new mother and married and happy." Patterson shared that he and his "Gilmore Girls" co-star share photos and videos of their two young sons as he prepares her for what to expect. With the couple being so private, it was unclear how their marriage was going, but with all these milestones it seemed it was going well.
However, it turns out the couple was struggling. In August 2022, Kartheiser filed for divorce from "The Sisterhood of Traveling Pants" actor, per Us Weekly. The divorce moved quickly, and by September, the couple officially separated. According to Us Weekly, part of the reason they decided to separate was because of "social isolation." As time passed, Kartheiser and Bledel had sadly grown apart.