Shania Twain's Son Eja Lange Is Following In Her Footsteps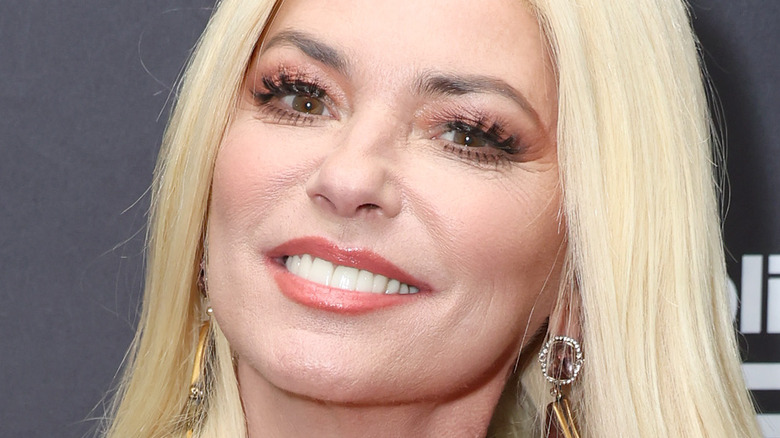 Phillip Faraone/Getty Images
Singer-songwriter Shania Twain's only son, Eja Lange, is taking after his musical mother. The "Man! I Feel Like A Woman!" singer had her son with her first husband, producer Robert "Mutt" Lange, who she married in 1993. The couple brought Eja into the world in 2001.
With his mother being a Grammy-winning recording artist and country sensation, Twain told People in 2007 that she wanted to made sure Eja was brought up recognizing his privilege. "I would like him to be well-rounded, humble, and honest, without having to be deprived to develop that character," she explained to the publication. "When you don't come from struggle, gaining appreciation is a quality that's difficult to come by. So we go out of our way to try to keep him appreciative. We don't keep him in a bubble."
Now, as of this writing, Eja is 21 years old and paving his path in life in his own right. As it turns out, the "That Don't Impress Me Much" singer's passion for music rubbed off on her son!
Eja earned a writing credit on Shania Twain's 2023 album
It looks like Eja Lange caught the music bug from his award-winning musician mother, Shania Twain. As legend has it, Twain herself began singing in clubs at the age of eight — per Britannica — and her son seems to have found a love for music at a young age as well. In 2017, the singer spoke to Sounds Like Nashville about Lange's affinity for EDM as well as all different genres, citing composer Hans Zimmer as his inspiration.
"He's been making music for a few years now," she recounted to the Nashville-based publication. "He's very devoted and a real hard worker. He's got a crazy passion for making music, and it's really fun to watch ... He loves to arrange music and write music. He's just on his own journey."
When Twain released her album, "Queen of Me," on February 3, 2023, Eja actually received a writing credit for his work on the track "Number One," per Genius. "He's so full-on now into music. That is his passion. He lives, breathes it. In fact, he's got one of his songs on my current album," she reminisced to ET Canada on February 2. "I didn't tell him that he was on it until it was already done. Just not to get his hopes up too high." That's how the music industry goes, and it sounds like Twain and Eja have a particular process when collaborating.
Shania and Eja's music-making process
Before ever getting an official credit on one of his mother's albums, Eja Lange and Shania Twain would bounce music they created back and forth with each other. In an interview on "Live with Kelly and Ryan" in 2022, the songstress explained how the two used different music-making software. "Every once in a while we get into the studio together and we send each other ideas," she shared on the show. "I use the guitar, and he uses synthesizers."
According to her interview with ET Canada on their latest collaboration on her album, the duo likes to work independently. "He's very talented, we don't work together per se," she noted. "He really loves his independence. He does his own thing." Regardless, Twain confirmed that Lange is very aware that his mother is a titan in the world of country music. She retold the story of when her son noticed that she had put all of her prestigious music awards away, and he encouraged her to display them again.
"He goes 'well, can't we just at least put the Grammys up? ... Aren't you proud of these? You've earned these.'" Twain recalled. "It was really cute, so I started putting more of my awards out."