The Heartbreaking Story Of NBA Star Reggie Lewis' Death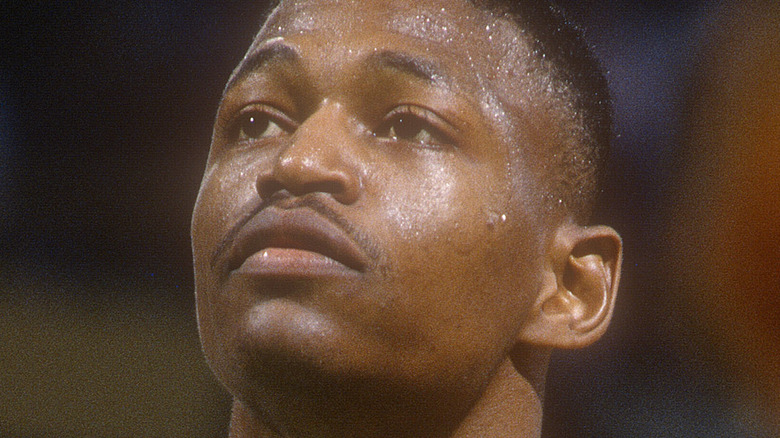 Focus On Sport/Getty Images
In the '90s, one of the biggest rivalries in sports was that between Michael Jordan and Larry Bird in the NBA. As Bird neared retirement in the following decade, his team — the Boston Celtics — began looking to the future by replacing him with young stars like Reggie Lewis. A standout player from Northeastern University, Lewis was still the all-time leading scorer of the school as of 2023, the City of Boston noted. The 6-foot-7-inch tall player was the 22nd pick in the 1987 NBA draft. Even with some experts voicing concern that Lewis was too skinny for his height at 183 pounds, Celtics coach Red Auerbach said he expected Lewis to make a positive contribution to the team, according to Davenport Sports Network.
After joining the NBA, Lewis gave some memorable performances against Jordan in the early '90s when the Celtics matched up against the Chicago Bulls, as seen in a YouTube highlight compilation. By the time Bird retired in 1992, Lewis was the team's leading scorer, with fans chanting his name during games, as Bleacher Report recapped. At the 1992 NBA All-Star, Lewis was on the roster alongside Jordan, Bird, and other basketball legends like Magic Johnson. The following year, Lewis collapsed on the basketball court during an April playoff game against the Charlotte Hornets, per The Washington Post. A few months later, tragedy swept the league after Lewis unexpectedly died. 
Here's a look at the heartbreaking story of Reggie Lewis' death.
A shocking day in the NBA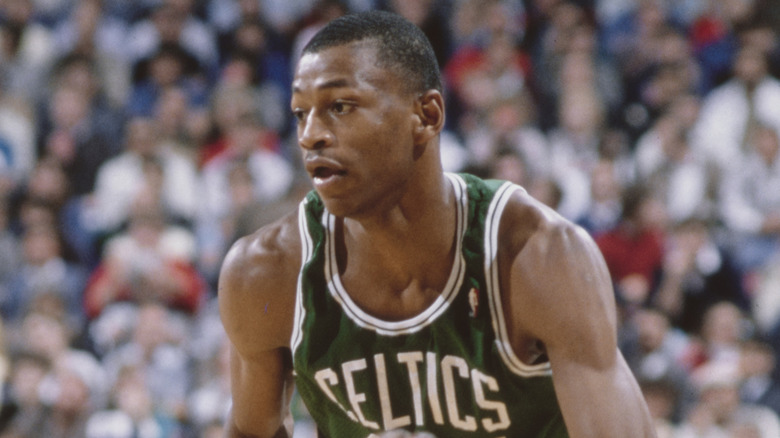 Otto Greule Jr/Getty Images
To prepare for the 1993-1994 NBA season, Reggie Lewis practiced in the offseason at the Boston Celtics training center at Brandeis University. On July 27, 1993, Lewis was shooting baskets at the university when he collapsed on the court. "When I looked over, Reggie was on the floor," a bystander Amir Weiss told reporters (via the Los Angeles Times). "We went over to look at him and he was gasping for air," Weiss added. A few hours later, doctors pronounced the 27-year-old dead. As noted by Sportskeeda, his death appeared to be linked to an existing heart issue — focal cardiomyopathy –  which medical professionals previously diagnosed the athlete with after he collapsed during a playoff game earlier that year. 
With this disease, some doctors suggested that Lewis could never play basketball again due to physical exertion. Lewis sought a second opinion, and Dr. Gilbert Mudge claimed the NBA star only had the less-severe neurocardiogenic syncope and could continue his basketball career. The Celtics team physician still felt that Lewis had a life-threatening heart condition and, as a result, couldn't practice with the team. Therefore, at his own discretion, Lewis trained at Brandeis University on that fateful day, per The Washington Post. "We've lost a very treasured member of our family. It's a time of incredible grief," Celtics senior executive vice president Dave Gavitt said in a statement, per The New York Times.
The aftermath of the Reggie Lewis tragedy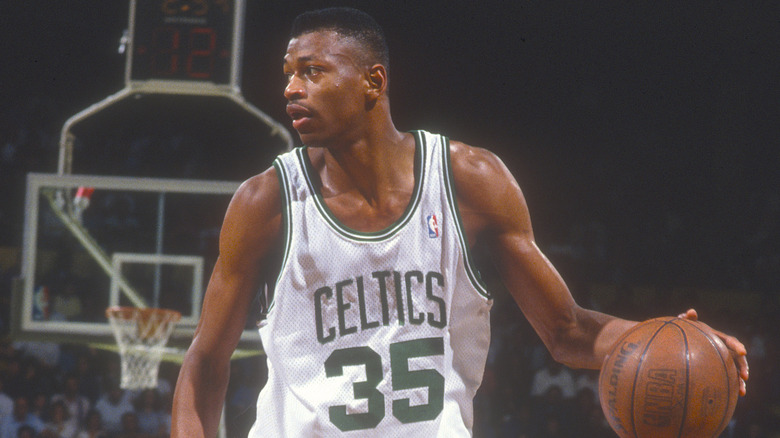 Focus On Sport/Getty Images
Following Reggie Lewis' death, questions began to surface regarding whether or not substance abuse — specifically cocaine — could have played a role in his health issues. Some physicians said the damage seen with Lewis was also seen among cocaine users. According to The Wall Street Journal, Lewis claimed he didn't use drugs but reportedly refused to take a drug test. After Lewis fatally collapsed, his widow Donna Harris-Lewis sued Dr. Gilbert Mudge, who had cleared Lewis to play. Courts cleared Mudge of malpractice, and there was never any proof of Lewis using cocaine, Yahoo! Sports noted.
Looking back at Lewis' career cut short, fans and fellow players remembered the talented player. Michael Jordan, who admitted that Lewis was a fierce competitor when the two went head-to-head, lamented about the all-star. "Reggie was on his way to being something really special. Here's this talented guy who had never done anything wrong, who did so much for the city of Boston, and the next thing you know, he's gone," Jordan told ESPN. In one of the last quotes by Lewis before his death, the player eerily explained on a WEEI radio show how his heart issues would impact his career. "You're never 100% sure about anything ... I know this thing is never going to go away until I step on the basketball floor," Lewis said (via the Los Angeles Times).