Kevin Bacon And Kyra Sedgwick Actually Met Long Before Their Romance Began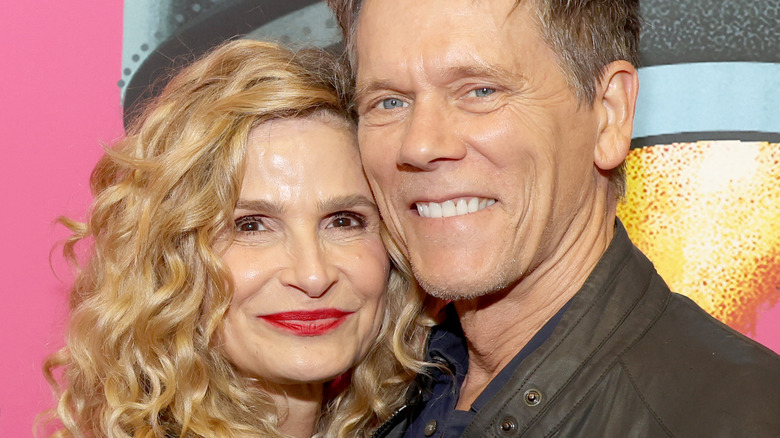 Rick Kern/Getty Images
Kevin Bacon and Kyra Sedgwick are one of those rare Hollywood couples; they've been together seemingly forever, appear to enjoy a genuinely loving relationship, and are rarely in the headlines. In fact, it would be near impossible to find even a hint of scandal or gossip regarding them. They frequently work together in addition to living together — something that can often spell the end of many a romantic partnership. But not theirs, clearly.
The two actors have collaborated numerous times. Per IMDb, Sedgwick and Bacon co-starred in 1991's "Pyrates," 1995's "Murder in the First," and 2004's "Cavedweller." In 2005, they brought the whole family along for the ride for "Loverboy." Bacon directed the film and acted in it along with Sedgwick, their two children, and her brother. Oh, and Bacon's brother whipped up the film score, thereby resulting in a film with absolutely no degrees of separation from Bacon himself.
Sedgwick has directed her husband, too, in "Story of a Girl" and "Space Oddity." She talked about working with Bacon in an interview with The Paley Center. "We really see eye to eye on mostly everything," Sedgwick shared. "We hardly ever disagree, and when we do, it doesn't usually elevate past a short conversation.... where I win," she quipped. Fittingly, the couple became romantically involved after working together on a film set. Us Weekly reports the two got cozy while making the late 1980s PBS flick, "Lemon Sky." However, Kevin Bacon and Kyra Sedgwick actually met long before their romance began.
Kevin Bacon and Kyra Sedgwick actually met when she was only 12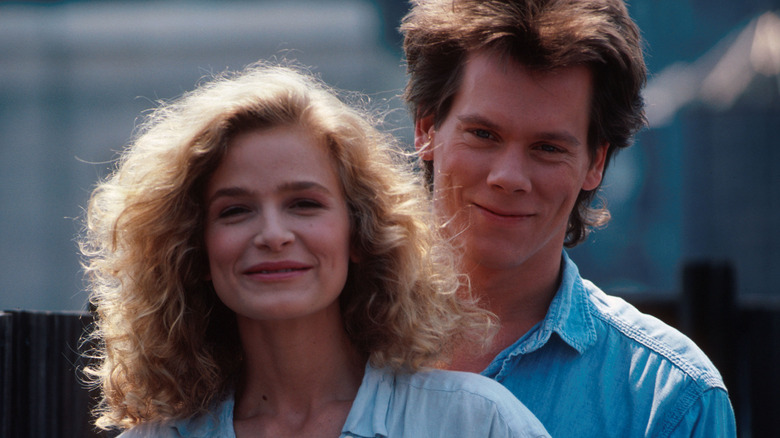 Frank Micelotta Archive/Getty Images
When Kevin Bacon first met Kyra Sedgwick, she was only 12, and he was 19. However, nothing happened until years later. Bacon spilled the romance tea in an interview with Craig Ferguson (via Us Weekly). He said he'd been acting in a play in the 1970s when Sedgwick (who's seven years his junior) fangirled over him. "A little girl was in there who had just seen the matinee, and her brother said, 'You liked that actor, go tell him you liked him,' and it was Kyra," Bacon said. "She was a little girl, yeah, she was 12 years old."
Fast forward to 1987, and Sedgwick's tastes had changed. "He definitely wasn't my type," she told Redbook about meeting Bacon on set. "In fact, I vividly remember looking at his butt when he walked away after we first met and thinking, 'Well, I guess some girls like that.'" Clearly, she became one of them, as People reports the couple said "I do" in 1988.
Bacon and Sedgwick's marriage is solid, but they've weathered their share of storms over the years. One of the most trying times was thanks to Bernie Madoff. Bacon and Sedgwick were forced to overcome financial ruin after losing nearly all their life savings in Madoff's Ponzi scheme. Bacon admitted on the "Smartless" podcast they'd learned the hard way that "if something is too good to be true, it's too good to be true."
Kevin Bacon and Kyra Sedgwick love a little afternoon delight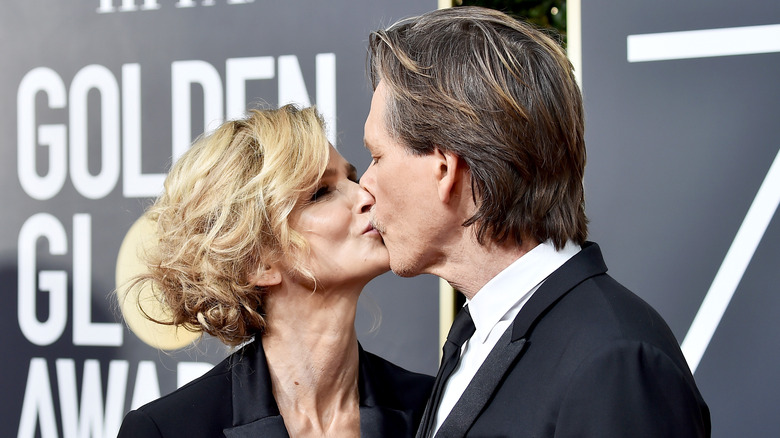 Frazer Harrison/Getty Images
Kevin Bacon and Kyra Sedgwick live a low-key and pretty regular life with their two children, son Travis Bacon, born in 1989, and daughter Sosie Ruth Bacon, who arrived in 1992. People reports that Sosie made her parents proud with her stage debut as a Golden Globe Ambassador in 2014. She's since followed in their footsteps by becoming an actor. "Kevin and I have had some painful experiences, and you don't want your kid to go through that," Sedgwick told Good Housekeeping about her daughter's career choice. "But I want her to follow her passion, and acting has become her passion."
Kevin and Sedgwick have been married for 35 years, so you'd think they know each other inside out. But not so, it seems. They were quizzed about each other on "The Drew Barrymore Show." Sedgwick promised she would "clean the dinner dishes for the next year" if Kevin answered 100% correctly (as if they don't have an electric dishwasher). So, how did they do?
Choice of tattoo? Uh-Uh. What item Sedgwick wants Kevin to dump? Uh-Uh. Vice versa? Ding! Favorite meal choice forever? Uh-Uh. Favorite goat? Ding! It's safe to say that Kevin will be donning the rubber gloves and apron. Hopefully, after eating, though. Sedgwick told Jimmy Kimmel that they like to keep things spicy after all these years by having sex before dinner. "We're unusual in that way," she admitted. "The afternoon delight thing."