Why You'll Never See Mariah Carey Return As A Judge On American Idol
Featureflash Photo Agency/Shutterstock
"American Idol" has had many music superstar judges over the years, including Paula Abdul as one of the OGs on the panel and Steven Tyler coming in for later seasons. Mariah Carey signed on to be a judge for Season 12, and in a surprising phone reveal during the Television Critic's Association Summer Press Tour, she stated, "I'm so excited to be joining 'Idol.' I wanted to be there today and I wish I could've been there myself to tell you. It happened really quickly. I can't wait to get started in a couple months" (via Huff Post).
Along with Carey, Nicki Minaj made her "American Idol" debut in 2013 as the other female judge. Unfortunately, the two divas soon butted heads and what started out as a minor argument turned into an all-out feud, with Minaj reportedly threatening to shoot Carey, People reported. Following Season 12, Carey announced that she wouldn't be returning to the singing competition show as she was planning a world tour, per AP. Since her one and only stint, Carey has not returned to "American Idol," and she has no plans to ever do so.
Mariah Carey says American Idol was the worst experience of her life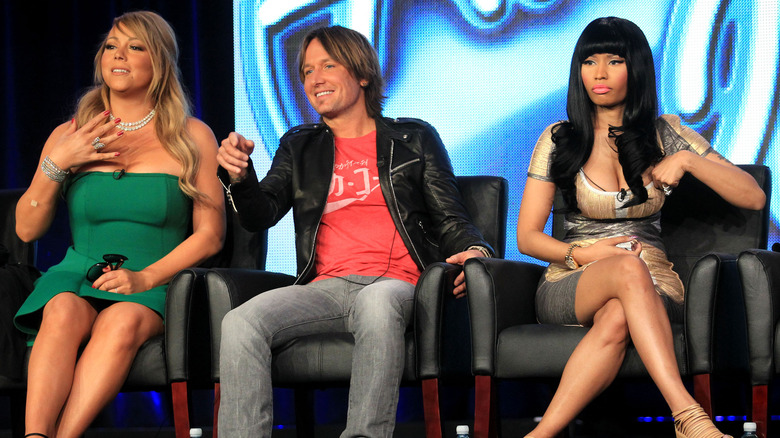 Frederick M. Brown/Getty Images
For those wondering if Mariah Carey would ever come back as a judge on "American Idol," the answer is a resounding "no." In 2015, she appeared on the Australian show "Kyle and Jackie O" and was asked if she would return for the "American Idol" Season 15 finale. "Hell no! Absolutely not. That was the worst experience of my life. I'm not going to get into what it was, but let's just say I don't think they had any intentions for us to have a good experience doing that show. Pitting two females against each other wasn't cool," Carey stated. The "Fantasy" singer went on to say that the show "should have been about the contestants" but became about their "non-existent" feud. "I would never want to be involved with it again," she declared.
Nicki Minaj previously spoke about her beef with Carey on "Ellen" in 2013 (via Grime Hype). She claimed that there was talk of Carey not wanting her as a judge, but she didn't believe it at first. "And then I went there and I started feeling a little bit of the shade and I just kind of overcompensated by being crazier," the "Super Bass" singer shared. However, she added that she was "fine" with Carey and they have since moved on.
Mariah Carey says her feud with Nicki Minaj is over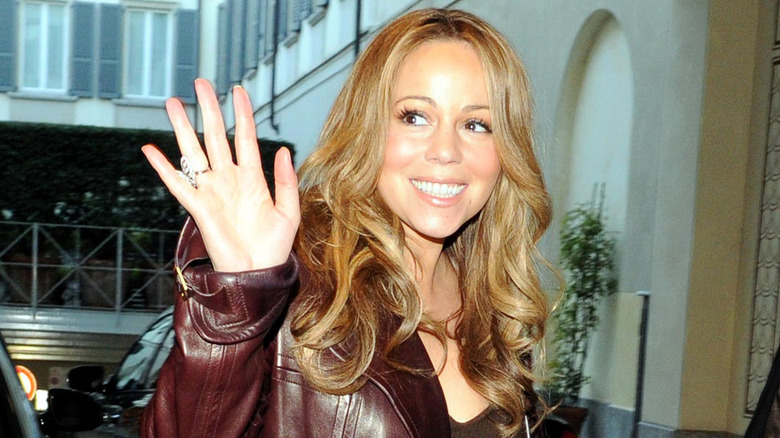 DELBO ANDREA/Shutterstock
Mariah Carey is ready to move on from her battle with Nicki Minaj. The pop star sat down with Barbara Walters and opened up about her time on "American Idol," via ABC. "It felt like an unsafe work environment. Anytime anybody's reeling threats at somebody ... it's not appropriate," she told Walters. The "Glitter" star admitted she hired security following Minaj's alleged threats, which the Queens native denied saying. Despite their drama, Carey told Walters that she was done feuding with Minaj and that "American Idol" was ultimately about the contestants. "I've been blessed to live my dream more than half my life so I want to help give that back to someone else," she stated.
In 2020, Carey released her memoir, "The Meaning of Mariah Carey," and left out her "American Idol" experience. A source told OK! that the time was too "painful" for the singer to write about. "Mariah doesn't want to give her any attention. She knows whatever she writes about Nicki, Nicki will fire back. This book is about Mariah and her life, not Nicki Minaj. When it comes to someone that likes to fight as much as Nicki does, it is best to just not engage," an insider revealed. Since their time on "American Idol," both Carey and Minaj have not returned as judges, and perhaps the two women are just fine keeping their distance.