Grimes Completely Rips The 2023 Grammys On Charli XCX's Instagram Post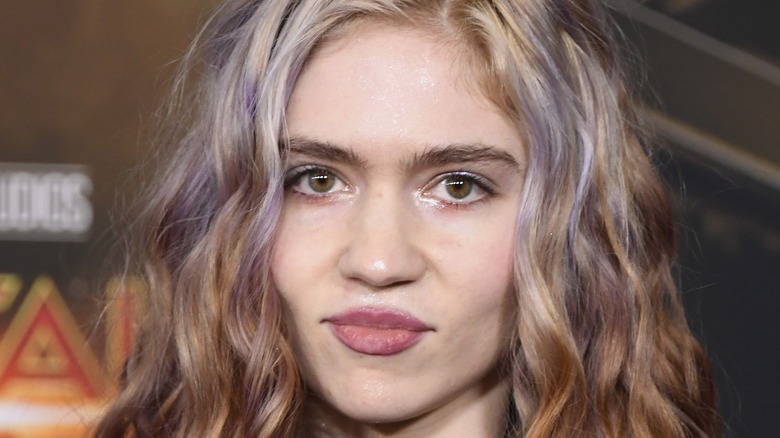 Frazer Harrison/Getty Images
Musical artist Grimes has made her feelings about the 2023 Grammy Awards known in the comments of singer Charli XCX's Instagram post. Charli XCX posted to her own Instagram account with a selfie that she captioned, "Me not being nominated for a Grammy for "Crash" is like Mia Goth not being nominated for an Oscar for "Pearl" and only further proves that people don't wanna see hot evil girls thrive." In the photo Charli XCX posted, she is shown wearing a low-cut white top or dress and a graphic eyeliner design that traces the top of her eyelid.
The selfie – and Charli XCX's caption — drew the attention of many other notable names besides Grimes, including TikTok star Addison Rae. While many were quick to compliment Charli XCX's appearance, Grimes was quick to come to the singer's defense against the Grammys, providing a few words of advice for her colleague in the music industry.
Grimes commented in support of Charli XCX
In the comments of Charli XCX's Instagram post, Grimes shared her views on the Grammy Awards with her fellow artist. She wrote, "The [Grammys] are so irrelevant, I wouldn't even sweat it. I stopped even clocking them in any capacity when I was on the producer of the year board and they quite literally would not allow me to nominate anyone who wasn't on a pre-fabricated list that was exceptionally boring." Grimes also stated that she was only one of three women on that board as well as the only person under 40. "It's literally not a relevant thing. I tried to nominate [producer] SOPHIE and was told that wasn't allowed," she added.
The website for the Recording Academy, the body responsible for the Grammy Awards, lays out how the voting process for the awards works, including the submission, screening, and nomination processes. The Recording Academy also reported eliminating nominations review committees in 2021, allowing nominations in all of the categories to be determined by a majority of Recording Academy voting members. The Academy welcomed a more diverse membership class of over 2,000 musicians and musical professionals to vote on this year's awards, which may reflect a change from Grimes' past experience. However, there is no clear demographic breakdown of the overall membership, which consists of 12,000 voting members, according to Billboard.