Tom Girardi Makes Rare Public Appearance As Erika Jayne Looks Unbothered On Social Media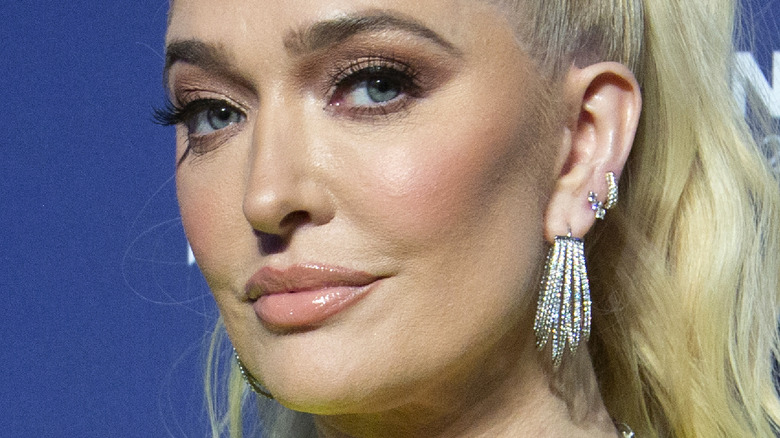 Santiago Felipe/Getty Images
On February 6, Tom Girardi — the ex-husband of "The Real Housewives of Beverly Hills" star Erika Jayne — was spotted for the first time in years. The former attorney was filmed and photographed walking up the stairs of a federal courthouse in Los Angeles for his arraignment after he was indicted and accused of engaging in a "widespread scheme to steal from their clients and lie to them to cover up the fraud," according to The New York Times. The video was shared on Twitter by reporter Josh Haskell. Haskell claimed that Girardi, who has been living in an assisted living facility since 2021, looked "very frail" as he walked into the courthouse wearing a pair of slacks, an eggplant-colored sweater, and a face mask.
Girardi was accused of embezzlement and fraud in 2020. Court documents allege that Girardi used money meant to be given to the families of Lion Air Flight 610 for his own personal use, per Us Weekly. Months after the allegations were made, Erika Jayne filed for divorce after two decades of marriage. As an investigation into Girardi ensued and a bankruptcy case was filed, Girardi's health became a topic of conversation. It was determined the embattled reality star required around-the-clock care due to his dementia diagnosis, the Los Angeles Times confirmed.
Shortly after Girardi was seen heading into court, Erika Jayne took to her Instagram Stories to share a post — and she appears to be letting everyone know her feelings on the matter.
Erika Jayne posted a selfie while her ex answered to charges in court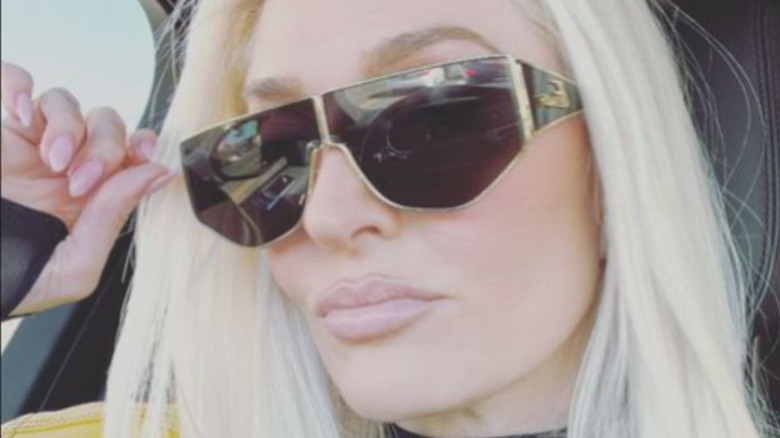 Instagram
Erika Jayne didn't seem to be letting her ex-husband's court appearance ruin her day. In fact, she shared a selfie on her Instagram Stories around the same time Tom Girardi was seen arriving at court. The reality star was sitting in a car with her long, blond hair falling over her jacket when she snapped the pic. She held one hand up to the side while showing off a pinky-nude lip as she glanced into the camera from behind her large sunglasses.
Erika Jayne has spoken about her ex and his legal problems in the past but generally tends to stay away from that drama. In May 2022, she told Us Weekly that she'd still been healing from her divorce. "I still am mourning that marriage," she explained. "I think that gets lost in the sensationalized version of it all. This was someone I was married to for over 20 years...It's difficult," she added. After the charges were brought against Girardi, a paparazzi caught up with Erika Jayne. "You know, I have something to say, but not right now. You'll hear from me soon," she said (via Daily Mail). 
The Girardi case is still very much active, and the investigation into any alleged wrongdoings is ongoing. However, it's crucial to note Erika Jayne has not been charged in the case, according to Cieran McIvoy, a public information officer for the Department of Justice (via Us Weekly).