Erika Jayne's Ex Tom Girardi Indicted On Major Fraud Charges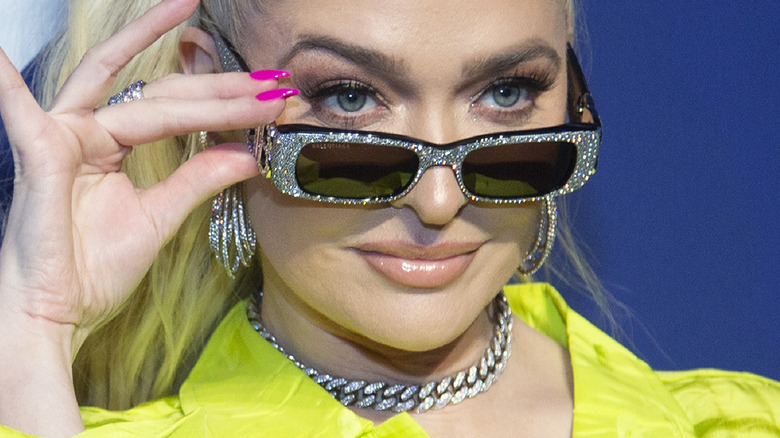 Santiago Felipe/Getty Images
Reality TV stars, they're just like us! Well, if we were scammers and fraudsters. Following hot on the hooves of Todd and Julie Chrisley, Jenn Shah, and Teresa and Joe Giudice, Erika Jayne's estranged hubby, Thomas Girardi, will likely be joining all the other reality TV stars in jail after being indicted on 12 charges relating to various allegations of fraud. NBC News reports Girardi took his son-in-law David Lira along on the federal indictment ride. Lira, a partner in Girardi's law firm, also scored a dirty dozen.
However, Girardi still lags way behind Teresa and Joe's past legal woes. "The Real Housewives of New Jersey" stars were indicted on 39 charges, per E! Joe was sentenced to 41 months and Teresa 15. Following his stint in jail, Joe was kicked back to Italy as he'd never become a U.S. citizen. Meanwhile, NBC News reports that despite claiming that "being Shah-mazing" was the only thing she was guilty of, "Real Housewives of Salt Lake City" star Shah finally 'fessed up to committing wire fraud with her shady telemarketing scheme that swindled thousands out of the elderly.
"The Real Housewives of Beverly Hills" attorney is currently tying with the Chrisleys on the indictment front. Hopefully, Julie and Todd can give Girardi some tips about life in prison. According to People, in November, the "Chrisley Knows Best" stars were sentenced to seven and 12 years, respectively, and 16 months probation. So, what's behind Erika Jayne's ex, Tom Girardi's indictment on major fraud charges?
Erika Jayne's ex Tom Girardi is facing serious prison time
LA Magazine's Meghann Cuniff tweeted a press release from the Los Angeles US Attorney's Office detailing Tom Girardi's criminal charges, which include five counts of wire fraud. Girardi stands accused of "embezzling more than $15 million" to fund his extravagant lifestyle and keep his now-estranged wife, Erika Jayne, in the lap of luxury. Meanwhile, Chicago Tribune court reporter Jason Meisner tweeted that Girardi had also been "indicted on fraud charges in Chicago as well as Los Angeles." The attorney has been accused of "running a Ponzi scheme with client money" from his now-defunct windy city offices.
The Los Angeles Times reports that in 2022 Girardi was hit with a double whammy after he was diagnosed with Alzheimer's and disbarred, preventing him from ever practicing law again. However, his clients were allegedly hit way harder. One of the many claims against Girardi is that he wired $300,000 of client funds to a woman with whom he had an affair.
However, the most grievous charge is that Girardi allegedly stole "more than $3 million in legal settlement money stemming from the Lion Air Flight 610 crash." The money was intended for the families and loved ones of the 189 passengers and crew who all died after their plane nose-dived into the Java sea shortly after take off. ABC Australia reports that Girardi's personal attorneys have admitted that he took over $2 million from the funds for his personal use.