Teresa Giudice's Ex Joe Compares Their Past Legal Woes To Todd And Julie Chrisley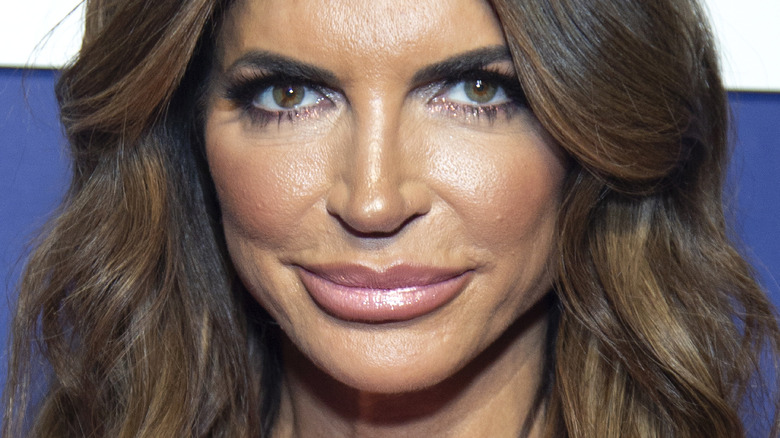 Santiago Felipe/Getty Images
In addition to her "The Real Housewives of New Jersey" fame, Teresa Giudice's stardom also inadvertently grew after she did time for tax fraud charges. In March 2014, the Bravo star and her then-husband, Joe Giudice, pled guilty to bankruptcy fraud, conspiracy to commit mail fraud and wire fraud, and failure to pay taxes, per Page Six. As a part of their plea deal, Teresa received a sentence of 15 months in prison (of which she served 11) and Joe was handed 41 months. Already a Bravo star by 2009 thanks to Season 1 of "RHONJ," Teresa told Andy Cohen on "Watch What Happens Live" (via The Wrap) that her sentencing was "very unexpected."
Joe and Teresa are in television royalty company when it comes to tax trouble with the law. "Chrisley Knows Best's" Todd and Julie Chrisley have dominated recent headlines with their own tax evasion scandal. Found guilty in June on multiple charges, Todd was sentenced in November to 12 years in prison, while Julie received seven years of jail time. 
Apparently, viewers aren't the only ones who see the similarities between the power couples. Recently, Joe expressed sympathy for Todd and Julie's predicament in a candid conversation with his ex-wife. 
Joe Giudice thinks Todd and Julie Chrisley should have accepted a plea bargain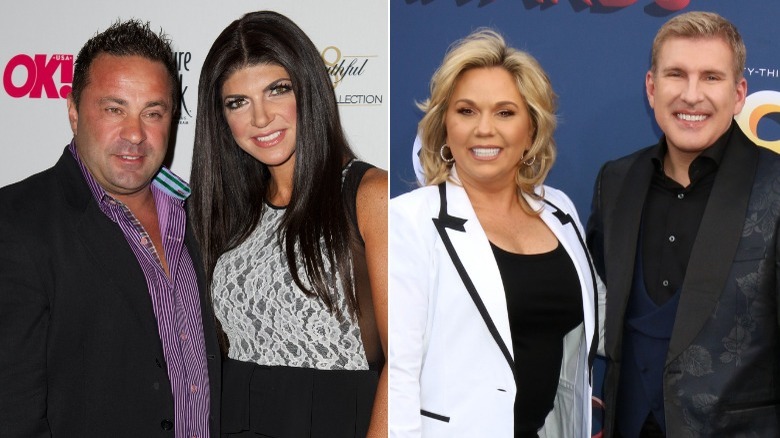 Kathy Hutchins/Shutterstock & Earl Gibson III/Getty
Joe Giudice understands how Todd and Julie Chrisley feel admidst their current legal ordeal. On a December 14 episode of "Namaste B$tches," the entrepreneur believed that the court sought to make an example of the "Chrisley Knows Best" stars with their sentences. "These people did the same exact thing we did ... that I did," Joe told ex-wife Teresa Giudice on the podcast. Had the Chrisleys' case not gone to trial, Joe speculated that "they would have probably got a slap on the wrist," with Todd receiving a maximum sentence of "17 months because he's a citizen." Given that Todd and Julie went to trial, Joe opined, "They crucified him. They give you double time." 
Joe added to Teresa that, back when they faced prospects of a similar trial, he believed she would "still be in prison and I'd still be in prison" due to their judge, prosecutor and attorney general targeting her for her celebrity. "I mean since when does the attorney general come in?" he asked. 
Although Joe served considerably less prison time than either Chrisley will, he was deported to Italy after doing time. Throughout his ongoing deportation appeal case, he most recently has been living in the Bahamas, where daughter Gia Giudice paid him an emotional visit in November, per Page Six.