Did Tom Brady Meet Gisele Bündchen When He Was Still With Bridget Moynahan?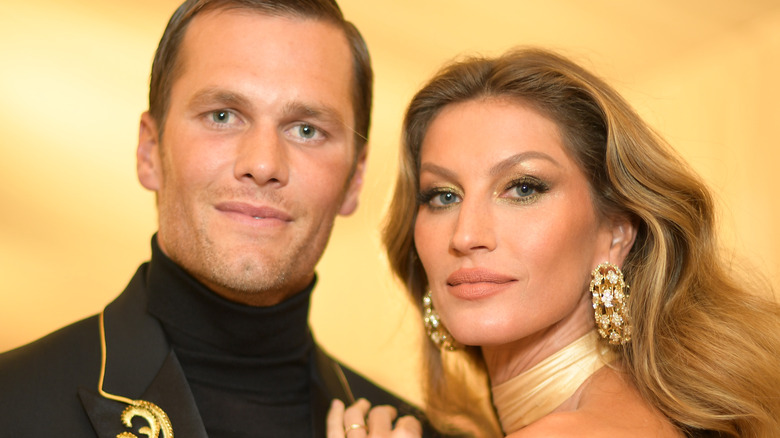 Matt Winkelmeyer/mg18/Getty Images
Sadly, as we know, Tom Brady and Gisele Bündchen's marriage wasn't exactly a touchdown. The two managed a pretty great run in terms of Hollywood marriages and stayed together for a pretty impressive 13 years after tying the knot, but October 2022 saw the two officially go their separate ways after months of rumors there was serious trouble in paradise. "We arrived at this decision amicably and with gratitude for the time we spent together," Brady wrote on his Instagram Story as he confirmed their split (via People). "Doing so is of course, painful and difficult, like it is for many people who go through the same thing every day around the world," he added. 
Bündchen shared her own message on Instagram, writing, in part, "The decision to end a marriage is never easy but we have grown apart and while it is, of course, difficult to go through something like this, I feel blessed for the time we had together and only wish the best for Tom always."
Now that we know how it all ended for Brady and Bündchen, though, how exactly did it all start? There have been plenty of rumors over the years about just how and when Brady and Bündchen actually got together and where it fits in the timeline of his romance with Bridget Moynahan, so we're setting the record straight about this romance that just wasn't meant to be.
Tom Brady and Gisele Bündchen began dating mere weeks after his split from Bridget Moynahan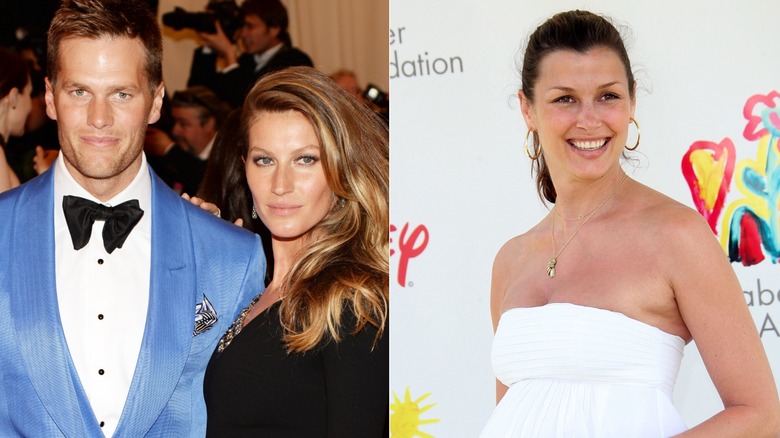 Dimitrios Kambouris & Chad Buchanan/Getty
A source told People in January 2007 that Tom Brady and Gisele Bündchen had started dating just before the 2006 Christmas period, which raised a few questions about when they actually first met,  as he was fresh off his breakup with Bridget Moynahan. Moynahan's rep confirmed their split to People in mid-December, stating, "[They] amicably ended their three-year relationship several weeks ago," suggesting the former couple likely split sometime in October or November 2006.
But we already knew Brady and Bündchen's super-serious romance didn't come too long after his split from Moynahan as the actor announced her pregnancy with Brady's baby only two months after the then-New England Patriots player and the supermodel began dating. "It was a challenging thing because here I am, you know, thinking, I'm dating this guy, we met, and we started dating and everything is great and then this happens. So, I felt like I didn't know what to do," Bündchen told "CBS This Morning" in 2015. She also wrote about the bittersweet situation in her book, "Lessons: My Path to a Meaningful Life," confirming she only found out about the baby, a son named Jack, one day before the pregnancy became public news. "In the beginning, you're thinking, 'This can't be true, it's so good!' And then, whoops — wake-up call. I felt my world had been turned upside down."
It was love at first sight for Gisele Bündchen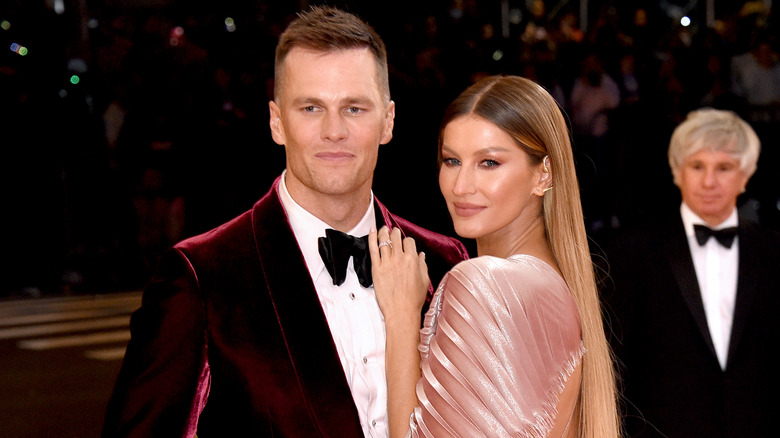 John Shearer/Getty Images
Gisele Bündchen and Tom Brady had quite the meet cute. The now exes were actually set up on a blind date — seemingly a few weeks after his split from Moynahan — with Bündchen confessing she knew then she'd marry the football star. "I knew right way — the first time I saw him. We met through a friend. The moment I saw him, he smiled and I was like, 'That is the most beautiful, charismatic smile I've ever seen!'" Bündchen recalled to Vanity Fair in 2009. The supermodel added that they talked for three hours, with their chatter only coming to an end because she had to head home for Christmas (further suggesting it all went down in December 2006). "You know that feeling of, like, you can't get enough? From the first day we met, we've never spent one day without speaking to each other," she added. Brides reported said first date went down in New York City at the wine bar Turks & Frogs.
Bündchen dished a little more on that special day on "The Tonight Show Starring Jimmy Fallon" in 2018, joking, "Everybody I knew thought they needed to get me a boyfriend. So, he was actually my third blind date. The other two were dinners, where I was stuck thinking when can I get out. My third blind date was Tom and I was like, 'That's it. I'm not going on any more blind dates.'"