The Tragic Death Of America's Got Talent Alum Scott Alexander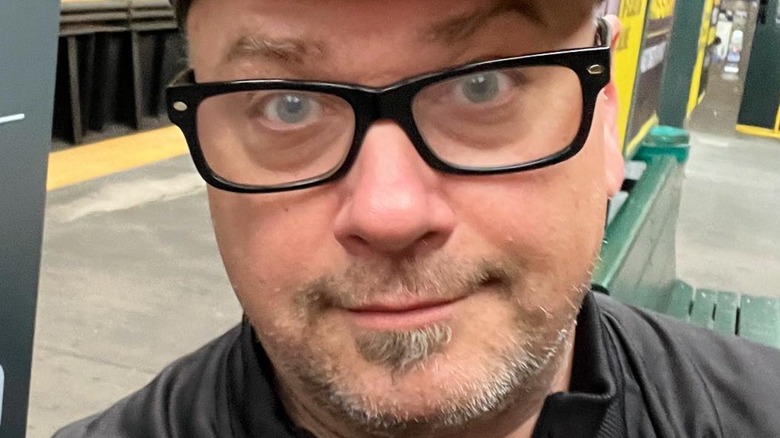 Instagram
It's a sad day in the world of magic. "America's Got Talent" alum Scott Alexander has died at age 52. The Daily Mail reports that Scott's wife, Jenny Alexander, announced the tragic news on Monday via Instagram. She shared that he had suffered a stroke while working the previous day. "I lost my husband yesterday. My kids lost their father," the grieving widow wrote. "He suffered a stroke while working on a cruise ship in St Kitts and did not make it home to us. We are shattered. Please hold us in your prayers."
Per Deadline, the talented magician had wowed Piers Morgan, Howie Mandel, and Sharon Osbourne during his tryout for Season 6 of the popular talent show by making a floating woman appear seemingly out of nowhere and then making her levitate. The three judges sent Alexander to Las Vegas, but he was sadly eliminated during the quarterfinals.
"We have lost a father, a husband, a son, a brother, a friend, a mentor, and one hell of an entertainer," Jenny, who acted as Scott's assistant, wrote (via TMZ).
America's Got Talent alum Scott Alexander had a magical message to spread
Although "America's Got Talent" contestant Scott Alexander has died, his legacy lives on. "Both you and Scott hold a very dear place in my heart as your act was the very first professional stagehand job I had way back in 1998," magician Hat and Hare commented on Jenny Alexander's Instagram. "I learned a tremendous amount from that show that allowed me to be successful with other acts."
Scott showed off his magical talents in a demo tape posted on his YouTube channel, "The Scott Alexander Show." However, his passion in life was more profound than simply beguiling audiences. He also wanted to spread a message of love and unity. With that purpose in mind, Scott teamed up to tour with fellow magician Puck, an "America's Got Talent" Season 7 finalist.
Scott told "Good Morning Rochester" that it had been a no-brainer for them to join forces. "We both made it to the finals, and we said, 'You know what? We're both doing good at this whole thing. Why don't we team up and make an act together?'" he said on the show. Scott said they both shared a drive for more than simple magic. "There have been very few magic comedy duos or illusion duos, and none that are a black man and a white man doing an act together," he said. "We can use magic to speak and talk about diversity, racial issues, social issues."